Positive Steps Taken Towards Reducing Risk of Heavy Fuel Oil Spills in the Arctic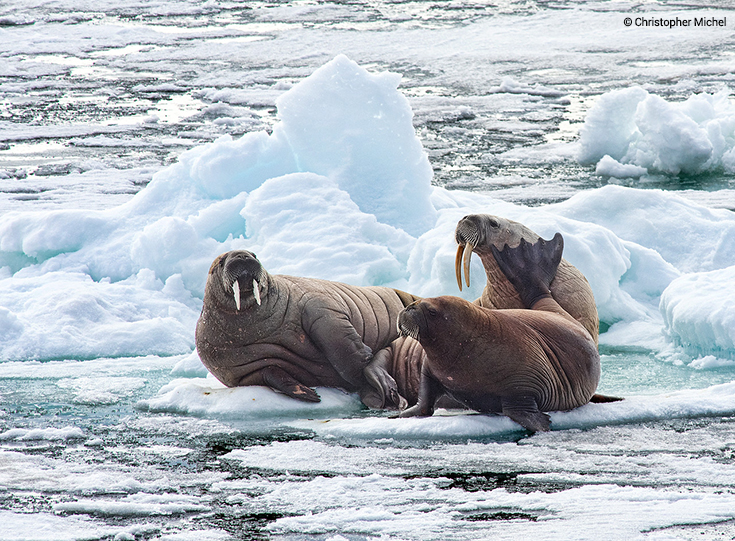 As vessel traffic increases in Arctic waters, so does the chance of oil spills. While an oil spill of any kind would have negative impacts, a spill of heavy fuel oil (HFO)—a viscous, sticky residual fuel used by many large vessels—would be especially devastating to the marine ecosystem. Just last month, an Ocean Conservancy report described an HFO spill as one the most significant risks to the Arctic.
Fortunately, in July the world took an important step toward reducing the risk of HFO spills in the Arctic. The International Maritime Organization (IMO), the organization that sets the rules for international shipping, adopted a plan that will identify options to diminish the risk posed by HFO in Arctic waters. This is a big step forward—especially considering that the IMO refrained from addressing this issue in the past. But we still need your help to protect Arctic waters from an HFO spill.
Together with partner organizations, Ocean Conservancy is advocating a phase-out of HFO use by vessels operating in the Arctic. Preventing boats from using HFO is the simplest, surest way to keep an HFO spill from fouling Arctic waters. In fact, there is already an HFO ban in the Antarctic to protect that region from a spill.
What makes HFO so dangerous? Relative to more refined fuels, HFO:
Contains more concentrated amounts of contaminants like sulfur, ash and other harmful materials;
Is dirtier when burned in ship engines, releasing more emissions into the atmosphere—including black carbon, a potent climate forcing agent that has especially profound impacts when released in the Arctic;
Breaks down much more slowly in marine environments when it is spilled, particularly in colder regions like the Arctic, persisting for up to decades; and,
Would be even more difficult to clean up.
HFO adheres to the feathers of seabirds and fur of marine mammals, leading to hypothermia and death. Exposure to an HFO spill could result in massive wildlife die-offs. An HFO spill could have lasting negative impacts on productivity levels and predator prey dynamics, could devastate habitats and could have profound impacts on Arctic indigenous people who rely on clean ocean waters for fishing and hunting.
Ocean Conservancy is encouraged by the IMO's step in the right direction.  But, as more large vessels operate in Arctic waters, the need to address the threats posed by HFO becomes more acute. The IMO's July decision ensures that there will be a formal process to consider risk HFO reduction measures, which is a critical first step. Tell IMO members to phase-out HFO in the Arctic.