When Did Ocean Education Get Political?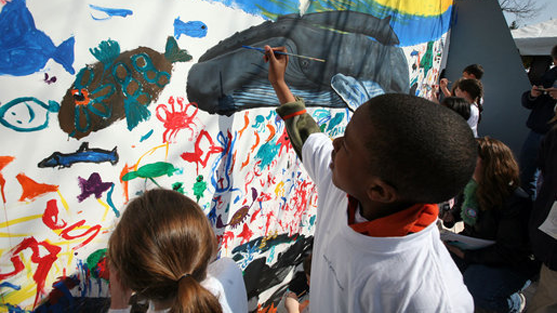 Partnering with zoos, aquariums and museums on ocean education is not exactly what you would call a job-killing initiative or international plot to take over the ocean. And yet, this is how critics have billed the National Ocean Policy.
Under the Policy, government agencies are encouraged to "increase ocean and coastal literacy by expanding the accessibility and use of ocean content in formal and informal educational programming for students." By teaming up with kid-friendly institutions like aquariums, zoos and museums, agencies like NOAA can provide the latest, cutting-edge ocean science for teachers, students and the general public. But Congressional attacks against the National Ocean Policy might threaten these kinds of non-controversial services – even though most of these services long pre-date the National Ocean Policy itself.
The House Appropriations Committee is currently considering a bill that blocks implementation of the National Ocean Policy. Check out our post from last week when the bill was first put forward.  As we've written before, this could affect services that people and businesses have come to rely on.
As our Government Relations Director Emily Woglom said:
"It is unfortunate that critics are playing knee-jerk politics with an ocean policy that's about saving time, money and the source of livelihood for millions of Americans.  This is about ensuring that our natural resources are used efficiently and effectively so our coastal economies, now and in the future, flourish.
"Attacks on ocean protections are hyperbolic at best, hysterical at worst.  Blocking funding now will jeopardize existing jobs and important services."
The National Ocean Policy's approach to protecting our ocean, where coordination and collaboration are key, is simply common sense.