1500 Plastic Bottles Equals One Shade Canopy in Lincoln, Nebraska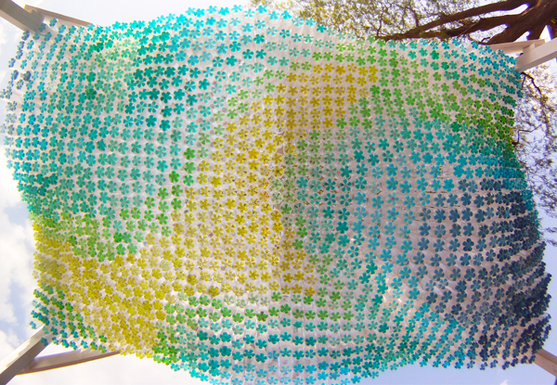 This is how beautiful and practical 1,500 plastic soda bottles can be. This canopy installation — called "(POP)culture" and designed by students from the University of Nebraska-Lincoln College of Architecture — up-cycles soda bottles into a colorful shade that reads as a sky full of colorful flowers. The bottles hang from a frame and, presumably, undulate in the breeze as you sit underneath sipping your favorite beverage.
At Ocean Conservancy we work every day to create a movement for Trash Free Seas — from helping organize beach cleanups around the world, to performing scientific research on marine debris, to helping reduce trash at its source. This is a beautiful example of that ethos at work — making trash too valuable to toss.
More photos after the break
Get Involved on the Issues
Interested in learning more? Subscribe to our RSS feed or give us your email using the simple form below and we'll make sure you get the latest on ocean trash and all the important ways you can fight for a healthy ocean.