Shark Bites: How Dangerous Are They?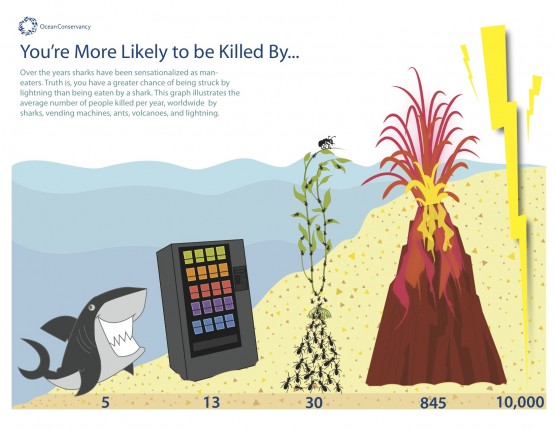 The height of the summer beach season means many things: vacations, sleeping in, getting a tan; but for some ocean-goers, one fear can wind up taking over… Sharks.
Over the years sharks have been sensationalized as cold-blooded man-eaters. Peter Benchley's "Jaws" certainly did a number on humanity when Spielberg brought this terrifying, Megalodon-Great White hybrid to life in the 1975 film adaptation. Since then, sharks have continued to sing a bittersweet symphony in our lives. We are terrified of these animals, yet completely fascinated by their behavior, size, and power.
While sharks maintain their status at the top of the food chain as the oceans' greatest predator, humans are not on their preferred menu. There are many objects and activities that we encounter much more regularly that are more likely to kill us than the bite of a shark, outlined in our latest graphic above.
For more information about these statistics visit the International Shark Attack File, or Buzzfeed for a leaner version.