Do Your Clean Clothes Make the Ocean Dirty?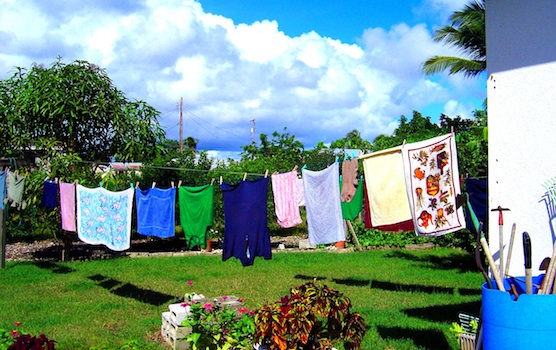 Did you know that while clean clothes make you look and feel better, they could actually have the opposite effect on the ocean? By changing your laundry habits even slightly, you may be able to save money, save water and protect the ocean from pollutants.
Here are 6 tips for ensuring you're washing in ways that keep the ocean in mind:
1. Hang your clothes to dry. After the fridge, the clothes dryer is probably the appliance that costs you the most in terms of energy use, adding up to about 6 percent of household electricity usage. By line-drying your clothes instead, you could save almost $100 a year on electric bills alone. Skipping the wear and tear of the drying cycle will also help your clothes last longer, keeping them out of the trash heap and off your shopping list.
2. Choose a concentrated detergent. Laundry detergents sold in concentrated formulas use less packaging and are more cost-effective. Manufacturers also use less water when producing these detergents.
3. Wash in cold water. Did you know that 90 percent of the energy used by a typical washing machine is used to heat the water? By switching to cold water, you could save $100 or more every year in water-heating costs. You can even look for detergents specialized for cold-water washing to optimize your load.
4. Switch to a front-loading machine. When your old washing machine nears its end of life (typically about 11 years), replace it with an energy-efficient one. Energy-star certified front-loading machines use 30 percent less water, saving as much as 7,000 gallons per year – enough to fill three backyard swimming pools over the course of a decade.
5. Use phosphate-free detergent. Conventional laundry detergents often contain phosphates, which can cause harmful algal blooms that lead to dead zones in aquatic ecosystems. Look for detergents that are biodegradable, made from plant-based ingredients and phosphate-free. These cleaners will be safer for the waterways downstream from your drain and will often be gentler on skin too.
6. Wash full loads of laundry. Ensure your washing machine is operating at peak efficiency by washing only full loads of laundry. If you don't have a full load, some machines allow you to choose a smaller load size that will use less water.
Get Involved on the Issues
Interested in learning more?  Subscribe to our RSS feed or give us your email using the simple form below and we'll make sure you get the latest on green living tips and all the important ways you can fight for a healthy ocean.