Bangladesh Cleanup Coordinator Bikes U.S. to Fight Ocean Trash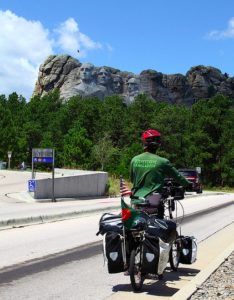 Muntasir Mamun was stopped at a gas station in Dayton, Ohio, when he saw a woman helping kids pick up the trash in their neighborhood.
As the International Coastal Cleanup Coordinator in Bangladesh, Muntasir would have found this scene inspiring in any context. But the fact that he was on a 3,500-mile bike ride across the United States to raise awareness about the impacts of trash made the moment all the more sweet.
Road to recovery
Traveling on a bicycle built for two, Muntasir and fellow activist Mohammad Ujjal wanted to get a sense of the amount of plastic and other waste they would encounter as they crossed the country.
They rode from Seattle to Washington, D.C., along highways and country roads, through cities and open spaces. And they rarely found a single mile without at least a beverage bottle or can, Muntasir says.
So why travel halfway around the world for a bike ride? Muntasir and Mohammad chose the United States because it has one of the highest consumption rates for plastic-based products and is one of the largest consumer markets for bottled water.
Muntasir says he hopes that by raising awareness about the issue, people will think twice the next time they use a plastic product.
"By undertaking this journey, we were trying to raise public awareness as to the impacts of trash not only on the immediate environment where it may be carelessly discarded," Muntasir says, "but also to encourage people to think about the environmental impact chain that reaches right back to its production."
Bringing home the message
Now that his cross-country bike ride in the United States is over, Muntasir will be re-focused on trash-activism in Bangladesh. Through his adventure and advocacy organization, Kewkradong, Muntasir will be coordinating International Coastal Cleanup events to collect items like cigarette butts and food wrappers that litter the country's coastline and waterways.
He says despite cultural differences, attitudes about trash in Bangladesh are similar to those in the United States: "Nobody likes to remove it, and nobody wants to admit that it's because of our own activity."
Muntasir hopes to change that by continuing with his pedal-powered activism. He says he and his friends are looking at other countries with high per-capita plastic consumption and planning their next adventure.