Are Proposed Seismic Surveys Near Diablo Canyon Nuclear Power Plant Worth the Risk to Ocean Wildlife?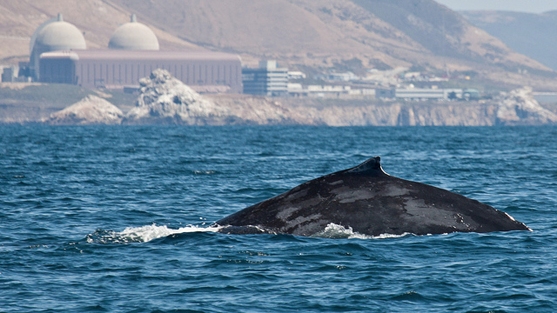 Credit: mikebaird flickr stream
A nuclear power plant and an active earthquake fault are two things that should never go together.
Yet San Luis Obispo County on California's Central Coast is home to both the Diablo Canyon nuclear power plant, which generates energy to meet the needs of more than 3 million Californians, and to several earthquake faults. These active and inactive faults –some of which were discovered as recently as 2008—vary in size and occur both onshore and offshore.  The rugged and beautiful San Luis Obispo coast also supports an amazing abundance and diversity of ocean wildlife.
In light of last year's Tohoku earthquake and tsunami, which triggered a meltdown at Japan's Fukushima Daiichi nuclear power plant, there is understandable and growing concern about the safety of Diablo Canyon and potential impacts of a major earthquake to the power plant, adjacent coastal communities and to ocean life.
To better understand the geology of the region, the power plant's owner, Pacific Gas and Electric (PG&E), has proposed a controversial research project: towing a quarter-mile-wide array of underwater air cannons that emit 250-decibel blasts underwater every 15 seconds for several consecutive days. The goal of the project is to produce detailed 3D images of several fault zones near the Diablo Canyon nuclear facility.
While all agree that ensuring the long-term safety of California residents is of critical importance, many experts are raising concerns about the high-frequency sonar testing itself, especially given potential impacts to Point Buchon State Marine Reserve and ocean life in the region.
At risk are 25 different species of marine mammals including whales, porpoises and sea otters, as well as numerous species of fish and other sea life. Conservation groups, fishermen, community members and government agencies are asking if there is a better way to improve understanding of the geology of the region without putting California's newly established system of marine protected areas and ocean wildlife at risk.
Ocean Conservancy has followed this project since last year, when we first began raising our concerns with PG&E directly.  We have attended hearings and submitted comments to regulatory agencies and we have recommended changes to reduce the project's impacts.
Reflecting on the still unfolding consequences of last year's disaster at Fukushima Daiichi Nuclear Power Station, Ocean Conservancy fully supports the goal of ensuring the Diablo Canyon plant's safety. But after combing through numerous reports and consulting a range of experts, we have found no conclusive evidence that the proposed seismic survey will answer the most critical questions about the power plant's safety and how to reduce risks. Given that the project does not appear likely to result in improved plant safety, we conclude the environmental costs of conducting the survey at this time are simply too high.
The California Coastal Commission is currently scheduled to vote Nov. 10th on PG&E's request for a permit needed to begin work offshore. Additional permits must be granted by the California Department of Fish and Game, National Marine Fisheries Service, United States Fish and Wildlife Service and others before the project can proceed.
We urge the regulatory agencies to require that alternative methods of assessing the Diablo Canyon's geology be pursued before advancing this risky project. In our view, high frequency sonar should be considered a last resort and only pursued if it is absolutely necessary to assess and ensure the power plant's safety.  So far, we don't believe that case has been made at Diablo Canyon.