Plight of Albatross Inspires Scientist to Clean Up Beaches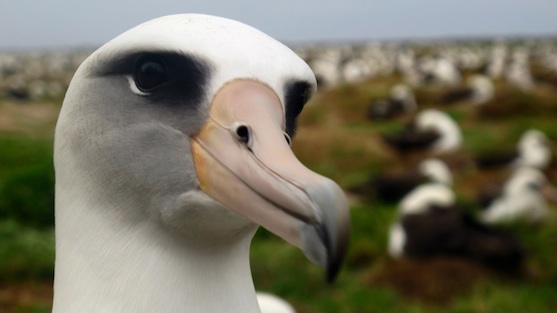 How do scientists choose their life's work? For avid surfer Nick Mallos, a love of the ocean made marine biology an easy choice. But it was a black-and-white bird with a 6-foot wingspan that inspired him to focus his research on marine debris and clean up as many beaches as he can.
Nick first encountered the Laysan albatross during a grad school research trip to Midway Atoll in the North Pacific. With over 450,000 nesting pairs, Midway Atoll is home to the largest Laysan population in the world. The birds cover the 2.4 square-mile area, nesting in every available nook, from abandoned WWII gun turrets to grassy cracks in the pavement.
But once you look beyond those birds, "you realize there's this scattering of plastic over the entire island," Nick says. "It's impossible to not see plastic – it's just everywhere. The most perverse part of it is that it's most heavily concentrated around every nest."
That's because most of the plastic on the island arrives in the gullets of the adult albatross who accidentally ingest it while fishing at sea. Then they regurgitate that food-and-plastic mixture when feeding their chicks. Scientists estimate that some 4.5 metric tons of plastic arrive on the island every year in the stomachs of the albatross.
"It's just very surreal being in this beautiful environment where the waters are as turquoise blue as you can imagine and the beaches are pure white, and then you see this array of unnatural color across the island, which is all plastics," Mallos says.
The inner core of the island is littered with small, fragmented plastics like bottle caps, toothbrushes and cigarette lighters – all carried there by the birds.
"I was 1,200 miles from Oahu, the nearest urban center, and there were consumer products everywhere," Mallos says. "I could have outfitted an entire bathroom cabinet with what I saw there."
That realization really got him thinking about the full scale of the ocean trash issue. Six months later, he joined Ocean Conservancy as a marine debris specialist and has since worked to better understand how trash affects our ocean and how we can prevent it from reaching our beaches in the first place.
What motivates you to participate in beach cleanups?