Forage Fish: The Tiny Fish That Support Our Entire Ocean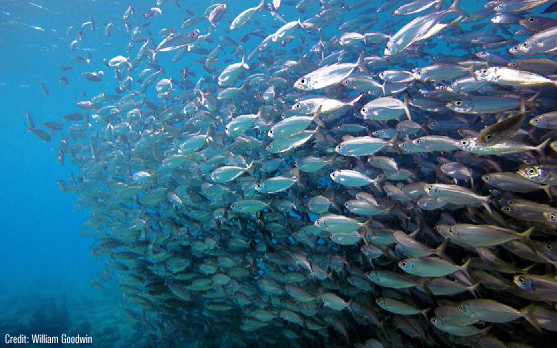 California's Fish & Game Commission is considering making big changes to better protect some of the ocean's smallest fish.
If you live in California, you can help us protect these vitally important fish. For the sake of our ocean, we must ensure these improvements get passed.
Known as "forage fish," small schooling fish like sardines, anchovies and herring — play a crucial role in the ocean food web and in our overall economic well being.
Need proof? Look toward the seabirds, who suffer a drop in birth rates when forage fish populations drop too low. Look toward marine mammals like humpback whales, which weigh around 40 tons yet rely almost completely on forage fish to survive. Or ask the fishermen—commercial and recreational fishermen agree that big fish need little fish. The fish we like to catch and eat, like salmon, tuna and rockfish, all feed on forage fish.
Current regulations typically don't recognize the value of forage species as a crucial food source for top predators—and we need all our Californian supporters to help us change that.
The California Fish and Game Commission meets on Nov. 7 to consider adopting a formal state policy recognizing the importance of forage fish. This policy was crafted collaboratively by conservation groups and the fishing industry, and is a significant step toward helping our ocean.
If you live in California, please take action and help ensure the Commission adopts this important policy.
Thank you for your continued support and for helping to make this historic step for our ocean possible.