Trash or Treat? Six Ways To Have a Trash-Free Halloween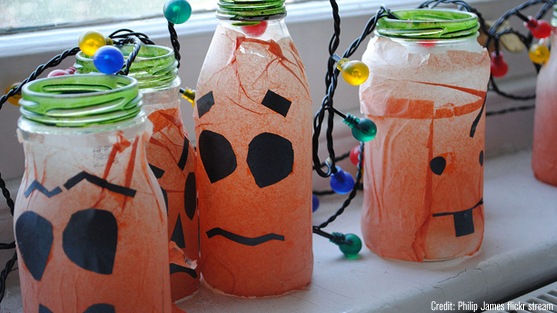 Ghosts, goblins and ghouls—there's no doubt about it, Halloween is a spooky time. But if there's one thing scarier than skeletons in the trees, it's trash on the street—trash that can wash into storm drains and travel all the way to the ocean. From candy wrappers to decorations and costumes, it's easy to make a ton of trash around Halloween. That's why we're giving you five easy ways to reduce your family's waste this year:
1. Reuse a pillowcase instead of buying a plastic candy container. Or, if you can't bear the thought of venturing out without a smiling pumpkin, cut the top off of a milk jug and give it a Jack-o-lantern grin with permanent markers, and then recycle that container after you've collected your trick-or-treat goodies.
2. Why waste money on a costume you're only going to wear once? Use items lying around the house to create your own ocean-themed costume. When people ask you about your outfit, give your favorite ocean animal a voice and tell them how they can help stop ocean trash. You can use one of these ideas, or come up with your own! 
Ocean sunset—Dress in shades of blue and wear a yellow hat.
The Pacific Gyre—Simply attach (clean!) bottles and other recyclables to blue clothing.
Sand castle—Use cardboard boxes to assemble the sand castle of your dreams!
Sea creature—Anything is possible. Go as a jellyfish by attaching strips of bubble wrap around the outside of an umbrella. To be an urchin, dress in black and tape cardboard triangles to a bandana. If you go with a group, you can tell people you're an entire ecosystem—and that, unfortunately, the trash in your costumes is part of that ecosystem.
3. Decorate your house as a spooky trash gyre. Paint skulls on bottles and make ghosts from plastic bags. Make sure to explain the decorations to the trick-or-treaters who come by, and keep a trash can next to the door so they can dispose of the wrappers from any candy they've been snacking on so far.
4. In addition to the trick-or-treat bag, bring a separate trash bag to collect candy wrappers you see along the way. Challenge your kids to collect as much trash as they see.
5. Take number four one step further by challenging your kids to keep all of their Halloween candy wrappers in a box to ensure they don't end up as litter. Whoever collects the most wrappers wins! Then, you can combine everyone's wrappers and send them all to Terracycle, where they'll be made into something new like a purse or a pencil case.
6. Your carriage may turn into a pumpkin at midnight, but that pumpkin can start turning into veggie carrion by the next morning. How do you properly dispose of your jack-o-lanterns? Turn your house into a pumpkin recycling station with these composting guidelines from Treehugger.
You don't have to sacrifice any of the fun (or frights!) to have a trash-free Halloween. Do you have more ideas? Share them below, and don't forget to upload your spooky photos to our Facebook page!