A New Website for Ocean Conservancy is Here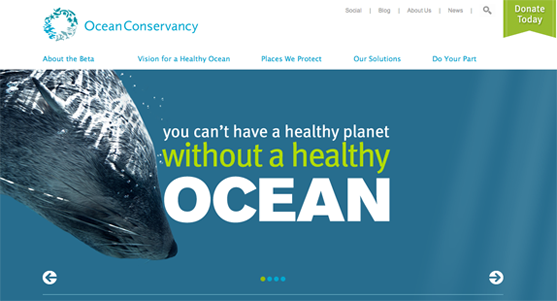 As I look back at the run Ocean Conservancy has had in the digital space over the last several months, I can't help but be proud and humbled:
Proud of the work we've done to create some fantastic products and campaigns to get our supporters more involved in the fight for a clean and healthy ocean. And humbled by the immensely talented and driven individuals I'm privileged to work and create with every day.
Over these months, we've worked with staff across Ocean Conservancy's program areas to:
And now, we're building on that success, by launching a completely redesigned website for Ocean Conservancy.
We hope this new site will be an engaging and immersive experience for our community and will make it easier for you to find information on our vision for a healthy ocean and how we're working to achieve that vision.
We also believe this new site will give you more opportunities to engage with us, whether it's signing up for our updates and action alerts, connecting with us through social media, or leaving your thoughts on a feature story.
The site design, and it's features, are a recognition that Ocean Conservancy is only as strong as the community of supporters, activists and donors who support us. We need to hear from you and this new site is designed to facilitate the conversation.
In fact, as you go through the site, you will see a gray tab in the lower left-hand corner of every page. If you encounter any issues, or want to leave a message for us, you can do so through that tab. Anything submitted to that tab will go directly to me and you won't be added to our email lists. We simply want to hear from you so we can make the site better.
Despite all of this work, we're not finished — in fact, out work is just beginning. In the coming weeks, we'll continue to improve our digital presence by:
Rolling out a fresh design for The Blog Aquatic,
Relaunching our ocean trash action site, Keep the Coast Clear, and
Creating a mobile version of our website to give you the absolute best on-the-go experience we can.
As we roll out the new site and these future improvements, I want to thank everyone at Ocean Conservancy — from our program staff, to our finance and development teams and, of course, my colleagues in Marketing and Communications — who have all worked to make this site the best it can be.
I'd also like to recognize the work of Brodeur Partners and Digital Pulp, who worked tirelessly as true partners over the last year to help create the content and the design you see on the site.
And of course, we want to thank you, our supporters, for making all of this possible and fighting every day for a healthy ocean.
If you have questions about the new site, or what we're up to online, please leave a comment. I'm happy to let you all know what's going on.