Praise for Science Champion, NOAA Chief Dr. Jane Lubchenco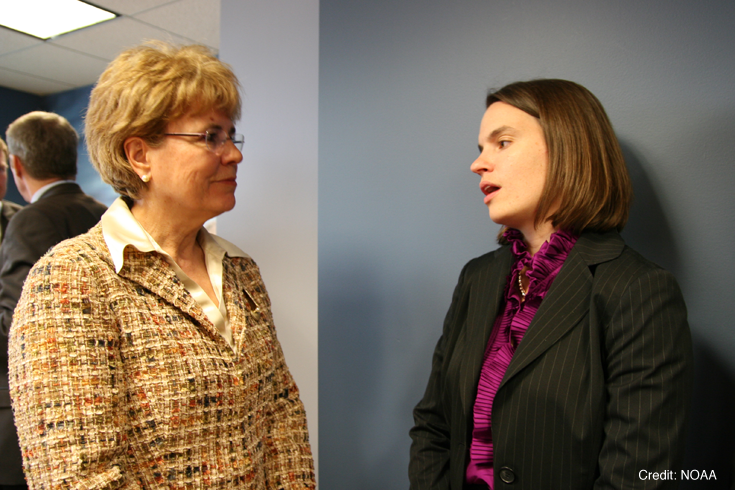 Dr. Jane Lubchenco announced today she is stepping down as administrator of National Oceanic and Atmospheric Administration.
We want to thank Dr. Jane Lubchenco for her tireless work to promote science, conservation and cooperation in all her efforts to ensure a healthy ocean. As the head of NOAA, she has led a forward-looking agency determined to preserve the ocean for generations to come.  We are confident she will remain a strong voice for science and conservation.
Ever a teacher, Dr. Lubchenco has been one of the most steadfast champions of science and the need for scientists to become solutions-oriented at a time when restoring scientific integrity is an urgent priority for the country. Under her leadership, NOAA renewed its focus on key ocean issues like ending overfishing, reducing marine debris, protecting the Arctic and tackling climate change and ocean acidification.
Dr. Lubchenco and NOAA were quick to respond to the BP Deepwater Horizon oil disaster and continue to play a pivotal role in ensuring that the Gulf region, including the marine ecosystem, is restored. She was also instrumental in the creation and follow-through of President Obama's historic National Ocean Policy Executive Order, which created a set of commonsense principles to protect important marine habitat, help clean up our nation's beaches, and foster emerging industries and jobs.
We wish Dr. Lubchenco well in her new endeavors, and we hope that NOAA, and the rest of the federal government, follows her lead with a cooperative, scientific and ecosystem-based view to solving some of the planet's biggest challenges. That also means it's more important than ever that Congress provide NOAA the resources it needs. Superstorm Sandy was the most recent lesson in why NOAA is crucial — their tools, services and information can help us make better decisions to save lives and reduce the risks and costs of future disasters.