Why The Nassau Grouper Needs Endangered Species Protection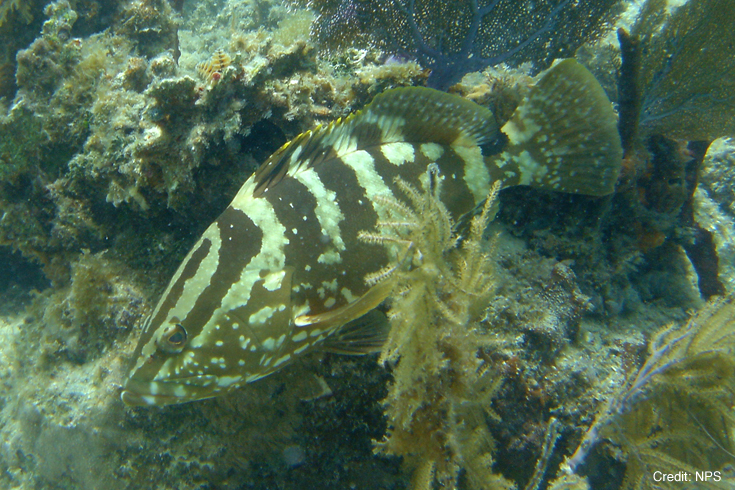 Nothing exemplifies the challenges of managing reef fish quite like the woeful tale of Nassau grouper. Once an iconic emblem of healthy Caribbean reefs (see Carmen Yeung's recent post on endangered corals) and a staple of subsistence fisheries, this shallow water grouper is now threatened with extinction throughout most of its natural range.
Despite its large range — and area through the Caribbean and some of North and South America's Atlantic Ocean — several characteristics of this grouper species make it particularly vulnerable to depletion:
These fish grow slowly,
don't reproduce until later in life,
appear in shallow waters close to shore and thus human populations, and
they are popular at the dinner table.
While these things don't necessarily condemn a fish to threatened or endangered status, one particular trait of the Nassau grouper does: They reproduce only once per year at the same place, at the same time and they do so by the tens of thousands. Or they did.
Fishermen, islanders and visitors of the Caribbean in the 1960's and 1970's tell stories of swarms of spawning Nassau grouper so large and dense they filled your entire underwater view — every year, once per year, at the same time, in the same place.
But the same behavior that makes for one incredible scuba dive also makes for one profitable and easy fishing trip, and one by one the seemingly endless aggregations of spawning Nassau grouper were fished out of Caribbean waters. Those same locations that were filled with fish in the 1960's now have one or two lonely fish coming back to them on their annual pilgrimage. Even with some protections against fishing, the aggregations have never returned and fishermen and fishery managers alike learned all too late that sometimes you can't unring the bell.
Here in the United States, the Nassau grouper has been protected from directed fishing effort for years and we still have yet to see a measurable recovery. Maybe we never will. The federal government recently announced it will conduct a review of all the available information on Nassau grouper and determine if listing under the Endangered Species Act (ESA) is warranted. This is a long process that may be able to help bring an iconic population back to health.
ESA listing is – by its very definition – a management and recovery tool of last resort. Ideally, we would like to see Nassau grouper populations managed responsibly and rebuilt to healthy levels so the species doesn't need to be listed under the ESA. Letting fish populations dip so low that they require this last resort action is bad for all involved: the fish, the fishermen, the tourists and local economies. For the sake of Nassau grouper, let us hope that ESA listing works and that we do not have to contemplate its use for any of our other reef fish species.