Rising Tidal Energy: What Fast Company's #8 "Most Innovative Company in Energy" Learned from Ocean Planning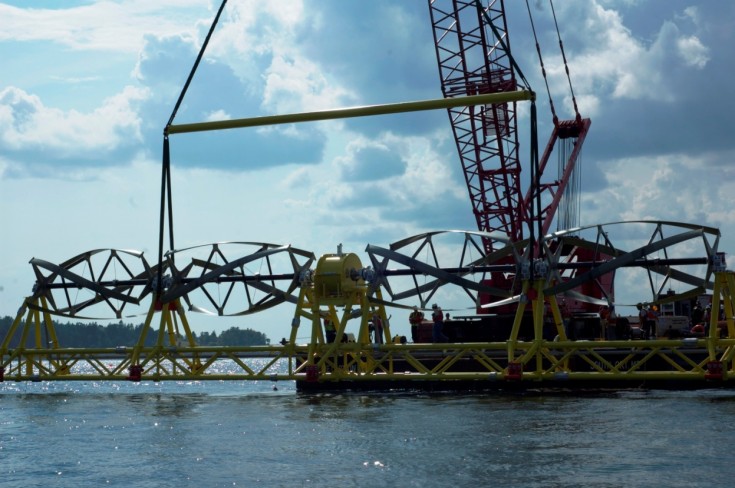 When Fast Company released its "World's Most Innovative Companies in Energy", a familiar name was on the list – the Ocean Renewable Power Company (ORPC). Ranked #8 on the list, ORPC has been involved with ocean planning on the local level in Maine (and a great example of what can be achieved regionally), and as we've written about before (here, here and here), it's important to find meaningful ways for users to participate so that they can share their concerns as well as their expertise. Many companies, like ORPC, have benefited already, and Nathan Johnson, Director of Environmental Affairs, shared his experience with their tidal energy project in Maine:
In my work at ORPC, I have been intimately involved with ocean planning and community engagement on a local scale in the communities of Eastport and Lubec, Maine.  This has been critical to ORPC's successful installation of the first federally-licensed, grid-connected, tidal energy project in the Americas, not using a dam or barrage.

Through early, open and frequent communications, ORPC developed relationships, and more importantly trust, that were vital to the success of the Cobscook Bay Tidal Energy Project.  From the development stage, we sought input from fishermen in the area.  Initial discussions with the Cobscook Bay Fishermen's Association, facilitated by the Cobscook Bay Resource Center, contributed to the siting of the project. This location met the company's tidal energy resource requirements while minimizing conflict with fishing activities.

ORPC's approach to local relationships is not strictly through outreach, but engagement of local, skilled maritime workers. When planning for protected species observations for our foundation installation we turned to folks most familiar with the local waters – the community. Commercial fishermen, port workers, a kayak tour owner and a whale watch tour guide, as well as ORPC staff, were trained for the task by Dr. Moira Brown at the New England Aquarium. These observers carried out their duties exceptionally well during the initial phase of construction for the Cobscook Bay Project, and will continue to be of assistance to ORPC as we expand our Maine Tidal Energy Project in the region.

The Cobscook Bay Tidal Energy Project has demonstrated that strong, transparent relationships with the commercial fishing community and engagement of local divers and mariners to support tidal energy construction, operations and monitoring programs contribute to a project's success while minimizing potential conflicts.

As New England regional planning begins and methods to involve stakeholders are investigated, our project serves as a positive example of collaboration between existing marine users and new industry. In essence, we have implemented many of the principles of smart ocean planning and have shown its success. By forging an early path of engagement and through continued diligence, new ocean users can contribute to increased sustainability and vitality of coastal communities.

ORPC is looking forward to collaborating with the Northeast Regional Planning Body, as well as planning bodies in other regions of the country where we are developing projects, to generate a planning and implementation process for the National Ocean Policy that can help all stakeholders and build stronger communities.
A recent video highlighting ORPC's power system installation in Cobscook Bay is available at http://orpc.co/newsevents_mediacenter.aspx?id=4tKZJsmT1bM%3d.
Nathan Johnson leads ORPC's site licensing and permitting efforts, leveraging local and global relationships to develop innovative approaches to marine hydrokinetic permitting and environmental monitoring. A native of Long Island, Maine, Nathan has a diverse background that includes commercial fishing, construction management and more than ten years in environmental engineering.
ORPC