What Does 10 Million Pounds of Trash Look Like?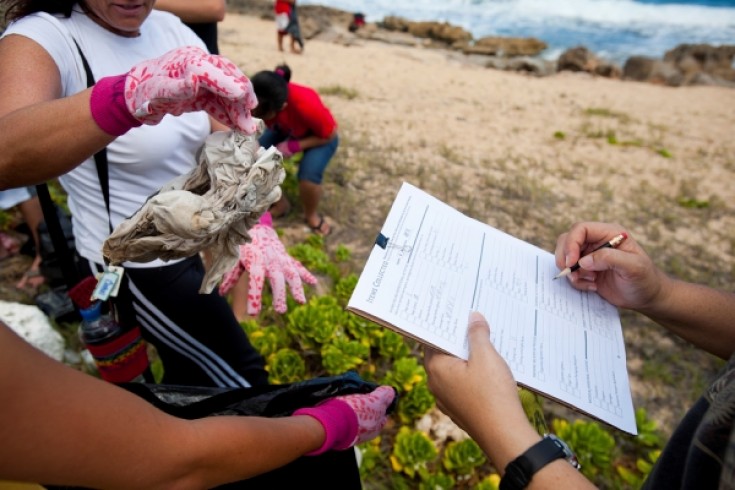 Volunteers mark the data card while throwing away trash at the International Coastal Cleanup at James Campbell National Wildlife Refuge in Kahuku, Hawaii. credit — Elyse Butler
Take your pick: 41 blue whales, 10 Boeing 747 jumbo jets, 5,000 tons or 10 million pounds. Whichever one you prefer, that's roughly the weight of trash that was collected by volunteers during Ocean Conservancy's 2012 International Coastal Cleanup (Cleanup). More than 10 million pounds of trash – that's an astounding amount.
Each year in September, citizen scientists around the world mobilize during the Cleanup to remove plastic trash and other debris from the world's shorelines, waterways and underwater habitats. Tallies of trash recorded by the more than 550,000 volunteers who participated in the 2012 Cleanup are a snapshot of the persistent and proliferating problem of trash on our beaches and in our ocean.
The most commonly found items of trash plaguing our coastlines are the same products we use in our everyday lives and households: food wrappers, plastic utensils, beverage containers and, as always, the most incessant item were cigarettes with more than two million butts collected. Much like cigarettes, plastics bags have always been atop the list of trash items, and in 2012 they were still unable to elude volunteers. The one million plus (1,019,902) plastic bags picked up were the fourth most abundant item of trash found, bringing the 27 year total to just under 10 million bags. The amount of oil required to manufacture this quantity of bags is in excess of 1,175 barrels, or enough gasoline to drive a car around the Earth three times (approx. 75,000 miles).
The items volunteers find on the beach are not only unnatural to the ocean, but are dangerous to marine organisms that depend on healthy ecosystems. And whether it's the smallest bottle cap or the weirdest finds, like the 117 mattresses collected, every piece of trash affects the health of our ocean, and subsequently our economy, environment and health.
Every piece of trash that is picked up during the Cleanup should be a challenge for change. Trash simply shouldn't be in the ocean or on a beach. The items we use – or don't use – have a lasting impact. Trash doesn't start and stop at the trash can, and out of sight doesn't mean out of our ocean. For too long we've focused our attention on plastics and other debris by looking at the beach and seaward, when in reality, emphasis should've been concentrated between the beach, trash can and beyond.
We have a responsibility all year long to reduce, remove and reinvent – we all have a role to play. The good news is that everyone can be a part of the solution for trash free seas. Here are three things you can do right now to help tackle trash:
Pledge to fight trash: What would happen if 10,000 people decided not to make as much trash for one month? We could reduce the trash on Earth by over 1 million pounds. Take the pledge to help turn the tide on trash.
Download Rippl Ocean Conservancy's free mobile application that helps you make simple, sustainable lifestyle choices.
Mark your calendar for September 21 so that you can be part of the next International Coastal Cleanup.
Solutions are built on individual actions of people, organizations and companies, but it will take a collective movement to make a lasting difference. Whether it's by changing our habits to create less trash, pushing industries and governments to find alternative uses or funding innovative scientific research, the time is now for everyone to work together to find a solution to make our beaches and seas trash free.