Setting Sail to Search for Marine Debris in the Gulf of Maine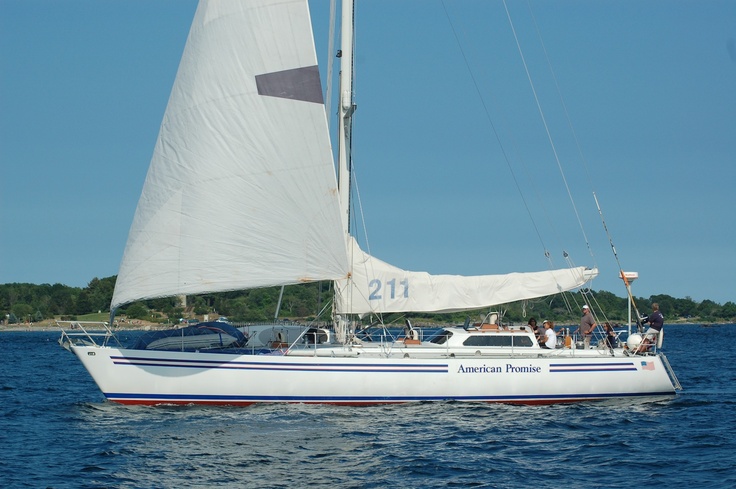 Photo: Rozalia Project
This week, I'm sailing with Rozalia Project as a guest scientist onboard American Promise. I joined the crew in Bar Harbor, Maine, and I'm spending seven days sailing south through the Gulf of Maine with our journey concluding at the ship's home port of Kittery, Maine.
My home away from home is Rozalia Project's "mother ship," American Promise. Not originally meant to be a garbage-hunter, American Promise has a storied past. She was designed by America's Cup champion Ted Hood to sail around the world in record time. From November 1985 to April 1986, American Promise did just that when Dodge Morgan became the first American to sail around the world alone in record-breaking time.
One of the main goals of this sail will be to remove as much trash from the water as possible. Much of our work regarding marine debris is centered around the items found along our coastlines and floating on the surface of coastal and inland waterways. However, we know marine debris comes in all shapes and sizes and is present throughout the water column.
In addition to using nets to gather debris, the Rozalia Project team is also equipped with two remotely operated vehicles that are able to reach depths of up to 1,000 feet. The ROVs will enable us to reach debris otherwise inaccessible to humans due to the depth, pressure or water temperature. The ROVs also allow for zero-impact trash removal, ensuring debris doesn't drag along the seafloor or have an effect on marine life.
Removing trash from the water isn't our only task. We will also be conducting beach cleanups on remote islands in the Gulf of Maine. Despite their location and the fact that the islands are relatively uninhabited, I expect to find many of the same trash items that we find during the annual International Coastal Cleanup.
How is that possible? Trash travels, and plastic items such as bottle caps, food wrappers and bags are easily carried by wind or storm water into local waterways and eventually to the ocean.
Throughout this entire journey, I will be collecting data on each item we collect, trying to find out more about that item and where it is from, and then hypothesizing on how exactly it made its way to the Gulf of Maine.