"Midway" Film Answers Plastic Pollution Question "Why Care?"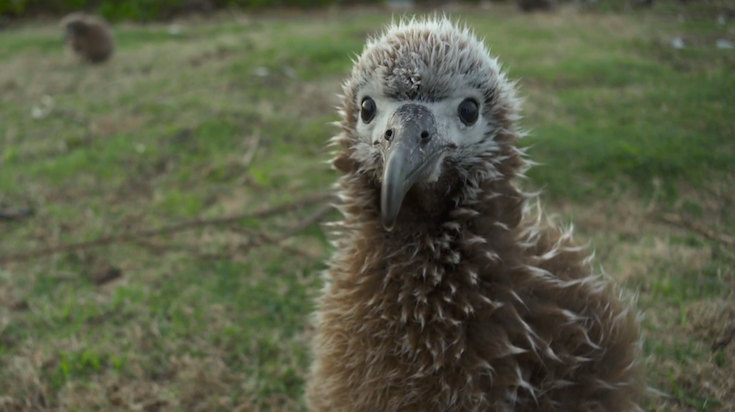 Midway Atoll is truly "out there." The closet population center is Honolulu, 1,200 miles to the southeast and a five-hour trip by plane. But despite its remoteness, Midway is not immune to the impacts of plastic debris.
Midway's central position in the North Pacific Gyre makes it a sink for debris, which results in immense, daily accumulations on the island's sandy beaches. This collection of debris—almost entirely plastics—threatens the endangered monk seals and sea turtles that inhabit Midway's beaches and forage in the atoll's shallow waters. Plastics that threaten the 1.5 million Laysan albatross on Midway, however, arrive in a different manner.
Each year, approximately 10,000 pounds of plastics are brought to Midway not by currents or wind, but in the stomachs of the birds themselves. Mothers and fathers forage at sea for weeks in search of fish eggs, squid and other prey in hopes of nourishing their newly hatched chicks that wait anxiously hundreds or even thousands of miles away.
All too often, adult albatross return to Midway not with nutrition from the sea but instead plastic bottle caps, cigarette lighters, fishing floats and colossal quantities of plastic fragments that float adrift in the North Pacific Ocean. Albatross chicks do not possess the ability to regurgitate; once consumed, these plastics often become fatal.
I witnessed the unintended consequences of plastics on Midway's albatross firsthand in 2010, when my colleagues and I examined the impacts of plastics on the island's fauna. Trekking around Midway, it was impossible to avoid plastics—colorful shapes and sizes speckled the ground while other types of plastic protruded from the guts of recently perished albatross chicks.
These lifeless forms rested only steps from the nests where their parents had diligently nurtured their newly hatched chicks; it was a stark reminder of the fine line between life and death on Midway Island.
Words alone do not suffice to accurately convey the severity of the impacts of plastics on Midway. Fortunately, Chris Jordan's recent documentary, "Midway," brings the sights, sounds and firsthand encounters with the concurrent beauty and distress of Midway to concerned citizens around the world.
Through stunning natural splendor and chilling visual testimony, "Midway" singlehandedly answers the plastic pollution question, "Why should we care?"
Perhaps an even more important question is "How do I help?" Join me and more than 500,000 other concerned citizens around the world on Sept. 21 to remove unsightly, unnecessary and destructive plastics from our beaches and waterways during the 28th annual International Coastal Cleanup.
There is one ocean. And that means even if you never travel to Midway, you can help ensure that the potentially harmful bottle caps, lighters and myriad other plastic debris items littering our beaches and waterways never arrive there either.