Shark Week 2014 is FINished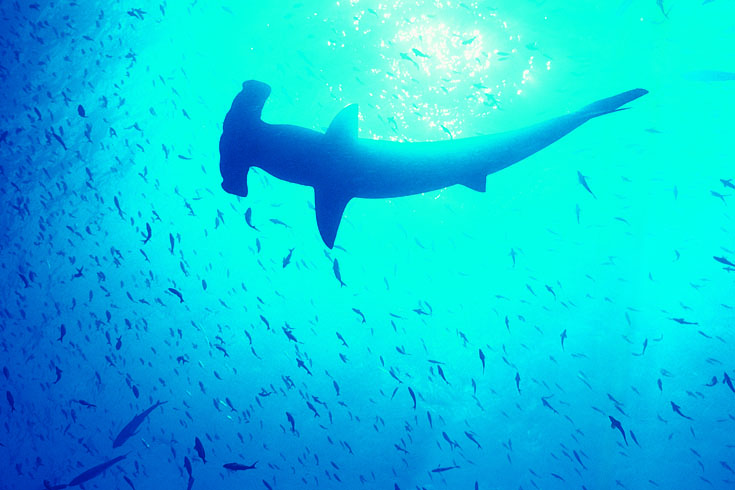 Another Shark Week has come and gone. Were you on the edge of your seat watching Discovery's shark specials or tweeting corrections about their info-tainment? We here at Ocean Conservancy were doing a bit of both. Shark issues do get a huge bump, especially on social media, during Shark Week. We felt it was important to use this swell of interest to share important shark information and turn casual Shark Week viewers into full on shark advocates.
Sharks Are Fin-tastic: Ocean Conservancy's Google Hangout
On Thursday, August 14, we hosted a Sharks Are Fin-tastic Google Hangout that was moderated by George Leonard, our chief scientist. Our panelists included David Shiffman, Dr. Joe Quattro, Juliet Eilperin, and Austin Gallagher. They all touched on what they thought were the biggest threats facing sharks. Their answers ranged from ignorance about sharks to shark finning. They all have hope for the future though. Recent studies show some shark species are rebounding and world leaders are implementing new protections like marine protected areas. And thanks to questions from our Twitter followers, we were able to have a lively Q&A session.
Dating Bites – Meet the Shark of Your Dreams
Despite being so misunderstood by humans, sharks are still searching for reel love. We created shark dating profiles so supporters like you can get to know sharks a little better.
Highlighting New Protections for Scalloped Hammerheads
Scalloped hammerheads are the first shark species ever to be protected by the Endangered Species Act. We asked people to celebrate Shark Week by thanking NOAA for taking a step in the right direction for shark conservation.
Hey Girl, Share Your Shark Week Love
Continuing with our theme of shark love, we sharkified the 'Hey Girl, Ryan Gosling' Meme. Send one to your fellow shark lovers today!
Toilets Are Scary, Sharks Are Not
With Shark Week specials like Sharkageddon giving viewers bloody dramatizations of shark attacks, it's important to put things in perspective. There are so many everyday things more likely to kill you than sharks. Did you know dogs, bees, snakes and pigs kill more people than sharks every year?
Sharks Are Jawesome
Whether you love to hate Shark Week or devour it whole, we can all agree that sharks are Jawesome. The diversity of shark species is astounding! Each one is perfectly adapted to their environment, making them some of the top predators in the ocean.