It Doesn't Need to be Earth Day to Help Our Ocean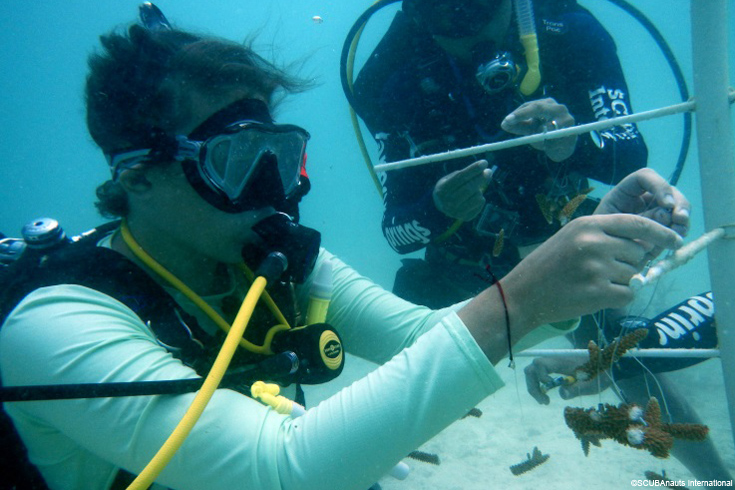 Happy Earth Day! Today is the one day of the year where people all over the world come together to do something good for the Earth. However, we see extraordinary people dedicate their lives to helping our water planet.
With today being Earth Day and April being Florida Volunteer Month, we wanted to highlight SCUBAnauts International. This is an organization dedicated to teaching bright, energetic teenagers about marine science using scuba diving in Southeast Florida.  Representative "SCUBAnauts" visit us once a year in DC to talk about marine policy and tell us about their research and conservation work in the water. Their stories are inspirational, and we can't help but share them with you.
The SCUBAnauts been the envy of our office since reporting that, in addition to scuba diving in tropical locations, they've been helping Florida's Mote Marine Laboratory restore coral reefs in the Keys.
Hear from the SCUBAnauts themselves:
"Many people take up jobs that require them to work with their hands, multi-task, and complete certain tasks while working to achieve some goal. Working with MOTE Marine laboratories in their coral nursery fits this description and much more, as you have to contribute your diving skills to complete your assigned task.  As SCUBAnauts, we receive top-notch dive training that gives us the ability to complete our assignments and most importantly, to do them safely.  A job 'well done' with MOTE is very gratifying due to the fact that you actually know you are contributing to real research and that you are making a difference.
On our last expedition, I was a team leader with three other SCUBAnauts and we were able to move and secure approximately 100 corals in 20 minutes to their 'trees' where they will grow and mature over the next year.
These corals will begin to grow and provide the essential structure to reefs that is so essential for life of many different reef-fish and crustaceans. This was the SCUBAnauts' first year that we transplanted coral to hard-bottom reefs, and it will be very exciting and interesting to see what MOTE has planned for us this summer."  – Cole Kolasa, SCUBAnaut – Senior First Class, AAUS D-100, DAN Diving First Aid Pro Provider
"I am proud to be a SCUBAnaut and equally proud to be part of a team trying to restore our coral habitat, by carefully hanging fragments on the PVC trees and attaching them to reefs. I'm looking forward to seeing the growth of the coral transplants from last summer and I am ready to work even harder this summer." -Taylor Rejsek, SCUBAnaut- Junior First Class, AAUS-D60, DAN Diving First Aid Pro Provider
"The SCUBAnauts also had the opportunity to go on a night dive. We had two thirty minute dives and they were filled with so much fun and beautiful creatures. On the second dive, I saw two massive eagle rays that came right under me. I know that this dive will stick with me for the rest of my diving career. I hope that I will have more dives similar to this one!! This is an amazing trip and I will keep many memories from it!!!" – Sofia Alaniz, SCUBAnaut- Senior First Class, Master Diver, AAUS D-100, DAN Diving First Aid Pro Provider
"MOTE's coral work is so important because it will help restore the amount of coral being lost each year. Their work also helps find out why these corals are being lost. These findings can lead to different discoveries with the corals and how certain problems can affect them. Being given the opportunity to work with MOTE to transplant these corals is amazing. It makes me feel like I am making a difference, helping them complete their work in one day, which could take them weeks to do without us. Personally it means a lot to me, allowing me to have the opportunity to help the ocean get its coral back." Kaedon Hamm, SCUBAnaut- Junior Second Class, AAUS-D30, DAN Diving First Aid Pro Provider
Thank you, SCUBAnauts, for helping the ocean get its coral back and for all you do for our earth!