Ode to Oysters (or, Happy National Oyster Day!)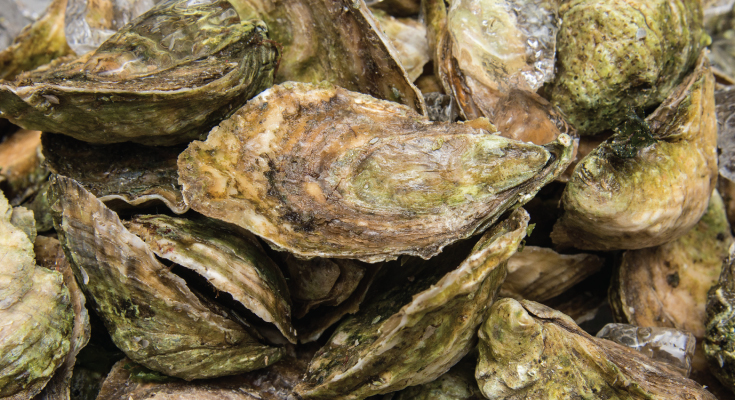 Oysters – my all-time favorite seafood, and often my favorite food, period. I can be sitting in an oyster bar, miles from the ocean, and when I eat one I can practically feel sand between my toes and smell the salt in the air. I would eat oysters every day of the week if I could. But I understand that they're not everyone's cup of tea. A quick poll among my colleagues revealed that people seem to fall into two camps – rabid oyster lovers, or those that think they taste like salty sea snot (I'm looking at you, George Leonard). But love them or hate them, oysters are a major part of the ocean and coasts we know and love, and National Oyster Day is the perfect time to learn a little more about these animals:
They're some of the hardest working animals in the ocean. An adult oyster is capable of filtering 25-50 gallons of water a day! Check out this time lapse from Florida Oceanographic Institute of a tank of oysters cleaning water. The entire Chesapeake Bay could be filtered in just five days before oysters were reduced to just 1% of their historic population. Speaking of the Chesapeake, it's an Algonquin Native American word that means "Great Shellfish Bay."
They don't just filter water– oyster reefs shelter fish and crabs, and with filtered water comes more seagrass, which is a feeding and breeding ground for other species that we love to eat – like rockfish and blue crabs.
Oysters take on the flavor of the water where they're grown. One of my favorite oyster businesses on the East Coast, Rappahannock River Company, has a fantastic little restaurant in Topping, Virginia, called Merrior. Owner Travis Croxton put a twist on the term 'terrior,' used to describe the environment in which a particular wine is produced, to describe the marine environment where their oysters are grown. East Coast oysters tend to be saltier and brinier while West Coast oysters tend to be a little sweeter.
Oysters and oyster growers are vulnerable to ocean acidification. As carbon emissions are absorbed by the ocean, the sea water becomes more acidic, and oysters have trouble building their shells. In 2006 to 2008, some oyster growers in the Pacific Northwest nearly declared bankruptcy because they lost more than 80% of the baby oysters (or oyster larvae). The good news is that states like Washington, Oregon, California, Maine, and Maryland – where coastal communities depend on a healthy ocean to grow and harvest oysters, clams, mussels, lobsters – are taking action to tackle acidification. These actions include funding for research on commercially important species – like salmon or lobster – that may be impacted by acidification, and exploring ways to reduce pollution from land (like stormwater runoff and other types of coastal pollution) that makes acidification worse. And just last week Senator Maria Cantwell (D-Washington) introduced a bill that would improve the monitoring of ocean acidification and direct federal agencies to examine how coastal communities would be impacted.
The recently released Clean Power Plan is good for the ocean, and therefore oysters. While states across the country are doing what they can to address ocean acidification, to truly solve this problem we need to reduce the amount of carbon pollution being absorbed by the ocean. The Clean Power Plan announced earlier this week aims to reduce emissions from power plants – the biggest sources of carbon pollution – by 32 percent from 2005 levels by 2030. As an oyster lover I'm thrilled that we are now facing a future of cleaner air and cleaner water.
Now if you'll excuse me, all this talk of oysters is making me very hungry. Guess what I'll be having for lunch today? And if you're eating oysters today, don't forget to take a #shellfie and tag Ocean Conservancy on Instagram or twitter – we'll share it. Happy National Oyster Day!