Our Gulf Heroes: The People Behind the Recovery from Hurricanes Katrina and Rita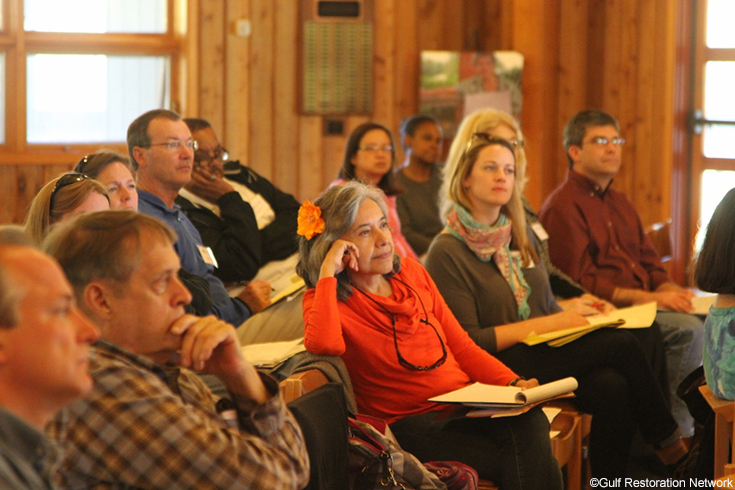 Ocean Conservancy, along with many communities along the Gulf of Mexico, is commemorating 10 years since Hurricanes Katrina and Rita struck the Gulf Coast. While many of the stories you may hear this week focus on Katrina's impact on New Orleans, we must not forget that coastal communities in all five Gulf states were affected that summer in 2005. Hurricanes Katrina and Rita served as a wake-up call for me, as they did for many others. These record-breaking storms taught me that my home, the Gulf Coast, was extremely vulnerable and, more importantly, irreplaceable. The devastation that those hurricanes caused is the reason I work to protect the Gulf, and the people and wildlife who call it home.
While Ocean Conservancy's Gulf Restoration Program did not yet exist in 2005, we work with a number of amazing organizations and community leaders who spearheaded the recovery efforts after Katrina and Rita. In 2010, many of these folks once again answered the call to serve their communities when the BP Deepwater Horizon oil disaster began. Although there are many more than we can list here, these are a few of our Gulf heroes.
Named after the phenomenon following Hurricane Katrina where many people returned to their homes to find nothing but the steps to their front doors, the group set out to build a healthy, just and equitable Mississippi Gulf Coast in the wake of the storm. Their work spans a variety of issues affecting Mississippi, from ensuring that Mississippians get fair access to health care, to protecting historic black communities like Turkey Creek from flooding, to reminding our Gulf Coast leaders that meaningful public engagement is essential for Gulf restoration to be successful in the wake of the BP oil disaster.
For over 20 years, Gulf Restoration Network has served as the prominent regional voice for environmental issues across the Gulf of Mexico. This organization serves as a watchdog for communities on the Gulf Coast, and no fight is too small. With a long history of speaking up for sensitive, wild places and coastal communities, they monitor our beaches for tar balls that continue to wash ashore from the BP oil disaster,  bring together fishermen and chefs to talk about sustainable fishing, and actively advocate for our leaders to make decisions that protect people, wildlife and natural habitats.
Even before the BP oil disaster began, The Nature Conservancy was working to restore the oyster reefs, wetlands and coastal forests along the Gulf Coast. Together with our own Bethany Carl Kraft and many other leaders in Alabama, they helped create 100-1000: Restore Coastal Alabama, an ambitious campaign to build 100 miles of oyster reefs that will in turn support more than 1000 acres of coastal marsh and seagrass. Oyster reefs and marshes serve as natural buffers to the storm surge that accompanies hurricanes, by breaking down the waves and thus preventing loss of life and property in our communities.
4. National Wildlife Federation
Louisiana loses a football field-sized area of wetlands every hour, due in part to cypress logging, leveeing the Mississippi River, channels cut through the wetlands for oil and gas pipelines, as well as invasive species like nutria. For these reasons, Louisiana is at extreme risk to sea level rise and storm surge caused by hurricanes. The Mississippi River Gulf Outlet was a navigation channel that eroded the wetlands around it and caused extensive damage to communities in the New Orleans area during Hurricane Katrina. The National Wildlife Federation, along with many other organizations, fought hard to have the channel closed and the wetlands restored. This new report outlines the work that has yet to be done to complete the rebuilding of this important wetlands area.
It is vitally important that we restore the Gulf not just to repair what was damaged by the BP oil disaster, but to promote resilience against future storms and sea level rise. Climate change can make hurricanes stronger and more frequent, and restoring the Gulf with fines from BP gives us the opportunity to also adapt to these changing conditions. If we continue to see hurricanes with the destructive strength of Katrina and Rita, and, subsequently Gustav, Ike and Isaac, we must build up our coastal defenses and invest in making communities more resilient so we can bounce back from these events. The Gulf of Mexico is unlike any other place on earth, and the residents of the Gulf Coast deserve a healthy Gulf where they can work, play and live. Personally, I can't imagine living anywhere else.