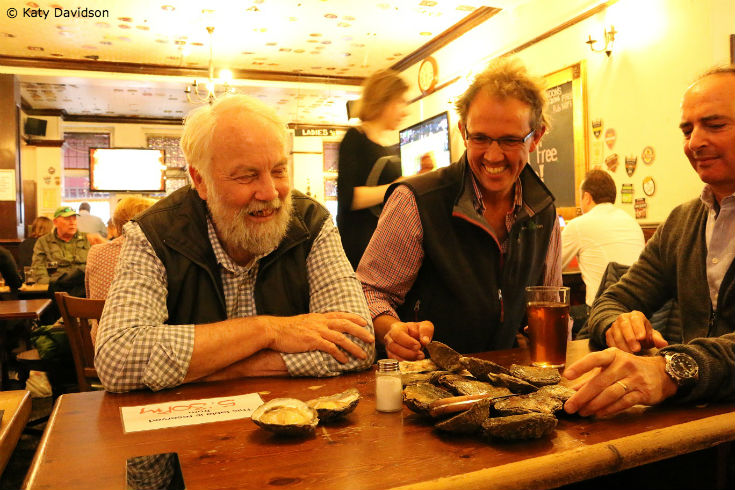 I don't always drink beer. But when I do, I drink it while eating oysters. Or at least that's what I did in London a few weeks ago, with oyster farmers shucking local oysters right on the pub tables.
One of the perks of my job is to talk with oyster farmers, and oftentimes the most productive conversations and connections happen over drinks. In this instance, I was with American farmers Bill Dewey of Taylor Shellfish Farms, Dan Grosse of Toby Island Bay Oyster Farm, Mike Martinsen of Montauk Shellfish Company and Terry Sawyer of Hog Island Oyster Company to talk about ocean acidification with shellfish farmers, scientists and government policy staff from the United Kingdom. After a long day of meetings we went to a pub in London to continue the discussion, and one of the UK farmers, Tristan Hugh-Jones of Rossmore Oysters, actually brought native oysters from his farm to share right in the pub. I'm not sure how much the pub employees appreciated it, but seeing all the growers compete for quickest and cleanest shucking job was entertaining for everyone.
Earlier that day we had hosted a workshop covering the impacts of ocean acidification, diseases and water quality issues that harm bivalve shellfish with UK shellfish farmers, scientists and government policy staff.  Fishermen, shellfish farmers and coastal communities in both countries rely on a healthy ocean as an economic resource, and they all want to keep it that way. The $51 million (£33 million) shellfish aquaculture industry in the U.K. employs over 700 people in areas with scarce employment opportunities. But this industry is in jeopardy: Carbon dioxide emissions, emitted by all nations, are creating more acidic seawater that harms a number of commercially valuable species including oysters, mussels, clams, corals and crustaceans.
A few U.K. shellfish farmers are becoming concerned over this environmental threat and want to learn more. At the workshop, they did just that. Bill and Terry, farmers from the U.S. Pacific Coast explained how ocean acidification contributed to multiple years of oyster seed die-offs to their industry almost ten years ago. Dan and Mike from the U.S. Atlantic Coast followed up noting that, while they have not yet felt any direct impacts, they are motivated to learn about this issue, and take preventative action to avoid the kinds of oyster die-offs the West Coast has experienced.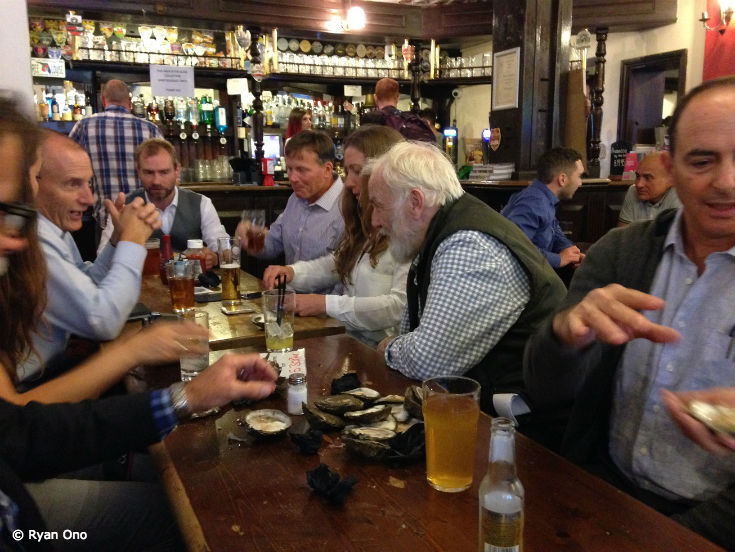 It's common for crops of oysters to die unexpectedly in any location, including the U.K., but right now, there's no way to tell in the U.K. whether this is due to acidification. During our workshop, U.K. scientists Dr. Rob Ellis and Dr. Silvana Birchenough presented research showing local bivalves and crustaceans grow slower and survive less often under acidification conditions in lab settings. They also projected that U.K. aquaculture and wild fishery industries in the future would suffer between $1.8 million (£1.4 million) and $11.8 million (£9.1 million) in annual loses depending on global carbon emission rates.
As individuals have become increasingly aware of the harm carbon dioxide emissions have on their daily lives, they have pushed their governments to act.  The commitments made during and following the COP21 Conference this past December were a huge step towards cutting back emissions around the world. And this September, the 3rd international Our Ocean conference offers another opportunity for countries to act on acidification and other global ocean problems such as marine pollution and overfishing.
The U.K. and other countries have made important commitments to protect the ocean through this conference series. And I for one hope that the voices of the shellfish farmers and other ocean users push our leaders to take even bolder conservation steps, because I like my oysters, and I want to eat them whenever I want in the future, with or without the beer.
Stay tuned tomorrow for photos and a report from the field trip our American delegation took to visit one oyster farm in Essex County. We were there to see their growing areas and learn about the local water quality. I'll share what we learned in tomorrow's follow-up blog post.