Recreational Fishing: Protecting a Way of Life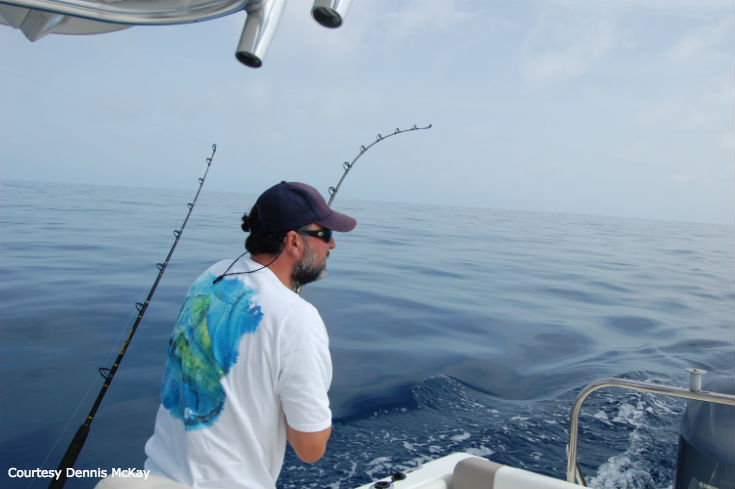 By Dennis McKay
All my life, I've measured the "good life" with days on the water fishing. Escaping work, shunning worry and forgoing the pressures of daily life to enjoy the elemental world of water, weather and a fish has defined the happiest moments of my life. Actually, it's a natural inheritance since my family has called Alabama and these Gulf waters home for several hundred years.
As with any natural inheritance, I tend to be protective of my roots. Supporting my protective bent, the United States has some of the best fisheries management practices in the world. The overall law, the Magnuson-Stevens Fishery Conservation and Management Act, is effective because it is implemented using science-based rules, such as annual catch limits and rebuilding timelines, as currently defined by National Standard 1 (NS1). The National Oceanic and Atmospheric Administration Fisheries Service (NOAA Fisheries) is responsible for establishing and assessing these rules, and the nation's eight regional fisheries management councils are mandated to execute them.
Back in the 1980s and 1990s, overfishing was so out of control that there were days it was hard to catch a decent sized fish. The fish were small because the vast majority were immature because fishermen from every sector, commercial and recreational, were catching the mature fish more quickly than the juveniles could recruit into the fishery. Frankly, for me it was depressing. I knew what the Gulf was capable of producing, but it was heartbreaking to think that in our rush to enjoy fishing we had nearly destroyed the things we love. The Gulf's depleted fish stocks were a wake-up call for me, and the MSA provided the opportunity to correct the Gulf's overfishing trend.
Since 2006, with the MSA's newest reauthorization containing the explicit mandate to rebuild the nation's fisheries with the NS1 science-based tools, recreational and commercial fishermen alike have sacrificed and worked with fisheries managers and scientists to halt overfishing, allowing over 30 fish stocks to rebound in the last ten years to sustainable, rebuilt levels.
For example, consider the Gulf's iconic red snapper. In 2007, fisheries managers had to set the annual catch limit of red snapper at 5,000,000 pounds because the fish stock was decimated. The commercial and charter-for-hire fleets put their heads down and partnered with managers and scientists and worked within the MSA's inherent flexibility and the Council process to develop fishery management plans that complied with NS1, while working with the sector's respective fishing styles.
As a result of this hard work, today the catch limit is at 14,000,000 pounds. In other words, in only eight years commercial and recreational fishermen, by embracing NS1, are now allowed to catch almost three times the weight of fish, while continuing to rebuild the red snapper population.
The NS1 successes are not confined to the Gulf's red snapper, though. Using NS1's science-based information to make sound management decisions for the Gulf's fisheries has created more successes across the board. Indeed, NS1 has restored several popular Gulf fish species including: red grouper, gag grouper, yellowtail snapper and king mackerel.
Given the Gulf's successes, it's ludicrous that in the next few weeks NOAA Fisheries is contemplating weakening NS1 by relaxing the science-based tools that have proven successful for red snapper and countless other species of fish. Why in heaven's name would NOAA pick apart an effective management approach that has restored such a high-value resource as our fisheries?
NOAA Fisheries is planning to alter NS1 by replacing strong, science-based rules with weak guidelines that allow fisheries managers to delay ending overfishing by several years, even when managers know overfishing is occurring. The new rules also propose removing the MSA's oversight of requiring the Secretary of Commerce to review all stock rebuilding plans to determine if they were making progress. Under the new rule, the Secretary is only required to determine if the fishery management plan is being implemented as intended, not necessarily if the fish stock is, or is not improving.
As a recreational fisherman I don't make my livelihood by fishing. I don't work as a charter boat captain; I don't market fish. But NS1 has protected my natural inheritance and way of life. And in the Gulf, heritage runs deep. Thanks to NS1, red snapper have not only increased in number and size, but they have begun to return to fishing grounds in mid- and southern Florida waters where they have not been seen in decades, returning back to me and others the Southern ways of life our Grandfathers enjoyed and instilled in us.
So my children and their children can enjoy and experience their natural inheritances and the Gulf's way of life, please tell President Obama to protect sustainable fisheries management and defeat the changes proposed for NS1.
Dennis McKay is recreational fisherman in East-Central Alabama.