Exploring the First U.S. Offshore Wind Farm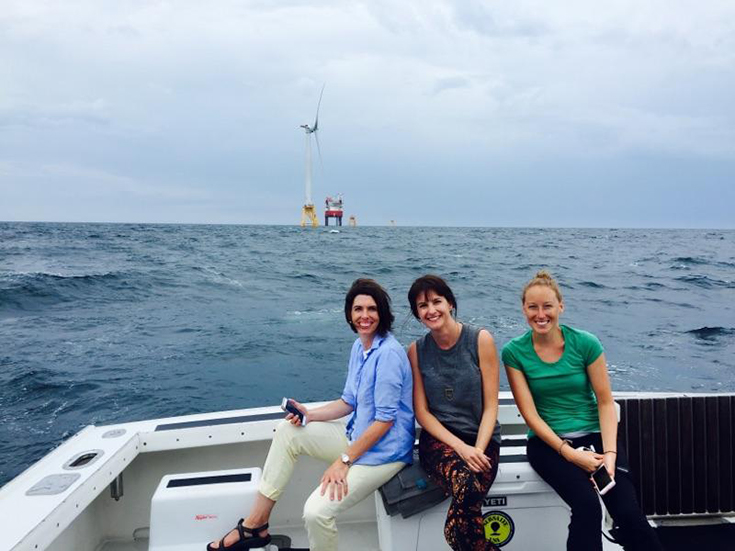 It was a grey and rainy day, the seas were choppy and I had my seasick medicine at the ready.
"Hope you ladies are in for a bumpy ride" shouted the captain of the small vessel that would be our next mode of transportation. "We might only make it halfway out before we need to turn around, it's rough out there today!"
Great. Just what I wanted to hear.
The Block Island Wind Farm
The wind was gusty—a positive sign, considering we were on our way to visit America's first offshore wind farm. In the distance, our destination was clear. Three turbines were standing at the ready, towering over the remaining two platforms under construction. These engineering wonders were tall and thin, with yellow foundations and bright white towers; a stark contrast to the dark and turbulent sea that swirled around them.
However, our purpose that day was not to gaze at these novel giants in the ocean. We were there to view another process, one that was not visible to the eye. For those who work to coordinate all the different uses of the ocean with an eye towards environmental sustainability, this project is an example of what the future of ocean management may look like in the coming years—one that balances human uses while ensuring our environment is considered equally.
The Rhode Island Ocean Special Area Management Plan
The Block Island Wind Farm, which is what we were heading out to see, was partly spurred by the Rhode Island Renewable Energy Act of 2004. Offshore wind, which was included in the Act, would be a novel industry for Rhode Island. To deal with it, the state identified the need for smart ocean planning in the waters off the coast. In 2006, Rhode Island began an ambitious effort to plan for the future of their ocean, understanding there are many interests vying for a constrained three-dimensional space.
Thus, the Rhode Island Ocean Special Area Management Plan (OSAMP) process was born. Over the course of two years, the state Coastal Resource Management Council (CRMC), brought together scientists, academics, industry and fisheries management representatives, the general public, project developers and more to collect data, share their visions over the current and projected uses of the state's marine resources, and chart a path forward the enables all ocean users, new and old, to co-exist and thrive with a healthy ocean. The Ocean SAMP developed valuable information that improved the understanding and management of state and federal waters off Rhode Island's coast—everything from who uses the waters and how, to the importance of the area for marine mammals, fish and bird populations.
By 2010, the plan was approved. An area for offshore wind was identified through consultation with myriad ocean users, and coordination with conservation groups helped lead to a project that had broad support. The project was placed in a location that nearly everyone agreed on: Conservationists ensured areas that were important for seabirds weren't disturbed, and that during construction, pile driving would be scheduled to protect sound-sensitive endangered whales; sailors ensured their race routes weren't affected; and lobstermen got tweaks to the project location to protect their fishing grounds along with ongoing research commitments.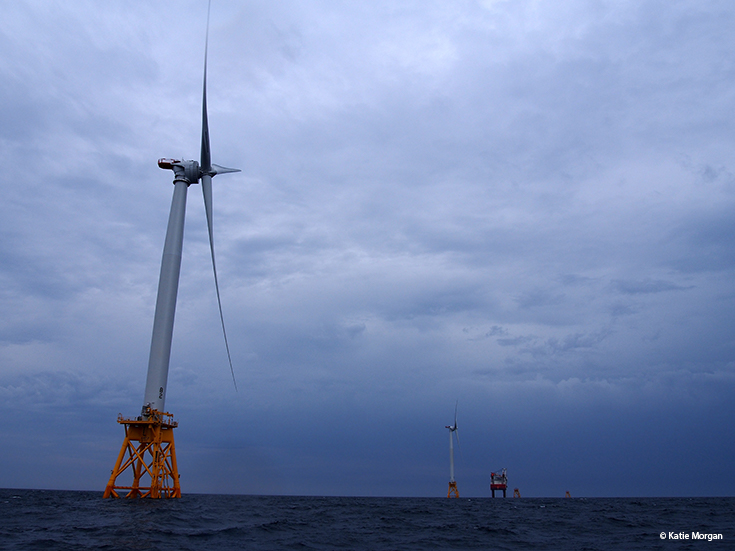 The Future of Our Ocean
As states across the country develop their own renewable energy goals, advancing more comprehensive ocean planning efforts is fundamentally important. For example, the Governor of Massachusetts recently signed an energy bill which may lead the state towards an offshore wind generating capacity of roughly 1,600MW—an enormous amount, considering the Block Island Wind Farm has a capacity of just 30MW. New York just unveiled its own blueprint for offshore renewable development in an effort to curb emissions and power the state's electricity hungry population. In addition, the Department of Interior (DOI) just released their National Offshore Wind Strategy, where they laid out the United States' potential for offshore wind development along its coastlines. DOI's Bureau of Ocean Energy Management has leased 11 offshore wind areas up and down the eastern seaboard, including offshore Massachusetts, Rhode Island, New York, New Jersey, Maryland and Virginia, all of which could soon see projects moving forward.
What this all means is offshore wind in the U.S. is primed for rapid growth. Ocean managers must plan and prepare for it now and well in to the future. Thankfully, ocean planning is occurring in both state waters (0-3 miles offshore) and federal waters (3-200 miles offshore) across the United States. Some states, including Massachusetts, Connecticut, New York, Washington and Oregon, are already creating ocean plans for their state waters with goals similar to those of Rhode Island, and federal ocean planning efforts are underway in the Northeast, Mid-Atlantic, West Coast and around the Pacific Islands. The processes differ from place to place, but the methods are the same: Bringing sound science and stakeholder engagement together to decrease conflict and secure a sustainable and healthy ocean environment.
The future is bright with Ocean Planning
I'll be honest—the seas were not as monstrous as they could have been, but for a mildly stormy day and a very small boat, we had a pretty choppy ride. Most importantly, we were able to see with our own eyes what the outcome of a collaborative process can look like.
We should all be able to agree that there is a way in which we can enable multiple ocean uses to co-exist in harmony while protecting the environment and the species (ourselves included) that depend upon it for their survival. We can start by having open conversations with ocean users, decision-makers and the public, gathering data and trying to find areas of common interest through the ocean planning process. By working together, we can help drive outcomes that work for everyone.