How Bank of America Employees Went Above and Beyond this Cleanup Season for Trash Free Seas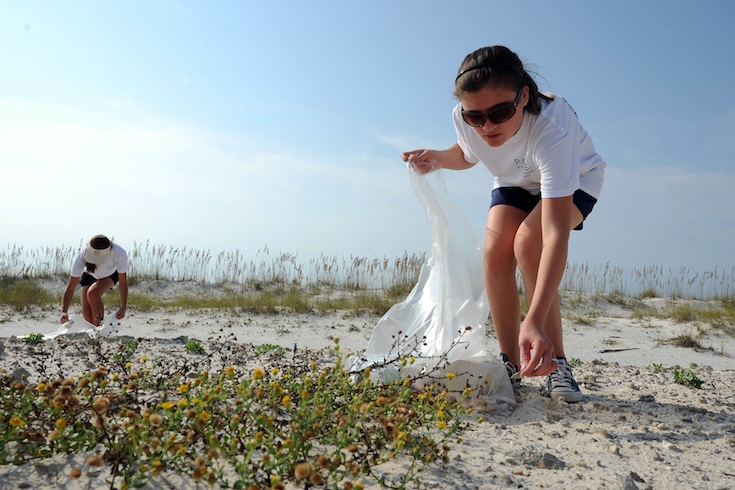 One thing I love about the International Coastal Cleanup (ICC) is the way it brings people together and inspires environmental stewardship well past any single-day effort of collecting trash. Ultimately, the ICC is about people and community. And a great example of this is the partnership we've formed with Bank of America (BofA) over the past 17 years.
This major financial institution has about 200,000 employees across the globe, in different time zones, speaking different languages… But one thing that unites them—and that unites all of us—is the ocean, and the International Coastal Cleanup has served as the perfect platform for bringing its staff together in a positive way. That's why since 2000, Bank of America has been a sponsor of Ocean Conservancy's annual ICC event, providing resources to support cleanup partners around the world and activating its own employee cleanup events. Where company led cleanups were not available, employees participated in local cleanups events organized by other ICC partners as this is an important event for them and their community.
Over time, the ICC event has become a key part of its employee engagement activities. In fact, earlier this year its employees selected the Ocean Conservancy to receive a grant as part of the company's Recycle Now campaign.
Here's how it worked:
As part of the bank's ongoing sustainability efforts it launched a three-week employee engagement campaign this past July encouraging its staff to reduce waste and recycle more. Employees could choose between certain environmental actions (such as volunteer for a coastal cleanup event over the summer or bring a reusable water bottle to work). And as part of the program, employees—individually or as a team—could choose to make a company-sponsored donation to two non-profit organizations, including Ocean Conservancy. Nearly 7,000 of its employees from 25 countries committed to various environmentally friendly activities.
We were thrilled and grateful to be selected by Bank of America, and impressed by its deep commitment to the environment. The company, across its lines of business and employee programs, constantly encourages employees to think about their footprint and be better environmental stewards, one small action at a time. And I believe its Recycle Now campaign could serve as a model for other companies.
But as importantly, we were moved to see just how powerful and inspiring the International Coastal Cleanup has been for staff. Their enthusiasm for the ICC demonstrates that grassroots efforts can change hearts, raise awareness of issues and expand our minds to move us toward a future of trash free seas.
So thank you to Bank of America employees all around the world; we are already looking forward to celebrating next year's International Coastal Cleanup with you!