St. Helena 2018: Shark! Fins on! Splash!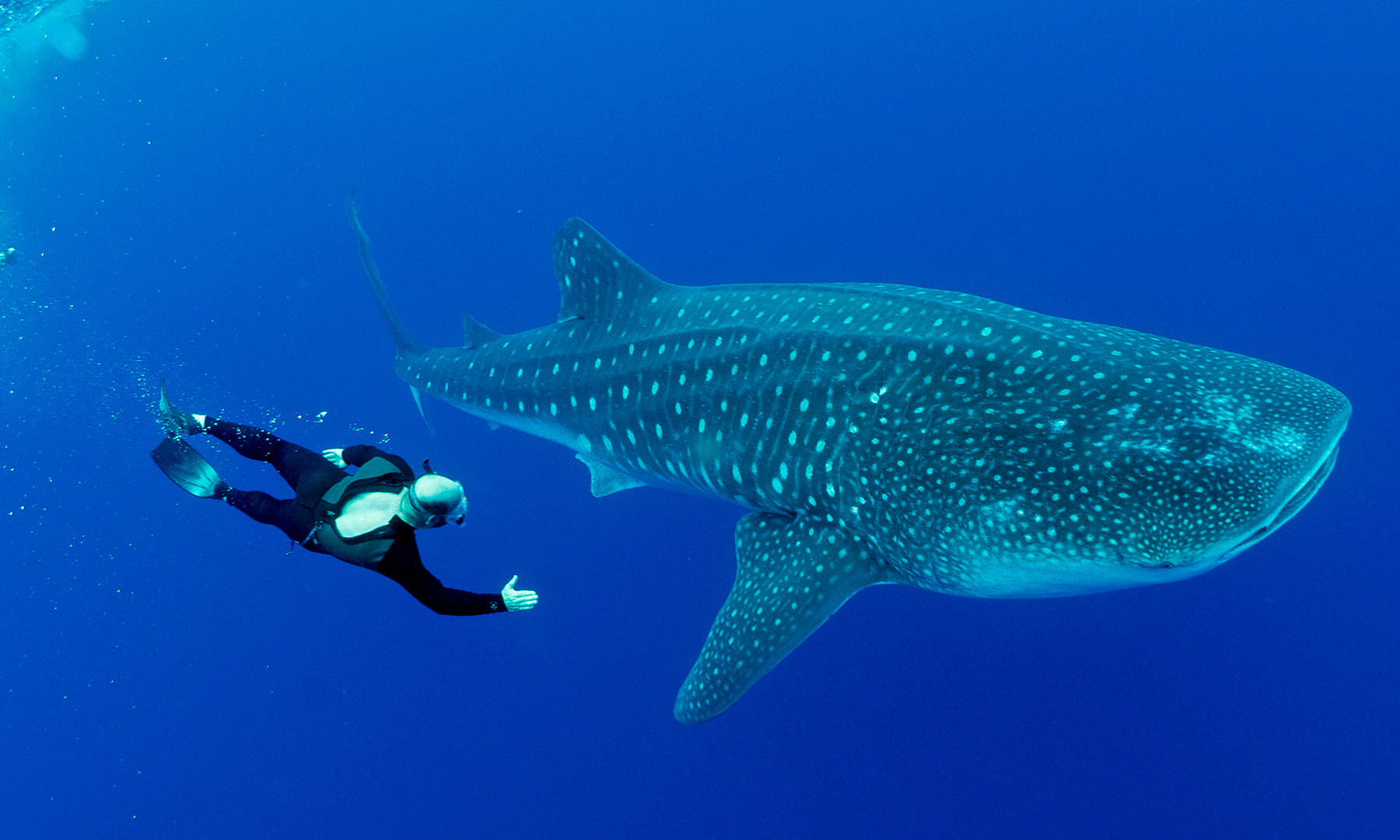 After 3 hours of zigzag patterns without a single whale shark sighting, we being to think we may come up emptyhanded during our last day on the water in St. Helena. We have been here to undertake the first whole-island survey of ocean plastics, but today we are assisting Dr. Al Dove and his research team from Georgia Aquarium studying whale sharks. While we have been treated to hundreds of pantropical spotted dolphins feeding along the leeward coast of the Island as well as brown boobies and literally thousands of black and brown noddies aggregating in nesting pairs on Egg Island, it is the elusive whale shark that dominates our attention today.
Our hope continues to dwindle until radio chatter breaks the silence and suddenly Johnny, the Captain of the Enchanted Isle, opens up the boat's throttle and we cut through small white caps to reach Sugarloaf, St. Helena's northernmost point. A sailboat here has just spotted two whale sharks. And sure enough, as we spot the reported shark just off the Enchanted Isle's bow, our enthusiasm sky rockets—only to be dashed once again. Before we can enter the water, the shark dives and disappears into the blue abyss. As another fish almost immediately comes into view, Al orders: "fins on, fins on! Go, go, go!"
At last, splash!
With snorkel and fins affixed, George and I jump off the Enchanted Isle's port side into 300 feet (80 m) of rich blue, 72oF water. Visibility is exceptional, with rays of sun penetrating the depths of the oceanic waters. Out of the depths, a whale shark (Rhincodon typus) approximately 25 feet in length swims directly in front of us. Its body is a spectacular dark blue with its white spots illuminated by the sun's rays.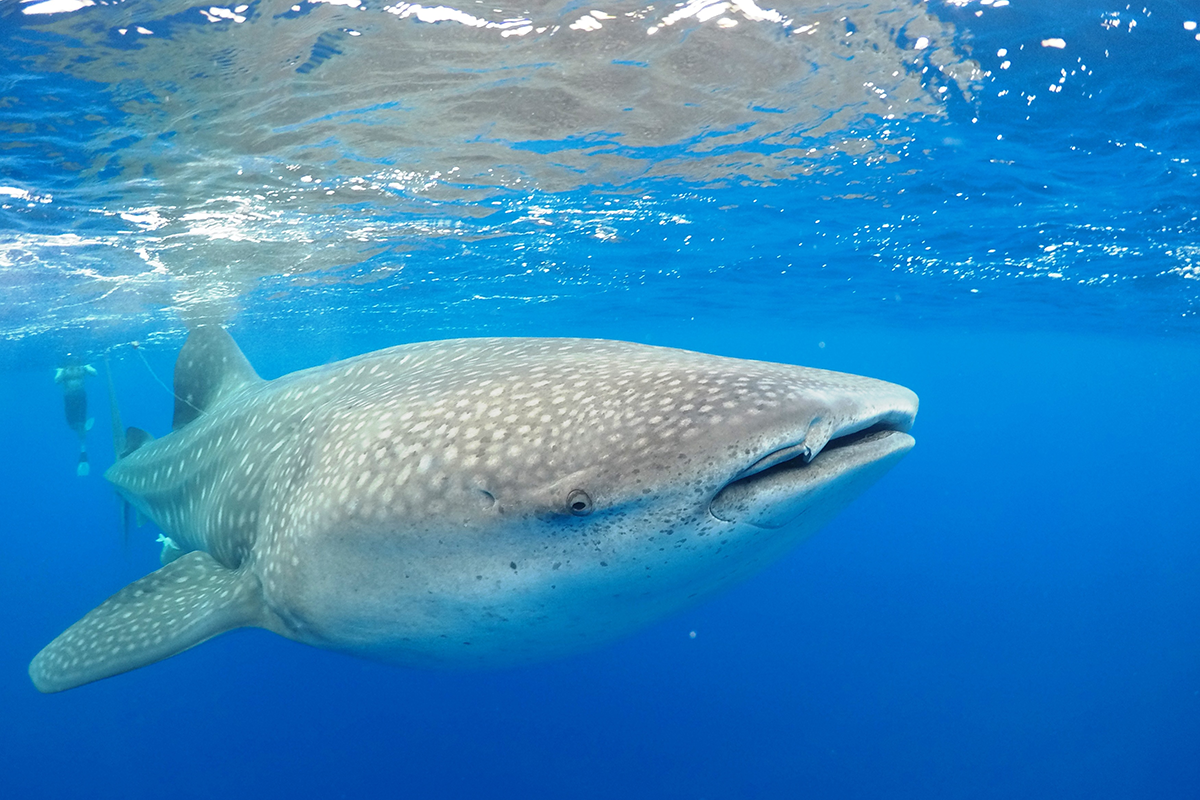 This magnificent animal is the largest fish in the ocean, often exceeding 30 feet in length and weighing as much 40,000 pounds. Despite its massive size, it is among the most docile creatures in the sea. That was clearly evident as this particular male stayed with us for nearly 30 minutes, providing us ample opportunity to capture all the required scientific information. The animal's behavior was mesmerizing; its slow, meandering swimming pace exuded the utmost confidence, as the animal knew at any moment he could have disappeared into the deep with a single flick of his tail.
This particular fish has had a satellite tag affixed by Dr. Dove's research team. Dr. Dove's main objective for this 2018 Expedition was to build on his two previous expeditions (2015 and 2016), characterizing the movement and behavior of St. Helena's whale sharks including how far these fish move throughout the Atlantic Ocean. Using these harmless tags will provide critical information about the animal's movements between St. Helena and other parts of the Atlantic Ocean over the coming weeks and months, providing novel insights into the clandestine lives of these incredible creatures. Alexandra Watts, a PhD Candidate with the Ecological Genetics Lab at Manchester Metropolitan University and Marine Megafauna Foundation, has joined Dr. Dove's team to apply cutting-edge genetic techniques to determine how closely-related whale shark populations are between St. Helena, the Galapagos, Indonesia and other parts of the global ocean. This information will help conservation managers aid in the protection of these threatened species.
The research team achieved all its objectives. Over the course of the three-week expedition, the team successfully engaged 47 whale sharks, started a critical educational exchange with St. Helena schools and learned from the Saint kids what it's like to grow up with whale sharks on your doorstep!
Ocean Conservancy's primary objective on this expedition was to better understand the potential effect of ocean plastics on St. Helena's beaches, in its nearshore waters and on its marine wildlife. While we were in the water with whale sharks this day, a new paper was published by Elizta Germanov and colleagues (2018) highlighting the potential exposure of filter-feeding marine megafauna to microplastics and plastic-associated toxins. These scientists believe that species most at risk include mobulid rays (including the Chilean devil ray that we also encountered), filter-feeding sharks like whale and basking sharks, and baleen whales. This new paper highlights the urgent need to better understand the potential effects of microplastics on whale sharks in St. Helena waters (and beyond.)
As we climb back aboard the Enchanted Isle, the extended research team deliberates about the many new questions that have surfaced along with us. Ocean Conservancy is optimistic that Expedition St. Helena 2018 marks the beginning of our new partnership with Dr. Dove and his team, for there is much more important work to be done on plastics, whale sharks and the solutions needed to ensure healthy sharks—and healthy oceans—well into the future.
Stay tuned! Our next installment will cover what we have learned about plastics on St. Helena's rugged beaches.