Bringing the Chesapeake Bay to Baltimore's Inner Harbor
The National Aquarium, located in the heart of the nation's largest estuary, is bringing back estuarine landscapes to Baltimore City.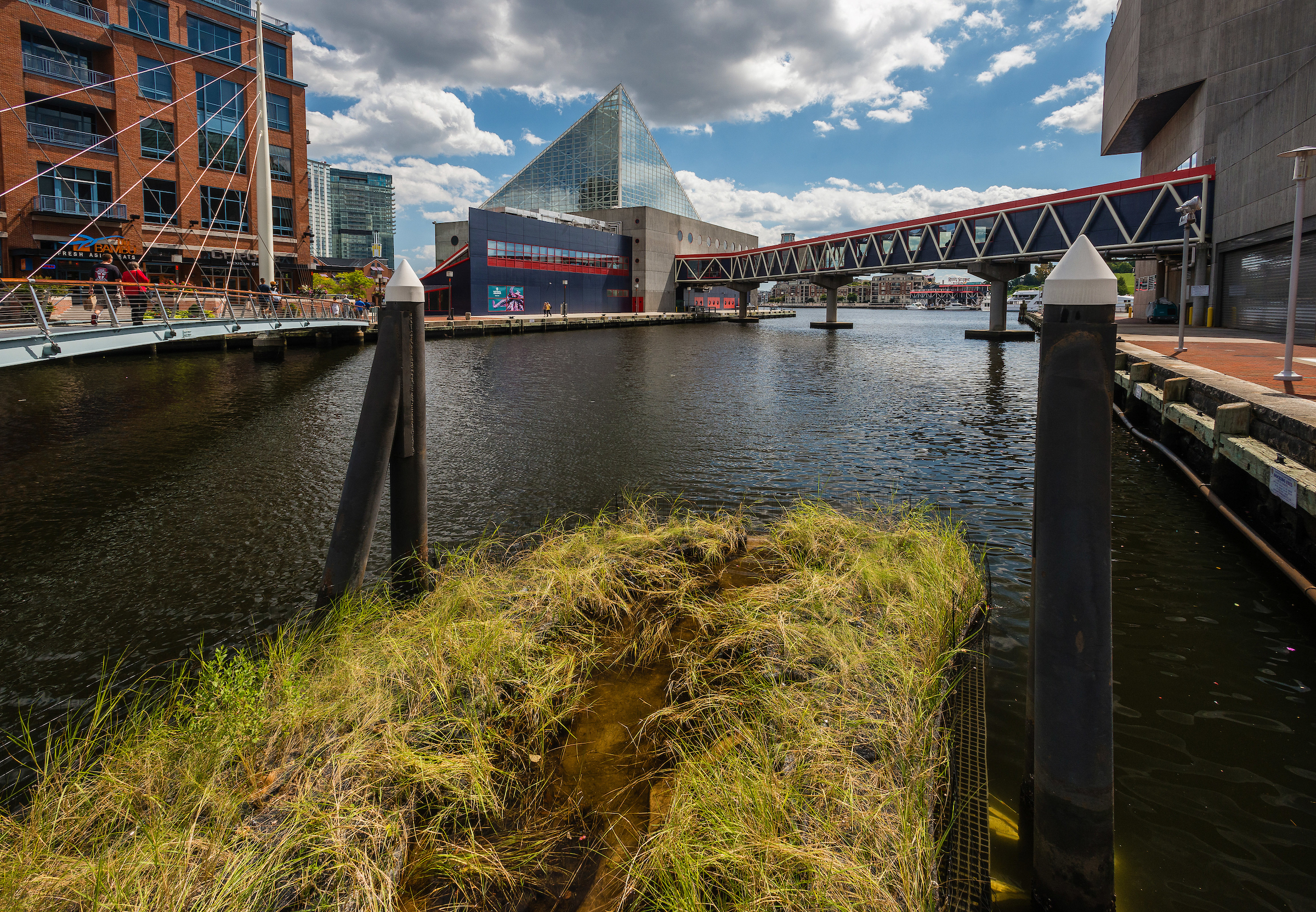 This blog was written by Charmaine Dahlenburg, Manager of the National Aquarium's Chesapeake Bay Program.
Estuaries are necessary for the health of people and the planet. They capture and filter stormwater runoff, reduce effects of flooding, prevent shoreline erosion and provide habitat for fish, birds, mammals and invertebrates. As our coastal populations continue to grow, the ecosystem services provided by estuaries will be even more important. Finding ways to balance working wetlands with our human community needs is critical to protecting wildlife and understanding how we interact with nature.
The National Aquarium, located in the heart of the nation's largest estuary, is bringing back estuarine landscapes to Baltimore City through our Waterfront Campus, a plan to introduce a variety of habitats, including floating wetlands and oyster reefs, to a 2.7-acre channel that sits between the Aquarium's Pier 3 and 4 buildings. Our work celebrates Baltimore's post-industrial Inner Harbor alongside the Power Plant, a well-known landmark now housing eateries and offices in what was once a coal-fired plant where harbor water cooled condensers. We are creating environments where urban wildlife can thrive while also providing a connection to the communities that share this space.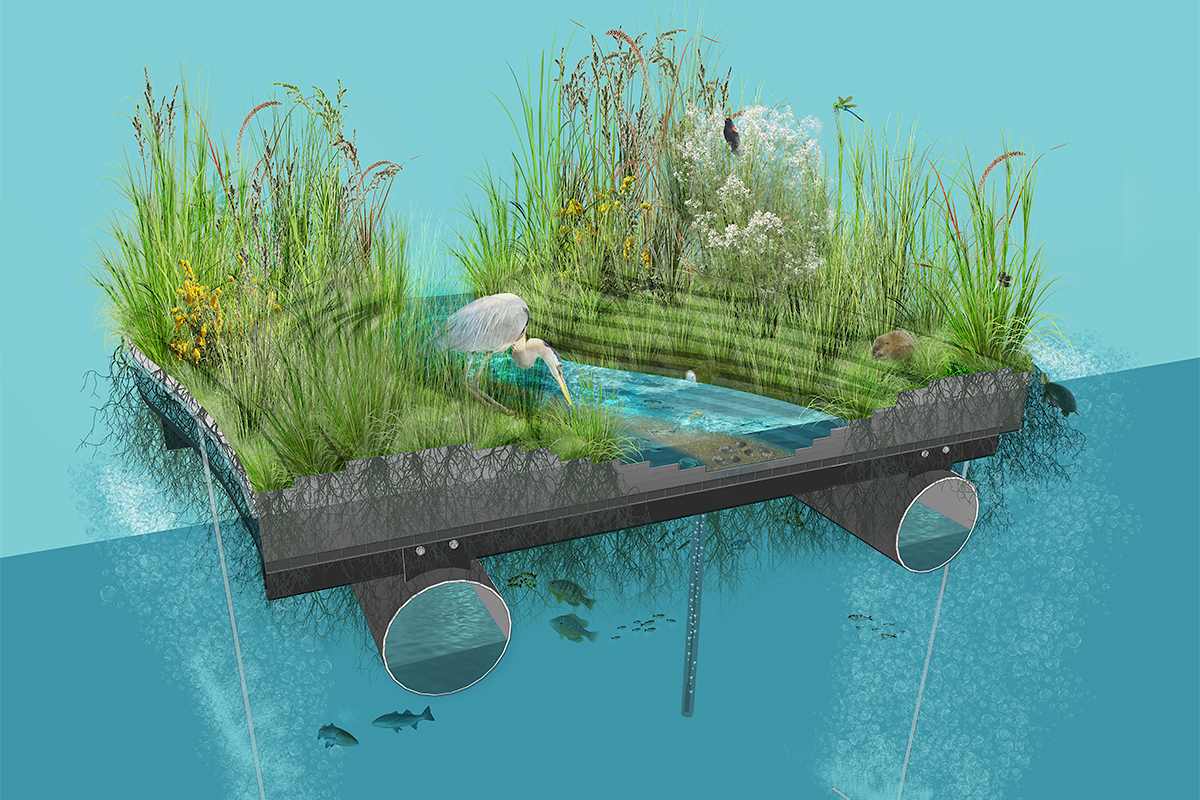 In August 2017, the National Aquarium launched a uniquely-engineered floating wetland prototype that functions like a natural wetland, providing important micro-habitats vital to many of the Chesapeake Bay's estuarine organisms. Designed to rest at a predetermined elevation in the water column, the island supports a variety of habitat conditions above and below the water's surface. A channel between wetland areas, equipped with airlifts to keep water cooled and moving, mimics a small tidal canal. Part of the wetland's innovation is its aeration component, complete with four diffusers designed to mix the upper portion of the water column and limit the formation of harmful algal blooms.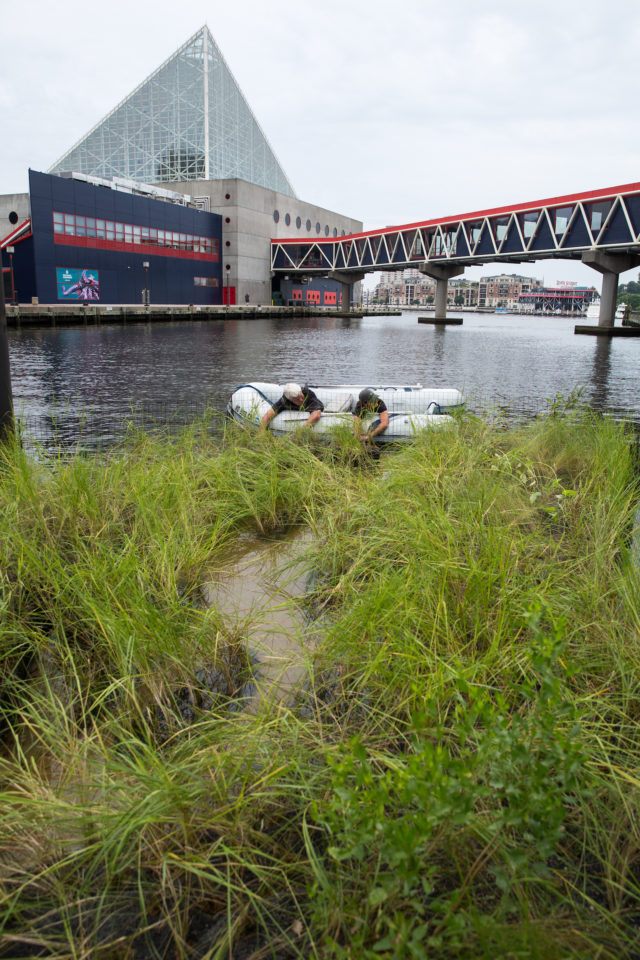 This prototype is the first step in evaluating how modified habitats perform in urban settings. As part of the performance evaluation, we track the survival rate of native grasses, monitor continuous water quality around the island and study its surrounding biodiversity. Estuaries are teeming with life, even in Baltimore's Inner Harbor. Since its launch, the Aquarium has documented two successful nesting mallard ducks, seven fish species occupying the small tidal canal and island perimeter, a juvenile black-crowned night heron, two reptiles (Northern water snake and red-eared slider), various crustaceans (blue crabs, mud crabs and shrimp) and a muskrat! The Aquarium also works with local scientists studying biofilms and implementing a DNA barcoding study. This island is a place for citizen science, one of many where we use
iNaturalist
as a tool to engage the public in collaborative learning about urban biodiversity.
Projects like the National Aquarium's floating wetland help species get a foothold in post-industrial urban estuarian waterfronts. Unfortunately, due to growing populations, urban development and sea level rise, estuarine habitats continue to suffer significantly. In our warming climate, acidification of estuarine waters also poses a serious risk to these environments and additional information is needed to better understand acidification in estuaries. Congress recently introduced a measure called the National Estuaries and Acidification Research (NEAR) Act of 2018, which seeks to help address the knowledge gap around the impact of ocean acidification and other stressors in estuarine environments. The National Aquarium supports measures like the NEAR Act and is committed to conserving these unique habitats.
To learn more visit the National Aquarium's Waterfront Campus initiative here.