Florida Red Tide Senate Briefing Recap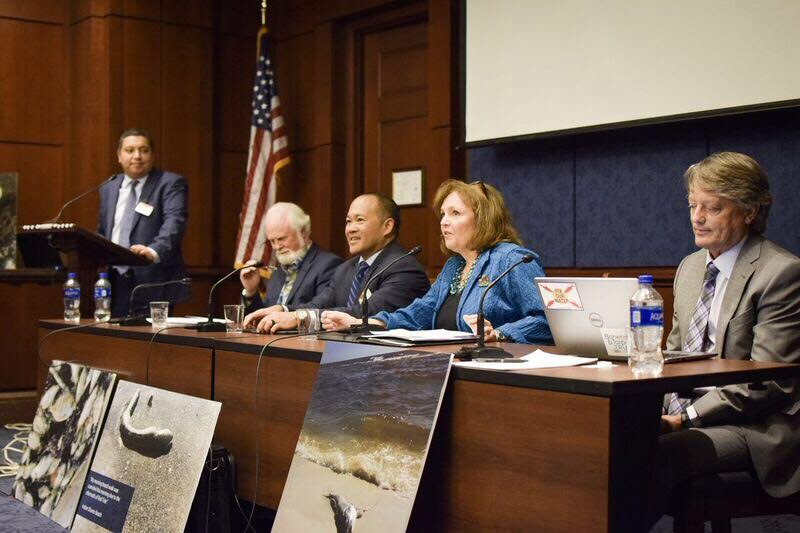 Palm Beach County officials found traces of Red Tide on their beaches earlier this week, Miami-Dade and Broward Counties will conduct testing on their beaches, and the west coast of Florida is still awash in dead fish.
Florida's red tide crisis seems to be getting worse by the day, and it requires the attention of every Floridian and elected official – all the way up to the halls of power in Washington D.C. That's why last week we, along with Citizens' Climate Lobby, worked with Florida Senators Bill Nelson and Marco Rubio to host a much-needed Red Tide Briefing on Capitol Hill to bring the reality of this crisis to members of Congress. In a room full of images of dead fish, submitted through our Red Tide photo portal from Floridians and visitors who've seen these impacts up close, leaders from Florida came to Washington to tell their stories and discuss how the red tide is impacting their communities. We appreciate their commitment to Florida's beaches and waterways.
Senator Bill Nelson and Congressman Francis Rooney attended and spoke at the event. While both represent two different political parties and ideologies, they agreed on the importance of clean air and clean water, and how, in Florida, water quality isn't a political issue, but a Floridian one. It will take that sort of bipartisan approach to tackle this issue.
Below are some key excerpts from our panel.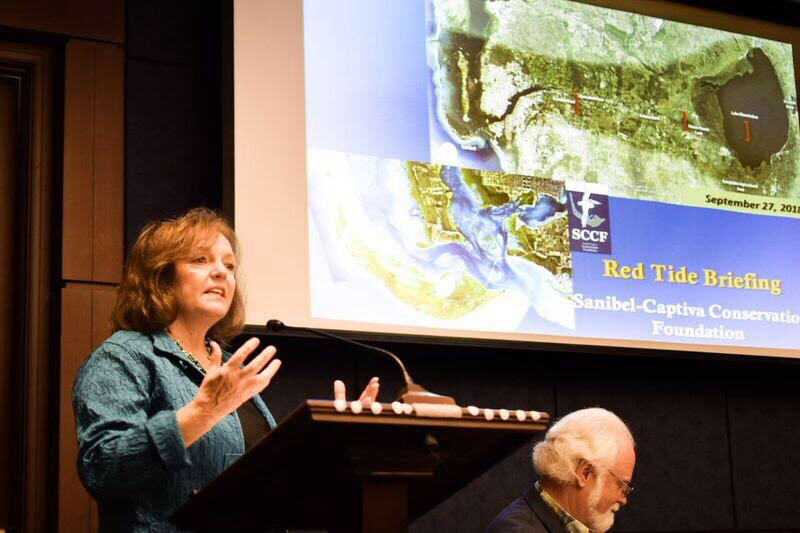 Rae Ann Wessel, Natural Resource Policy Director, Sanibel-Captiva Conservation Foundation:
"We have had 2,200 tons of dead marine life cleaned off our beaches in just the months of July through September. On our beaches at Sanibel alone, because Sanibel's a city, 425 tons of dead marine life. What I can't share with you is a scratch and sniff. Probably as horrific as seeing dead marine life on our beautiful beaches where we like to swim and play is the smell that just can't be described. Our sea turtle staff and volunteers and our marine scientists have to be out in that and this is a health concern.
We can't take risks with this, this isn't a luxury, this is public health. And the primary focus, the prime directive of government needs to be above and beyond all things, protection of the public health, safety, and welfare. And we're talking about nothing less than that."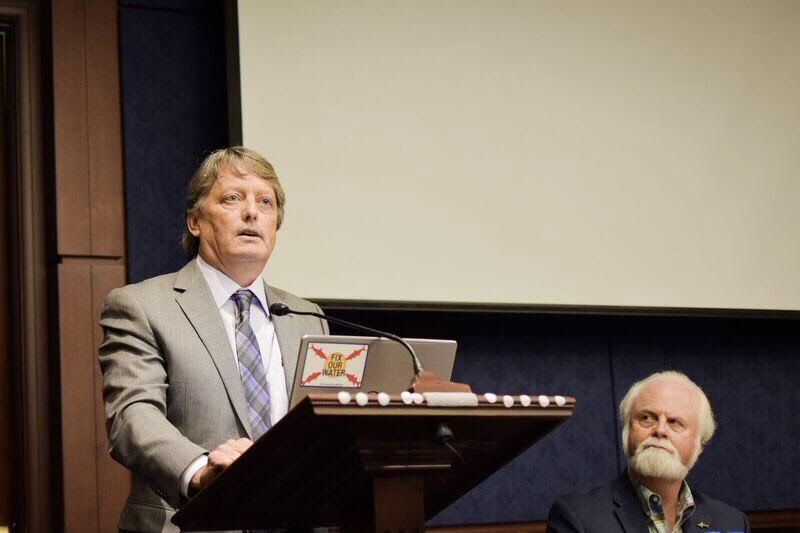 Dr. Aaron Adams, Director of Science and Conservation, Bonefish & Tarpon Trust:
"We've had blue green algae blooms in Lake Okeechobee, the St. Lucie River on the east coast which drains Lake Okeechobee. Rae Ann's already talked about those same blooms coming out of the Caloosahatchee. We've had algae blooms, seagrass die offs and fish kills in Florida Bay, which are also associated with Everglades water issues. We have seen multiple brown algae events in the Indian River Lagoon. And more recently we're seeing algae blooms in the St. John's River, which drains into Jacksonville. This is a statewide problem.
We can and should be concerned about this particular event but it's got to be bigger than that. We can't get conned into thinking it's a one off. More importantly, these systems are already sick so that means when we have an event like a red tide, it's a lot harder for them to recover. Just think about yourself being sick and then you had a cold, then you get the flu. Recovering from that is extra hard. These systems are sick, so every one of these events makes it worse and worse. And we have to stop reacting to the symptoms and begin addressing the disease."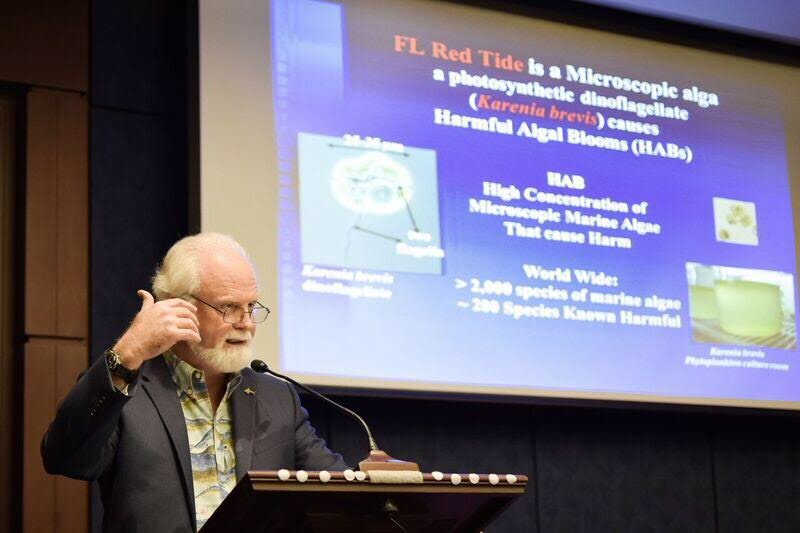 Dr. Michael Crosby, President & CEO, Mote Marine Laboratory:
"Now, everything I've just said, these are independent, objective, science-based facts. It's not emotion, it's not political talking point, and many people would really like to believe that if only we were able to get control of one thing, we were able to clean up just one thing, Red Tide would go away. Red Tide is simply not that simple. Scientists from Mote are working tirelessly now with many partners, including federal partners, NOAA and others, with Florida Fish and Wildlife, Florida DEP, department of health, several other independent organizations and universities to respond to these harmful algal bloom events."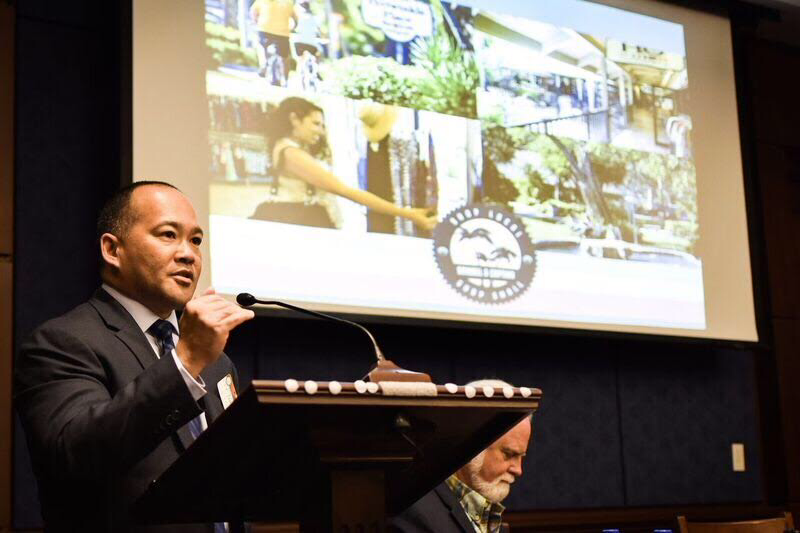 John Lai, President & CEO, Sanibel & Captiva Islands Chamber of Commerce:
"The lost revenue (In Sanibel & Captiva) combined was over $19 million for the months of July and August. We are going to send this out again at the end of September, so we'll have some more data. There were 2,700 jobs represented on our surveys. And this is just, once again, a very small sampling from our Chamber, so we've had approximately 85 people respond and that represented over $19 million in revenue with a year over year decrease of 36%. Keeping in mind that September last year, once again, Hurricane Irma was present and so the island was evacuated, we are still hearing that this September is actually worse than last year."