Even in the World's Cleanest City, Pro Surfers Can See Microplastics are an Insidious Problem
Pro Surfers Ready Ambassadors on Ocean Plastic Issue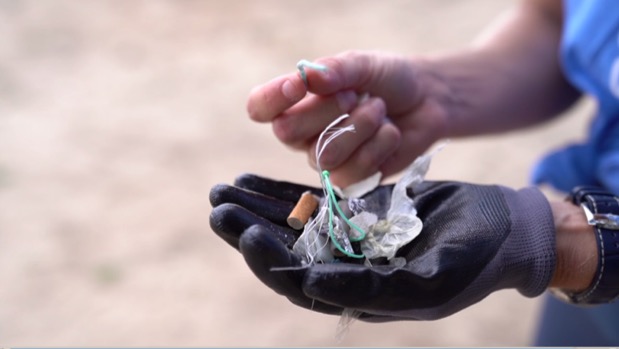 Plastic bags have become the poster child of the ocean plastic crisis. The promotional poster for the 2016 documentary A Plastic Ocean featured a beluga whale swimming with a plastic bag. When National Geographic launched its "Planet or Plastic" series in 2018 it was a plastic bag that donned the front cover of its iconic magazine.
Bags deserve the spotlight. After all it's the plastic bag that shows up again and again as the culprit in the untimely deaths of so many ocean animals, from Thailand to Canada. An Ocean Conservancy study showed that plastic bags are among the top five most deadly types of marine debris.
But part of its notoriety is that the plastic bag is visible. Lightweight with a large surface area, you might see it floating in the breeze, tumbling across sidewalks and streets or getting caught in tree branches.
Unfortunately, there's another, albeit less visible, antagonist in the ocean plastic saga—microplastics. Since December alone, a number of news stories have highlighted the problem with these tiny (less than 5mm) plastic pieces. CNN reported on a study in which scientists found microplastics in the guts of all 102 turtles examined—turtles of different species that came from different oceans. EcoWatch highlighted another study showing that microplastics could spread to every part of a sea scallop's organs in just six hours. National Geographic reported that researchers found as many as 3,400 microplastics in a liter of water sampled from the Arctic Greenland Sea, more than 18,000 feet deep.
Indeed the reach of microplastics is startling. In October, Ocean Conservancy staff traveled to Singapore for a special beach cleanup together with our partners at Breitling and two surfing stars: Stephanie Gilmore, the seven time world champion, and Sally Fitzgibbons, multiple WSL world tour winner. Both are members of the Breitling Surfers Squad and passionate advocates for a clean ocean. Singapore, of course, is famously (even notoriously) clean. Yet even there, cleanup volunteers collected some 70 pounds of trash on a small beach in just under two hours.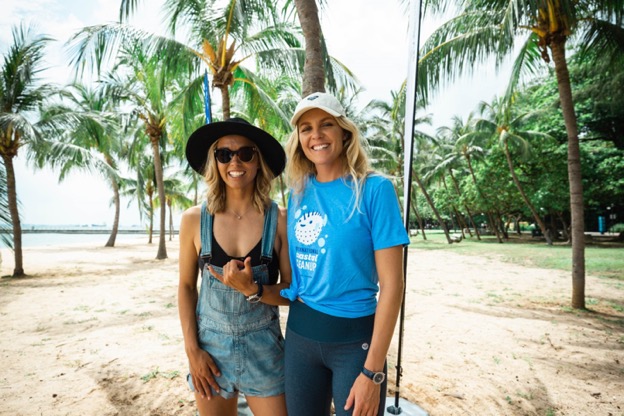 It made a powerful impact.
"This beach actually looks really clean and within five minutes I've picked up cigarettes, old fishing lines, Q-tip and lollipop sticks," said Stephanie Gilmore, Breitling Surfer Squad member and World Surf League 2018 World Champion. "These are all around us all the time and because they're not so big and in our face we don't think about it, but they're here."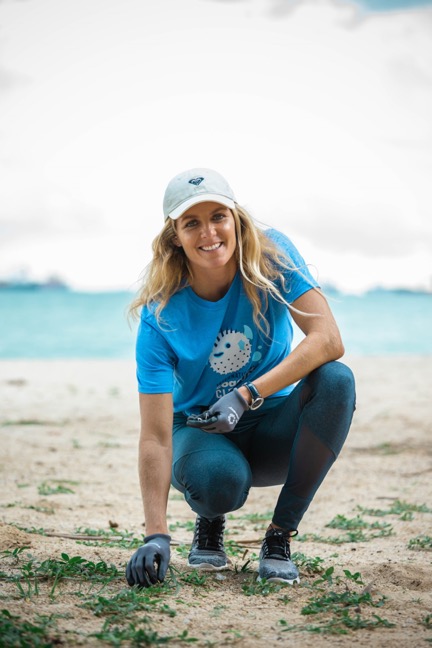 Professional surfer and Breitling Surfers Squad member Sally Fitzgibbons also noticed the tiny trash. "When you're out and about and you do visit the beach, look down and you will see just how much microplastic there is. Pick some up—it all helps. Just standing here doing this interview, you can see they're all around me."
Observations like this are exactly why cleanups are so important. Over the course of 33 years, volunteers with Ocean Conservancy's International Coastal Cleanup have removed more than 250 million pounds of trash from beaches and waterways around the world. You can be sure that each person (of the more than 14 million people) who participated in that time was amazed by what they were able to find. That's a big part of why Breitling and their Surfers Squad have partnered with Ocean Conservancy.
"Surfers in particular are very passionate about [ocean health] because they're in the ocean every day," said Gilmore. "And the professional athletes and the elite surfers, we have a special platform where we can authentically talk about it. We genuinely want to see a change."
Fitzgibbons echoed that the surfing community is well aware of the ocean plastic problem, but that it's up to surfers to communicate "to a broader community that may not interact with the ocean every single day. They may not see it so out of sight, out of mind." Working with Breitling presents that opportunity.
Of course, cleanups represent just one important tool in the fight against ocean plastic. In the past few years Ocean Conservancy has expanded its Trash Free Seas® program to address the suite of solutions needed to solve the ocean plastic crisis, like investing in waste management and collection in Southeast Asia, the region in the world where the greatest amount of plastic and trash flows into the ocean. Companies have a critical role to play in supporting those efforts, as part of the Trash Free Seas Alliance, and reduction of plastic and product redesign is also critical. There is no one magic solution to solving the ocean plastic crisis. It will take all of us doing our part, alongside our partners. The good news is that we're making progress.