Dolphins Fans, Rejoice: Hard Rock Stadium Cutting 2.8 Million Single-Use Plastic Items in Time for Super Bowl LIV
Whether you love the football team or the animal (or both), some exciting news out of South Florida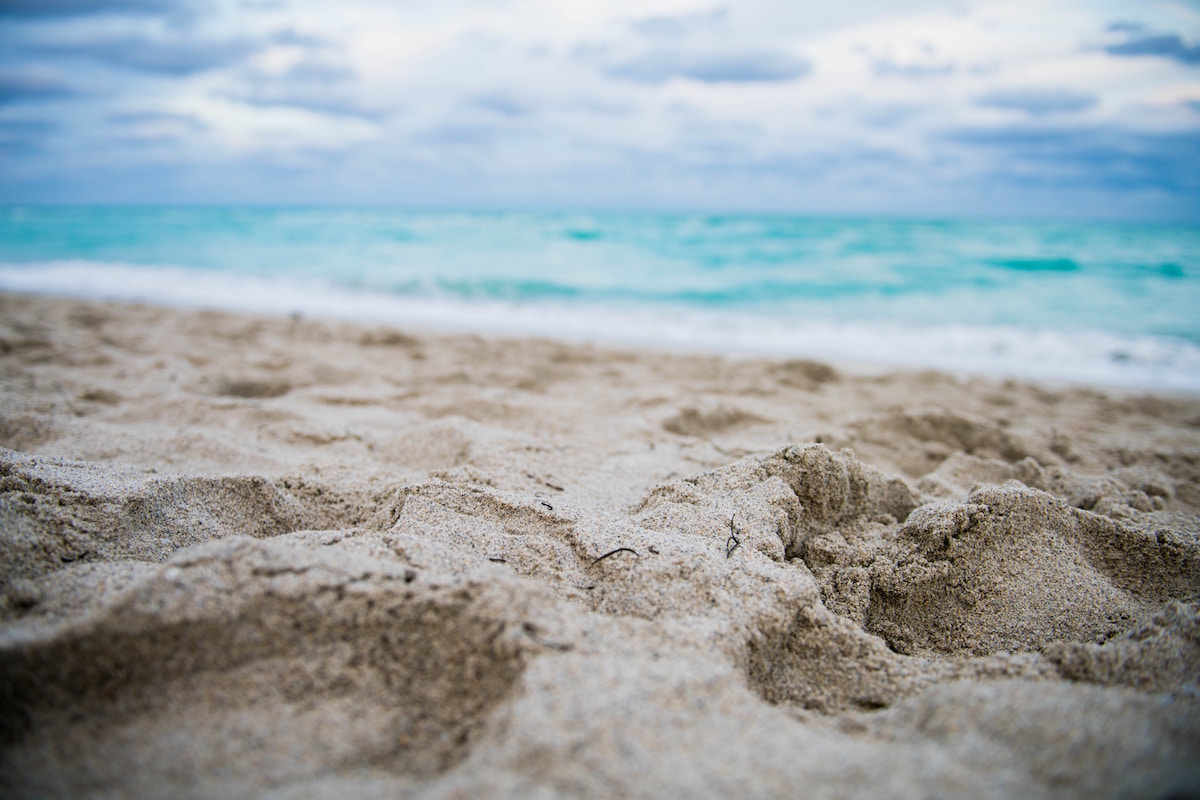 Ardent Dolphins fans may already have heard the big news: Hard Rock Stadium—home of the Miami Dolphins and Super Bowl LIV–is ditching single-use plastics in favor of more easily recyclable alternatives. That means some 2.8 million fewer pieces of single-use plastic, including plastic beverage bottles, cups and cutlery, will be circulating in and around the stadium, which is located just steps from South Florida's sparkling beaches.
Kudos go to Tom Garfinkel, the vice chairman, president and CEO of the Miami Dolphins and Hard Rock Stadium, as well as Miami Dolphins owner Stephen Ross, for recognizing the important role they and the NFL can play in protecting our ocean. By putting the environment and the ocean front and center, they are demonstrating that hosting large scale events like the Super Bowl can be ocean-friendly.
Earlier this summer, the Dolphins joined Ocean Conservancy and Friends of Oleta State Park on a Dune Restoration project and cleanup, which was followed up by an October tri-county cleanup in Miami-Dade, Broward and Palm Beach. Building on those efforts, the team will be donating a portion of ticket sales for their home finale against the Cincinnati Bengals to Ocean Conservancy on December 22. We applaud the steps the Dolphins are taking to protect the ocean that surrounds them and sincerely appreciate their commitment to working together, starting with our initial dialogue about these important issues last winter.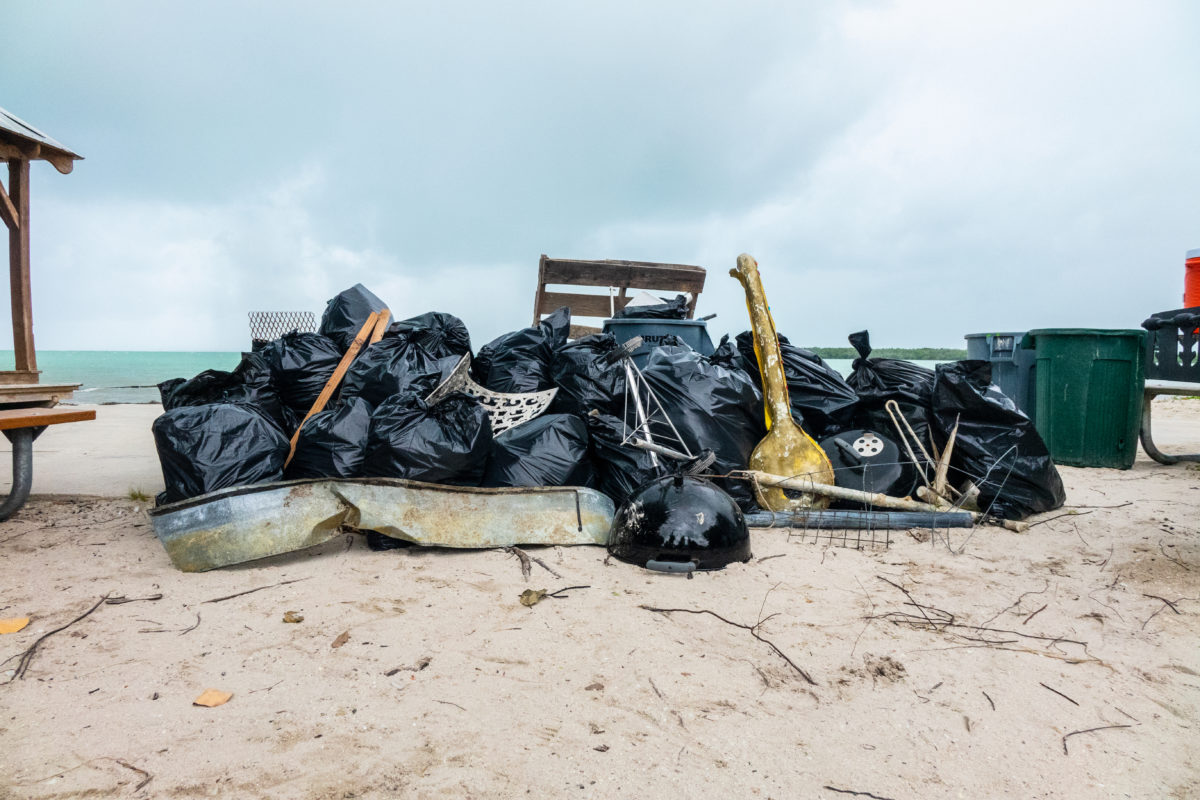 Considering how ubiquitous single-use plastics are (volunteers with Ocean Conservancy's International Coastal Cleanup collected nearly two million plastic bottles from beaches and waterways worldwide in 2018 alone), the Dolphins' commitment is a touchdown for ocean health. It comes not a minute too soon; nearly eight million metric tons of plastic flow from land into the ocean every year. That's enough to fill Hard Rock Stadium to the brim every other day of the year, year-round. While there are many causes, it is clear that an important part of the solution is to reduce our reliance on single-use plastic. Given the amount of single-use plastics involved in the Super Bowl and other large-scale events held at Hard Rock Stadium, making this switch is a key step towards a healthy and plastic-free ocean.
This move is also a touchdown for the city of Miami and the state of Florida. The Sunshine State is renowned, after all, for its beautiful beaches and important commercial and recreational fisheries. Those characteristics make Florida a prime location for Super Bowls, with Miami hosting more than any other city and the next Super Bowl heading up the road to Tampa. Fueled by tourism and the seafood and boating industries, the ocean provides nearly $30 billion to the state's economy. The ocean is so important to the state of Florida–and vice versa–that Ocean Conservancy has recently launched a program solely focused on working with Floridians to ensure a healthy ocean for generations to come.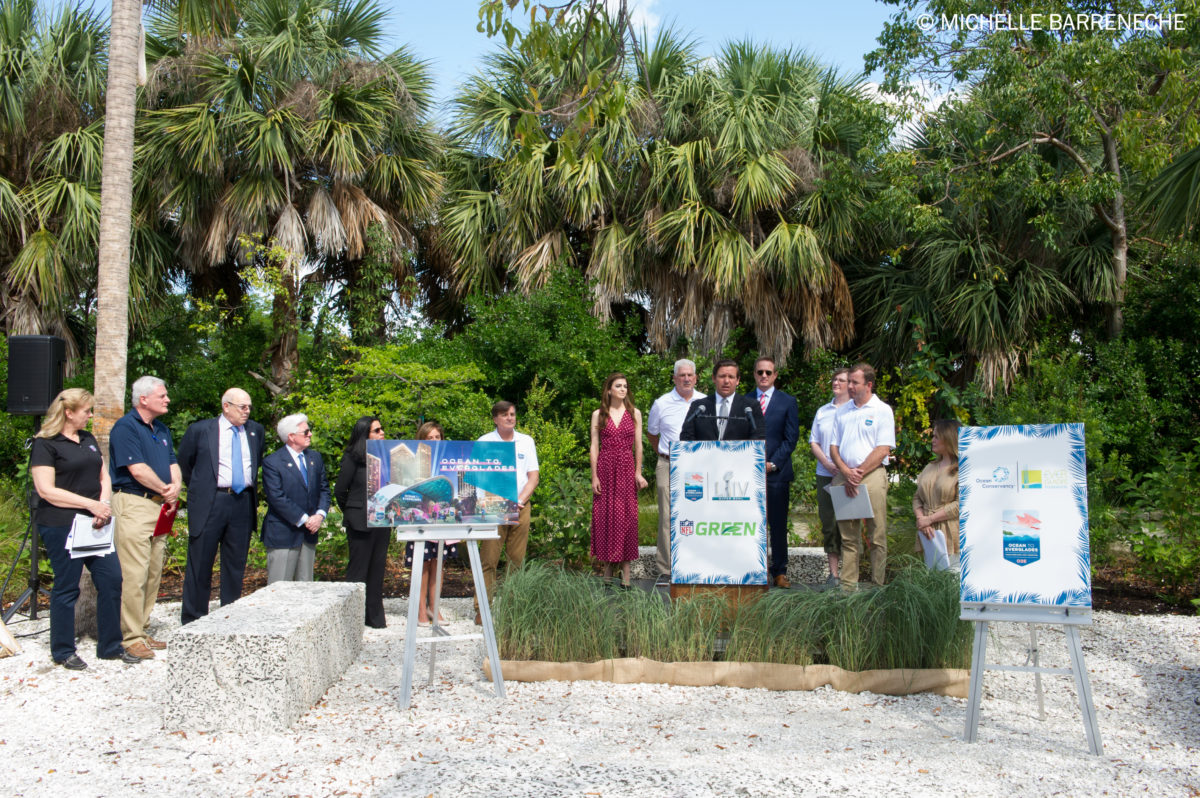 That's why we are the official Ocean Partner for the Miami Super Bowl Host Committee. Working with the Host Committee, along with the NFL, the NFL Environmental Team and the Miami Dolphins to advance the Ocean to Everglades (O2E) environmental platform for Super Bowl LIV, we launched the #SuperCleanupChallenge with a goal to remove or divert 54 (this year is Super Bowl 54) tons of plastic and other trash from Florida's coast and waterways, starting with our annual International Coastal Cleanup this past September. In addition to the Dolphins joining us last month, we just removed 4,000 pounds of ocean plastic and other trash from the Florida Keys with the Lower Keys Guides Association and Project Healing Waters Fly Fishing. We'll be capping off our Super Bowl cleanups with a final Super Bowl week cleanup with the NFL as part of the league's Huddle for 100 campaign on January 28, at Historic Virginia Key Beach Park.
Whether you play your games nine miles from the beach like the Dolphins or out in the desert of Arizona, the actions taken in stadiums and team facilities can have an impact on the health of our ocean. Ocean Conservancy champions science-based solutions to tackle the largest ocean conservation challenges we face–and the world of sports has an important role to play in this fight. Thanks to the Dolphins and Hard Rock Stadium for being #TeamOcean all the way.
Love our content?
Sign up to receive our emails!