NFL Players Join #TeamOcean for My Cause My Cleats Games
Ocean cleats unveiled across the league for Unboxing Day today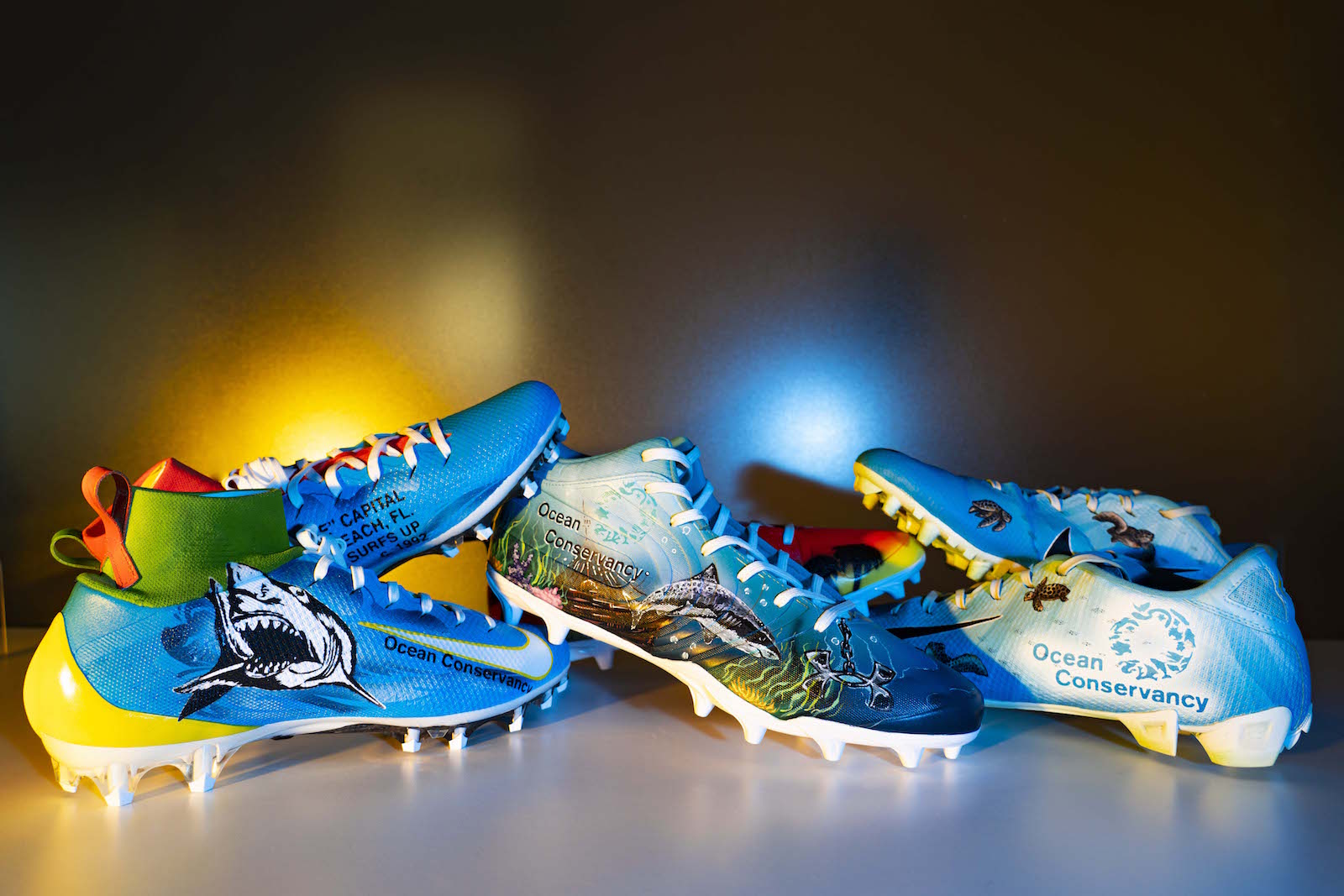 Some people wear causes on their sleeves. This Sunday, NFL players will wear causes on their cleats for the fourth annual edition of the My Cause My Cleats (MCMC) initiative.
Players from coast to coast are joining #TeamOcean by choosing to put our ocean on display when their teams take the field this Sunday. On this Giving Tuesday, all of us at Ocean Conservancy are appreciative of these players and their generosity in bringing attention to our ocean and the important issues facing it.
Raheem Mostert, Running Back, San Francisco 49ers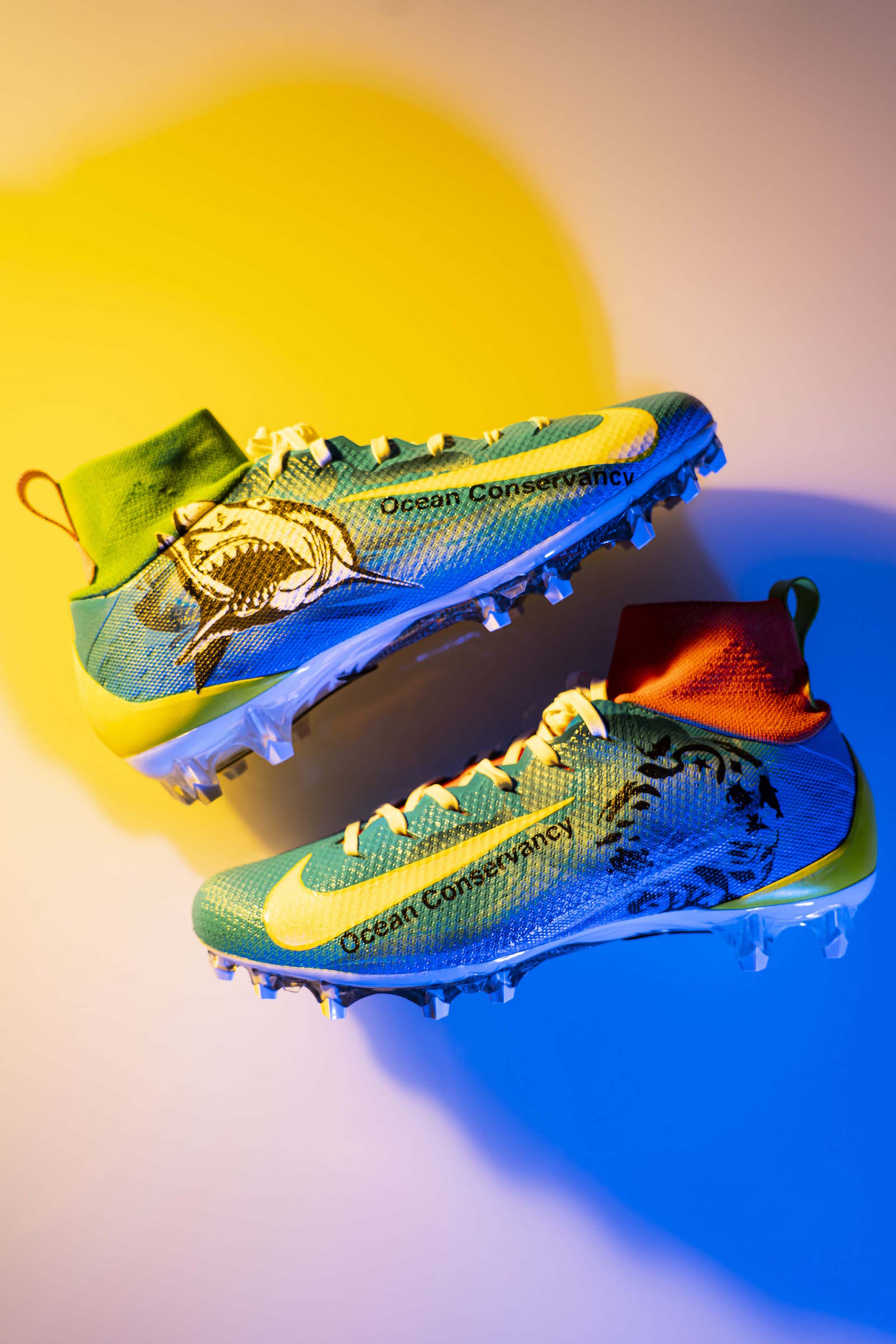 © 49ers
Artist: Tragik Kicks
Growing up in Smyrna Beach, Florida, known as the "Shark Bite Capital of the World," Raheem used to dodge sharks while surfing, just like he dodges defenders now running the ball. His passion for surfing and the ocean is something that he looks to pass down to his son, which is why protecting our ocean for future generations is so important to him.
Chris Conley, Wide Receiver, Jacksonville Jaguars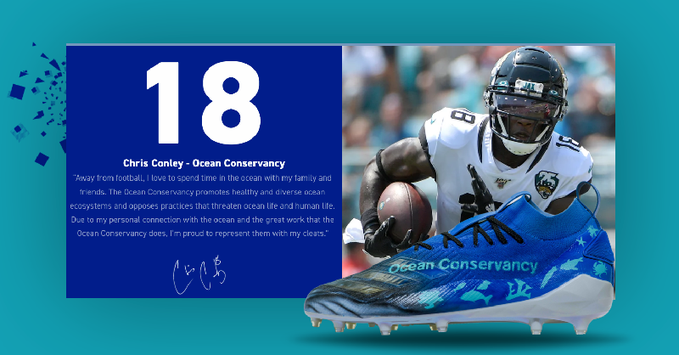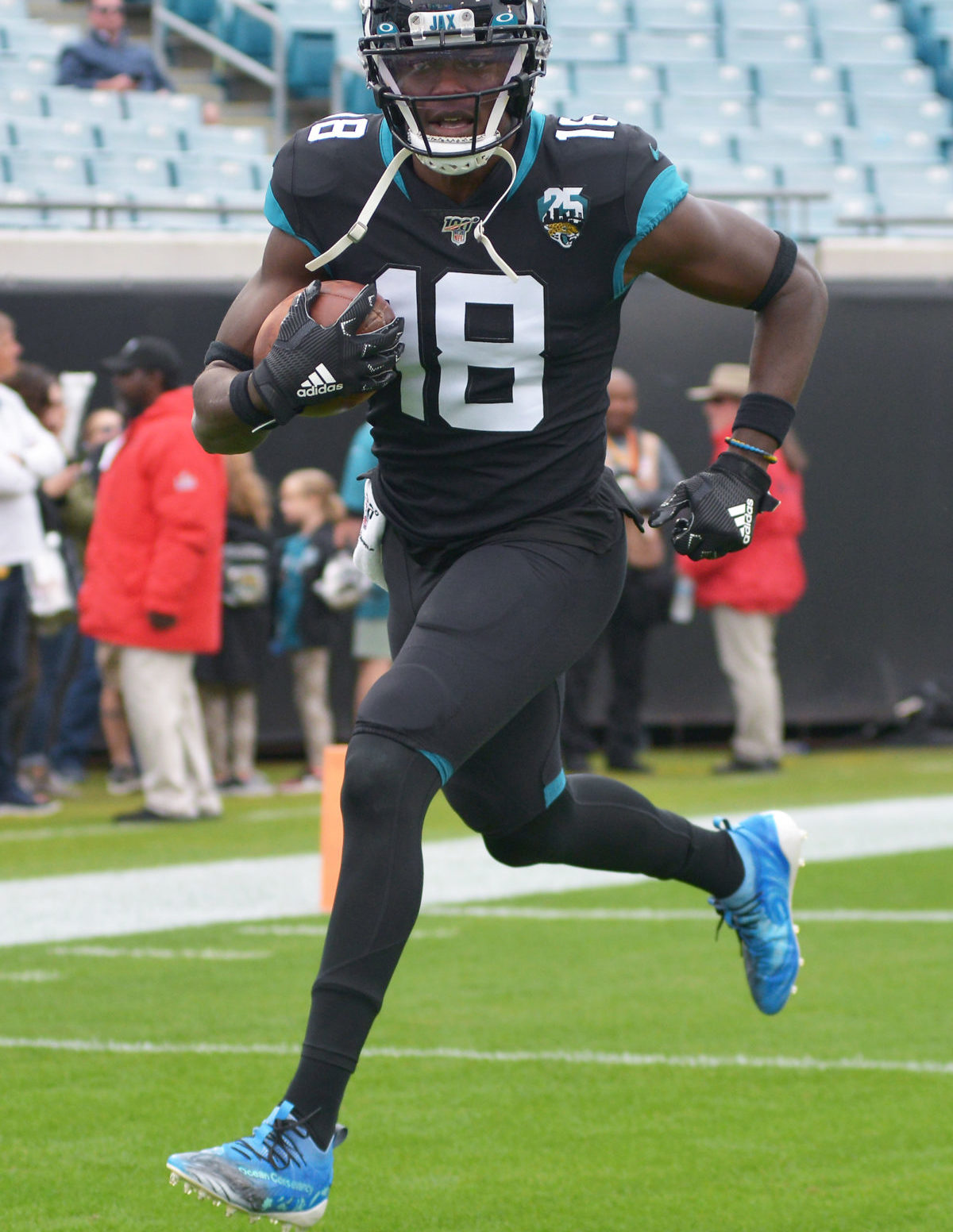 Artist: Jason Hulfish, Grand Theming Studios
Chris is also an avid surfer in his free time, which is reflected on his cleats through waves and a humpback whale. Chris and the Jaguars host fellow #TeamOcean player, Geremy Davis and the Los Angeles Chargers, in a battle of the friendliest marine life, whales and sea turtles.
Jahlani Tavai, Linebacker, Detroit Lions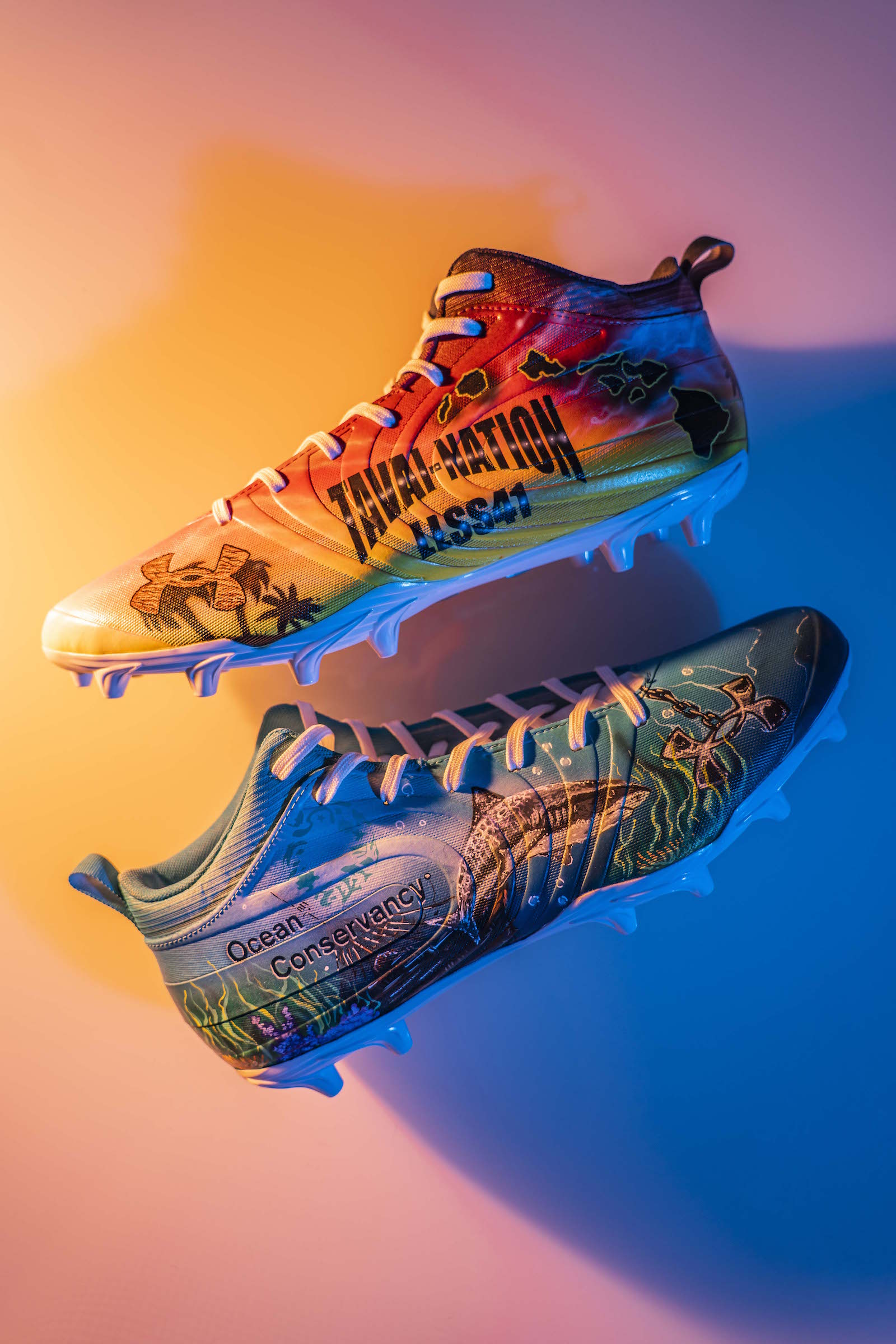 © Courtesy of Jahlani Tavai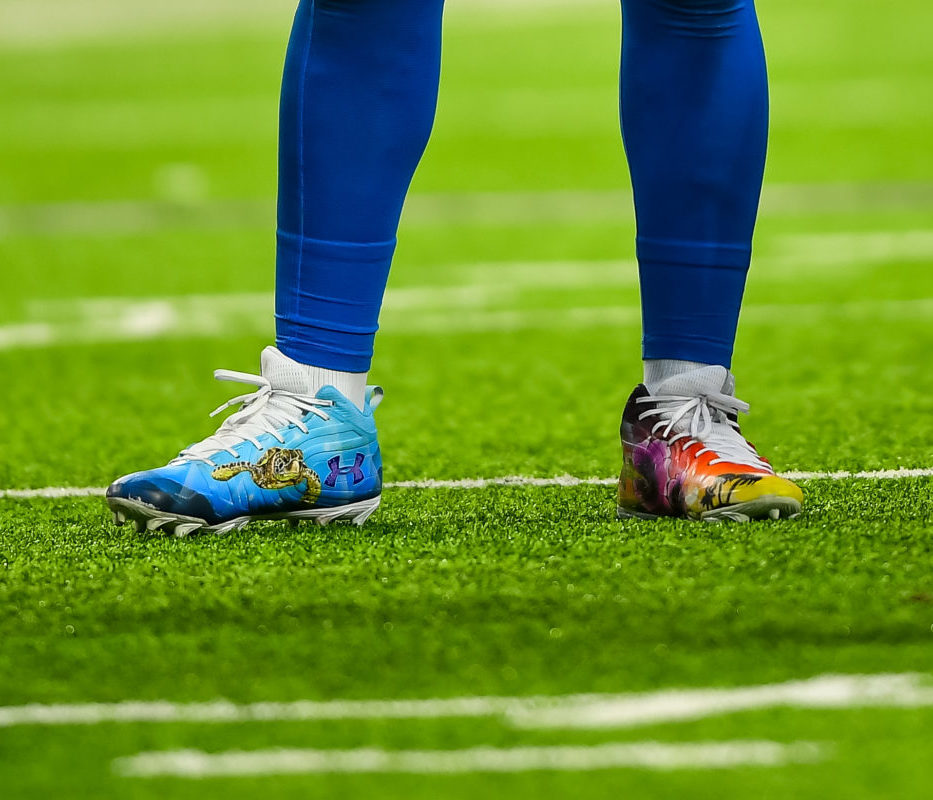 Artist: David Zambrano and Moe Gafar, DEZ Customz
A native of Southern California, Jahlani attended the University of Hawaii, so he has been surrounded by water his entire life. Honoring his time at Hawaii, he chose to feature the Aloha state's eight main islands, alongside its state flower and iconic sunset, in addition to marine species found in its waters.
John Jenkins, Nose Tackle, Miami Dolphins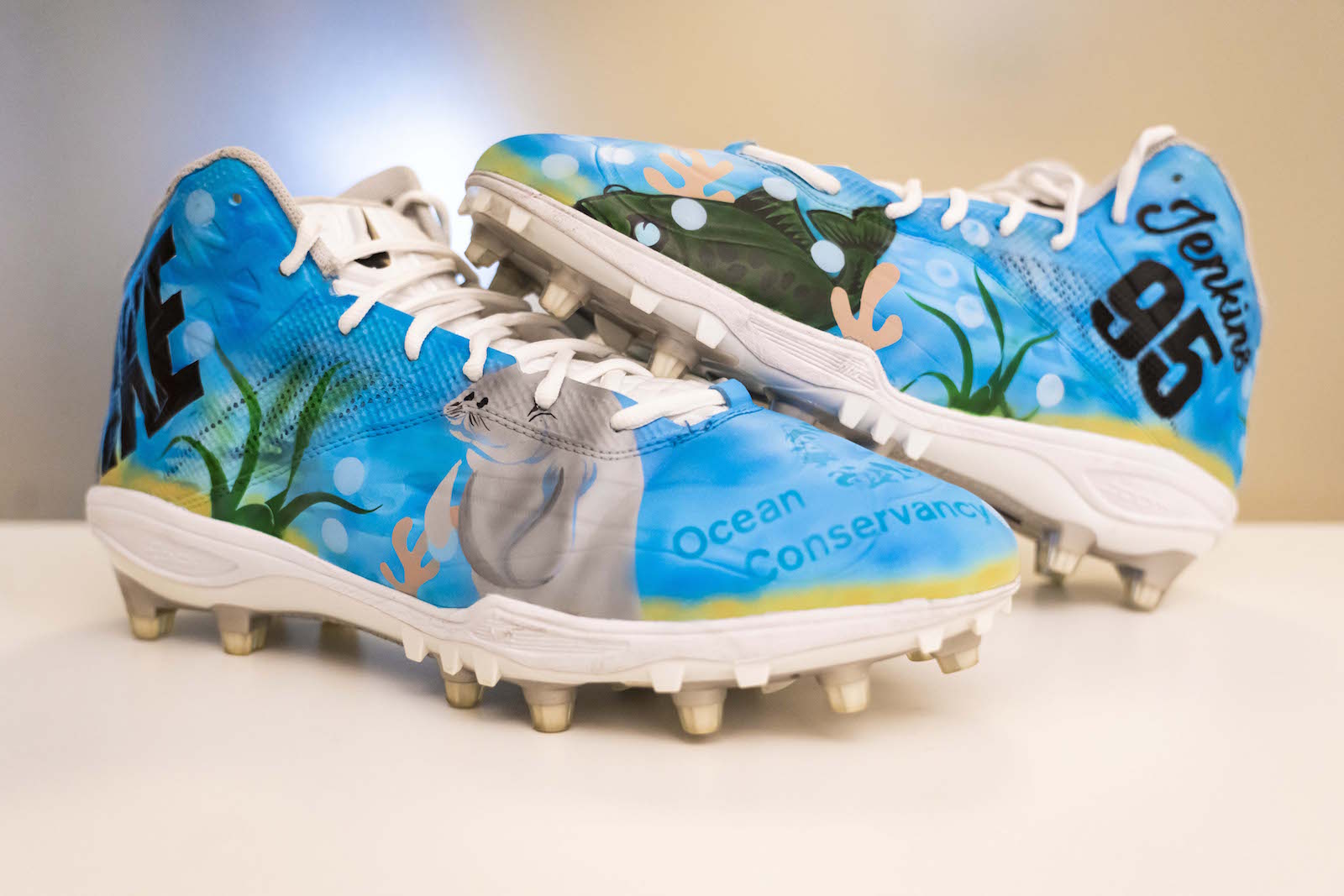 John has always loved our ocean and Florida, which is why he bought his first house in South Florida when he entered the NFL. Now, he is fortunate to play for the Miami Dolphins and call the area home year-round, so he decided to feature a variety of iconic Florida wildlife as well as scenery from the Gulf.
Kaleb McGary, Right Tackle, Atlanta Falcons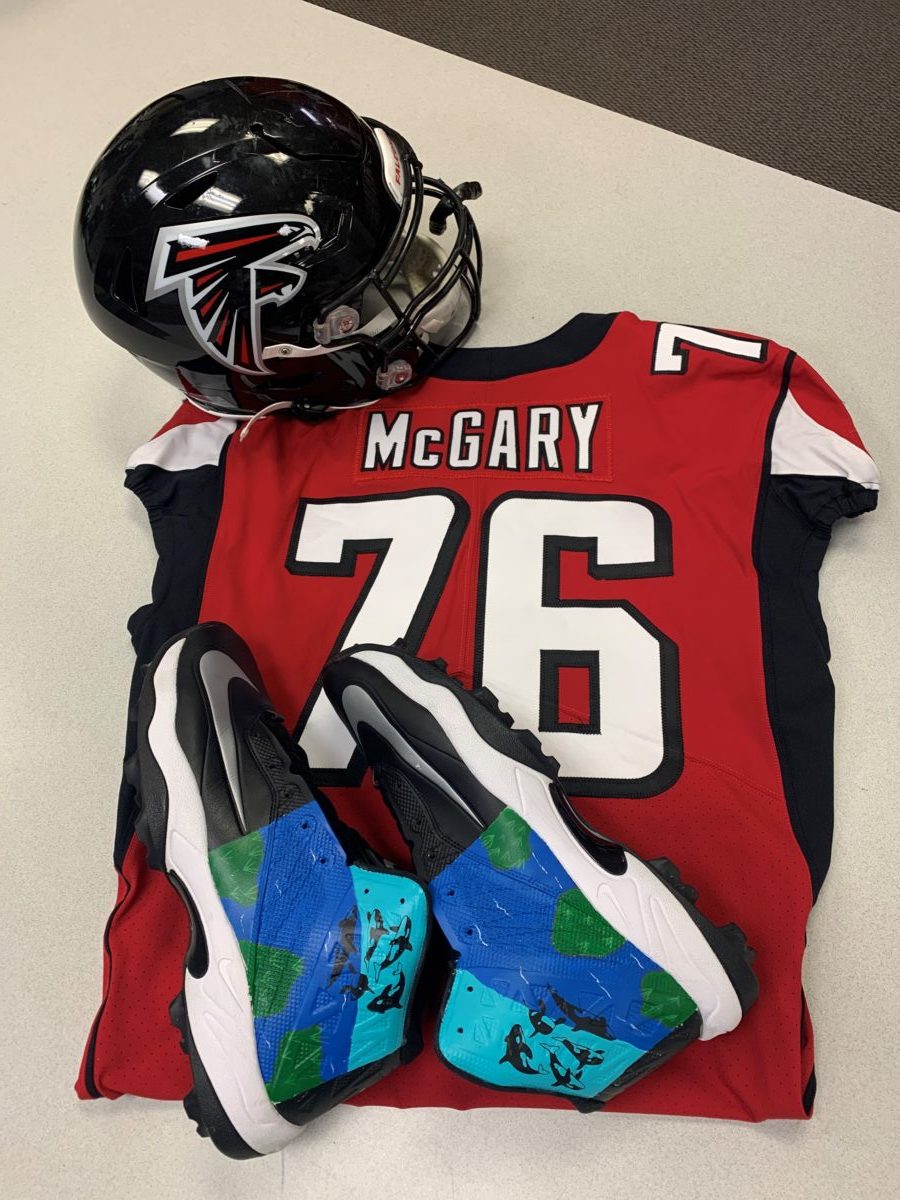 The native Washingtonian grew up spending a lot of his free time outdoors and on the water. As an ode to his home state, Kaleb will highlight the incredible marine life in the Puget Sound area, including a pod of Killer Whales flying over the estuaries.
Geremy Davis, Wide Receiver, Los Angeles Chargers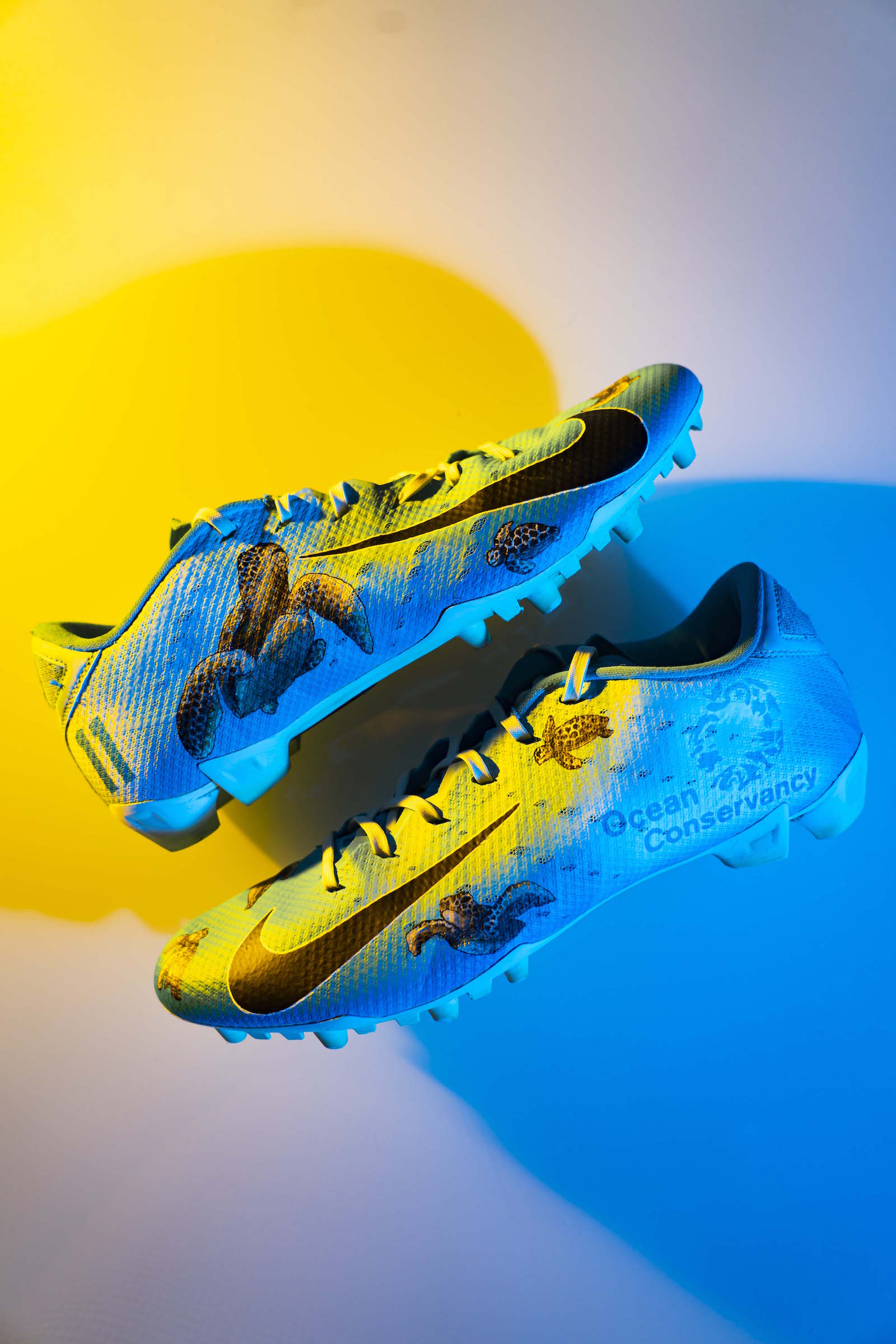 Artist: Blake Barash, BStreetShoes
Playing in Los Angeles, which is home to some of the best beaches in the world, Geremy enjoys spending his free time there and seeing his favorite marine species, sea turtles, which are featured on his cleats.
It's activities like these that highlight the important role sports can play in ocean and environmental awareness.
Millions of people in the stands and on TV will have an opportunity to see and hopefully learn more about our cause. Our ocean is under threat and now is the time to take action.
Sports shouldn't be relegated to the sideline of ocean and environmental issues. Every professional league, team and athlete has the platform to ignite change. We applaud the NFL and all the players participating in MCMC who are giving attention to causes that otherwise might not receive the attention they deserve.
For Ocean Conservancy, MCMC and our work as the Ocean Partner for the Miami Super Bowl Host Committee are all firsts. As we navigate unchartered territory, what we've found is that there is an appetite from the sports world to get involved in ocean issues. We are excited to finish our Super Bowl work strong, watch these players bring more attention to the issues facing our ocean, and reach our goal of removing and diverting 54 tons of ocean plastic and waste from Florida's coasts and waterways.
Wondering what happens to these cleats after the games this Sunday? Once the games are played this weekend (and December 22 for the Dolphins), the cleats will be auctioned off with all proceeds going to our work. We will have a few pairs on display in our booth at Super Bowl LIVE this January 25-February 1 at Bayfront Park in Miami.
Let us know your favorites at @OurOcean!
*Cleveland Browns Running Back, D'Ernest Johnson's cleats are en route to Cleveland. As soon as pictures are available, we will update them here.
Stay current with ocean news
Sign up for our emails!