Great Lakes, Great White Sharks, Great Face Paint
Meet the Newest Member of #TeamOcean, Khalid Kareem, Cincinnati Bengals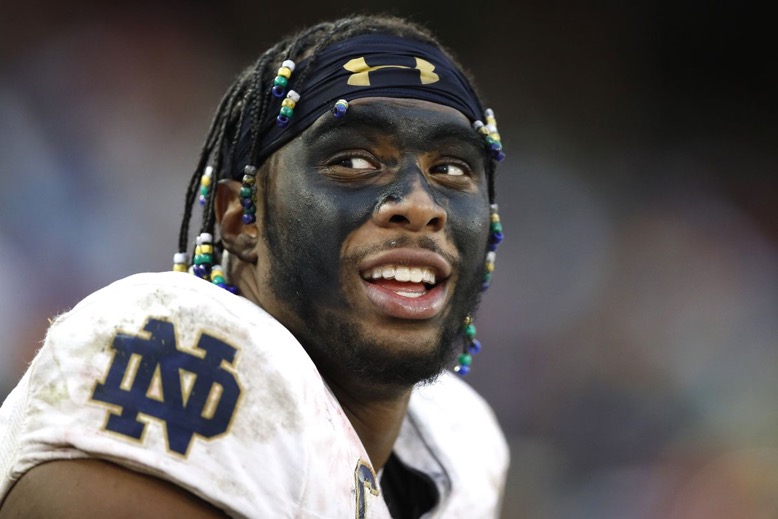 "I would love to free dive with great whites off the coast of South Africa one day." That's the kind of leisure activity you'd expect to hear from an NFL defensive lineman, who also happens to be passionate about the ocean. Cincinnati Bengals defensive end Khalid Kareem's passion for the water started as a child growing up in the Great Lakes in Detroit.
He joined our Chief Scientist George Leonard for a welcome to #TeamOcean along with a conversation on some of his favorite ocean topics, football and when he started the face paint. Below are some of the excerpts.
Growing up Great Lakes
The Great Lakes are the world's largest freshwater ecosystem and are made up of five lakes: Superior, Michigan, Huron, Erie and Ontario. They contain 20% of all surface freshwater on the planet and provide drinking water for 35 million people in eight U.S. states and Canada. They were also where Khalid, a Detroit native, first discovered his joy of the water.
Diver in the Making
Khalid's interest in doing more with the ocean drove him to pursue his diving certification. While training for the NFL Draft in Pensacola, Florida, Khalid came close to achieving that until an injury delayed the process. Determination is one of Khalid's strengths and he says he will get that certification soon enough.  
Defense All the Way
At six years old, Khalid got a taste of chasing down quarterbacks and has kept the same position of defensive end throughout his career. While he did dabble in quarterback and tight end for a bit, his prowess as a defender is welcome as the ocean is in need of a strong defense.
Sharks Have a New Ally
Sharks have been around for around 450 million years—predating dinosaurs! In addition, sharks are what scientists call "keystone species" (keeping other species lower in the trophic food web in check) and can be found all over the globe. Did you know that 25% of sharks are threatened with extinction, with about 100 million killed each year for fins and meat? George and Khalid spoke about Ocean Conservancy's 2018 trip to St. Helena where George and our Senior Director, Trash Free Seas®, Program Nick Mallos took part in a research trip and were able to swim with whale sharks. Khalid expressed his desire to help protect these vital creatures any way he can and looks forward to a day where he can free dive with great whites off the coast of South Africa.
Get Him More Face Paint
Athletes have all kinds of pregame and gameday rituals, from what they eat, to what music they warm up to, to what they wear. Inspired by Minnesota Vikings Hall of Famer John Randle, Khalid started his face paint ritual in high school. It has developed over the years to its current form.
See Pollution, Tackle Pollution
In the ocean and in the Great Lakes, plastic pollution is a massive problem. With the equivalent of a garbage truck full of plastic entering into the ocean every minute, we need to take action. The increase in plastic bottles, bags and other materials piling up in the Great Lakes, has Khalid's attention.
Bringing the Ocean to Inner Cities
Access – to education and exposure to ocean and climate issues are key to reaching inner city students and making the ocean and all of its wonder available to everybody.
As you can see, we covered a lot of ground with Khalid and appreciate him making the time as he prepares for training camp. However football looks this year, we are thrilled to have Khalid as a champion for these issues and welcome him to #TeamOcean!
*For a look at Khalid's on the field work, check out some of his top plays from his time at Notre Dame.