How South Florida's Civil Rights Movement Started in the Water and the Impacts 75 Years Later
It started with a wade-in 75 years ago. Now, August 1 has new meaning in South Florida at Historic Virginia Key Beach Park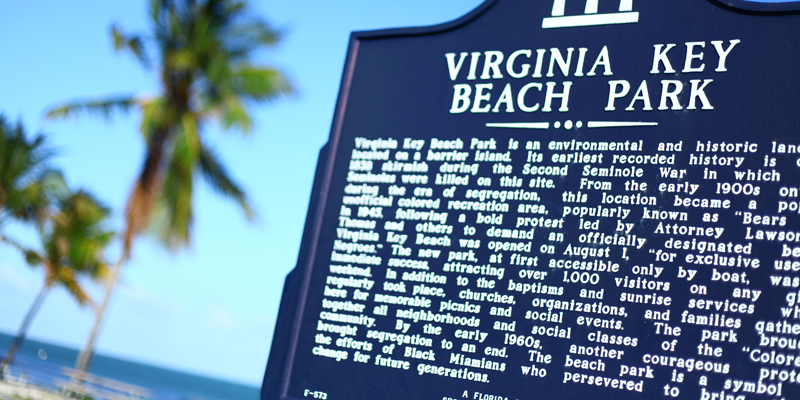 This blog was written by Guy Forchion, the Executive Director of Historic Virginia Key Beach Park. Ocean Conservancy has held a number of Cleanups in partnership with the phenomenal team at Historic Virginia Key Beach Park in Miami, Florida. We are excited to share this guest blog.
In the past, August 1 was just another hot, sunny day in Miami where visitors and residents hit the beaches. This year, thanks to the leadership of Florida State Senator Oscar Braynon II and State Rep. Barbara Watson, the Virginia Key Beach Park Trust, Board of Trustees and staff and support of all of the Friends of Historic Virginia Key Beach Park (HVKBP) over the years, August 1 is now Historic Virginia Key Beach Park Day in the state of Florida.
This year, August 1 will also mark the day of the 75th Anniversary of the Historic Virginia Key Beach Park with a safe, socially distanced virtual celebration and cocktail party featuring oral history documentaries, musical performances and specialty do-it-yourself cocktails led by a South Florida mixologist. This is an exciting way for the Trust to share the rich cultural and historical story of the Historic Beach Park with the millions of residents and visitors who visited and enjoy the Park.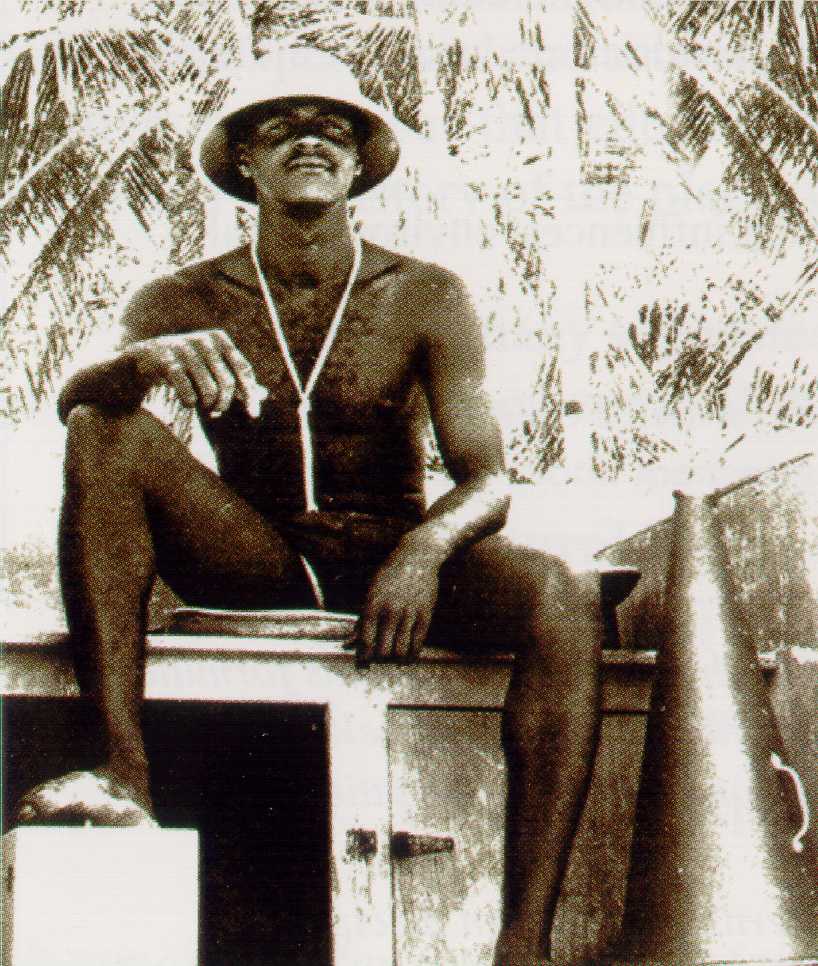 So, how did we get to 75 years? It started in the water, about 20 miles North of Historic Virginia Key Beach Park at what is now Baker's Haulover Beach. A small group of Black Miamians participated in a "Wade-In" at the beach on May 9, 1945. They did this in the hopes of securing a public beach for Dade County's "colored" population. A Wade-In, is exactly what it sounds like, a form of Civil Disobedience that preceded the Sit-Ins used during the Civil Rights Movement, starting in Greensboro, North Carolina in 1960.
Those Miamians took to the water that day, knowing arrests, abuse and the potential of the Ku Klux Klan to appear were very real and likely outcomes of their act. Miami was a different place in 1945, more along the lines of the Old South versus the diverse, global city we all know and celebrate today. Undaunted, those protesters stayed in the water and left without any arrests made. They achieved their goal. One of the protesters, Lawson Thomas was also a lawyer and would later become the first black public office in the South since Reconstruction. Lawson and his legal acumen were critical in making the deal between Dade County and the protesters. He is quoted as saying that day, "We weren't arrested, so as far as I know we will be going to the beach from now on."
Once the park was established, Virginia Key Beach Park became the contrast to the other beaches in the area, ones with signs that said, "No Jews, No Dogs, and No Coloreds." Those courageous protesters, through successful non-violent civic action, created a space where families could enjoy the beauty of South Florida's ocean, where families could spend days in the sand and sun, hosting picnics and celebrating birthdays and weddings. Virginia Key Beach was frequently visited by giants like Muhammad Ali and Dr. Martin Luther King Jr. In later years, the Park set the Guinness World Record for the Tallest Sand Castle at 45.85'; it is the home to the closest antique carousel to the sea and a historic mini-train—all of which have been restored and in combination with a pristine, natural shoreline have put the "People's Park" on the National Registry of Historic Places.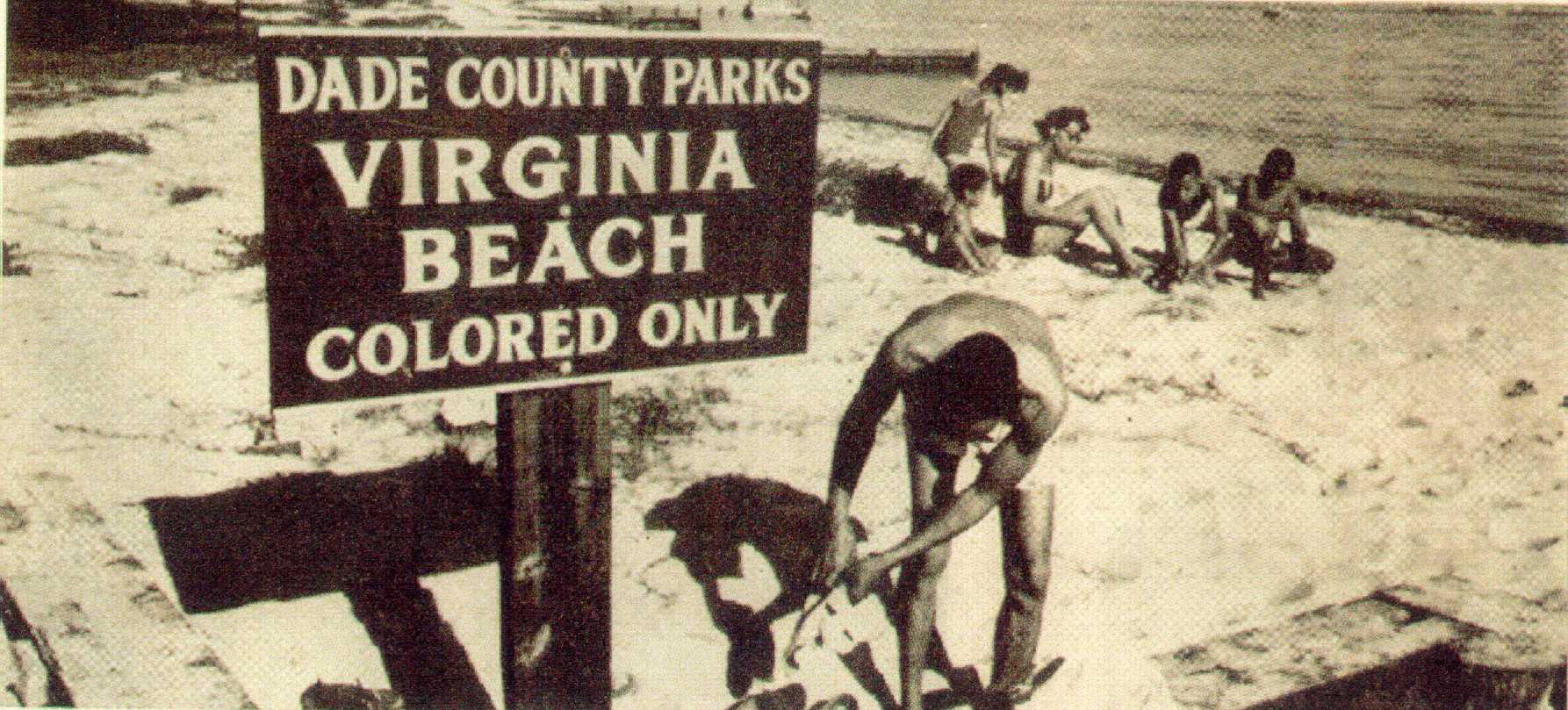 The history of Historic Virginia Key Beach Park is one the Trust is proud to share with residents and visitors alike. And it was a history that took a great change in 1979 when the park became part of the City of Miami versus Miami-Dade County and nearly ended in 1982. That year, the City of Miami closed the Park claiming that the cost of maintenance was too high. Left without any upkeep, the park fell into disrepair and it would be almost two decades before community leaders came to the rescue.
Dr. Greg Bush, a University of Miami Professor, community activist and author, informed members of Miami's leadership when he got word that developers were planning the creation of a private, luxury, eco-tourism development on the Historic Beach Park location. One of those community leaders was Mr. Gene Tinnie, current Chair of the Virginia Key Beach Park Trust, he carried that urgent news to M. Athalie Range, (Mama Range) one of black Miami's longtime political powerhouses.
Stay current in ocean news.
Sign up to never miss an update!
Range (80 at the time) put her skills as a civil rights activist and politician to work as she and Tinnie built a strong and diverse community coalition that won unanimous support from city officials to preserve the historic beach. Reviving the Historic Beach Park was a monumental task that included the creation of a Civil Rights Museum Task Force, a community charrette process and gathering funding, to the tune of $40 million. The efforts orchestrated by Range, Tinnie and others led to the creation of the Virginia Key Beach Park Trust in 2001. Range's legacy of championing Historic Virginia Key Beach Park, South Florida's black community and people, lives on at HVKBP through her grandson, N. Patrick Range, who is the Trust's Treasurer.
"Generational care and stewardship of our park is not a surprise. When you look back at how we got here, you see the care for this beach and what it offers to the community. That's worth protecting," said Gene Tinnie.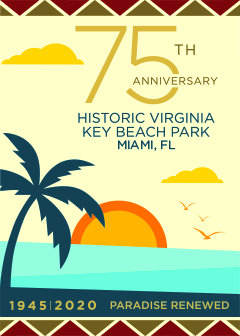 As we approach the first ever Historic Virginia Key Beach Park Day in Florida, we are facing a relentless global pandemic which at the time of this writing has taken more than 150,000 lives in the United States. Miami and the state of Florida are now classified as the world's epicenter for the pandemic. At the same time, many of us have been participating in and supporting the ongoing fight for justice, fairness and equality for Black lives in the wake of the murders of George Floyd, Breonna Taylor, Ahmaud Arbery and many others, at the hands of those who are supposed to protect and serve all communities.
Persistence, passion and community unity are the things that have gotten the Park to 75 years. South Florida's communities continue to draw on the strength of those before us, like M. Athalie Range, like Lawson Thomas and everyone who joined in that very first Wade-In back in 1945 as we look ahead to the next 75 years.
In a city full of iconic places and people, Historic Virginia Key Beach Park will continue to thrive on the values upon which it was founded 75 years ago and be a place that welcomes and celebrates the diversity that makes Miami a one of-a-kind city.
Virginia Key Beach Park Trust relies heavily on private donors and corporate philanthropy plus public events to supplement limited municipal funding. Charitable contributions together with selected naming opportunity rights within the park are devoted to ongoing educational, environmental and historic preservation programs to benefit the general public. To support Historic Virginia Key Beach Park, please donate here.
To learn more about the Park's 75th anniversary celebrations, please visit: https://virginiakeybeachpark.net/