How I Got Started in Shark Science
Two of the founders of Minorities in Shark Sciences (MISS) share their stories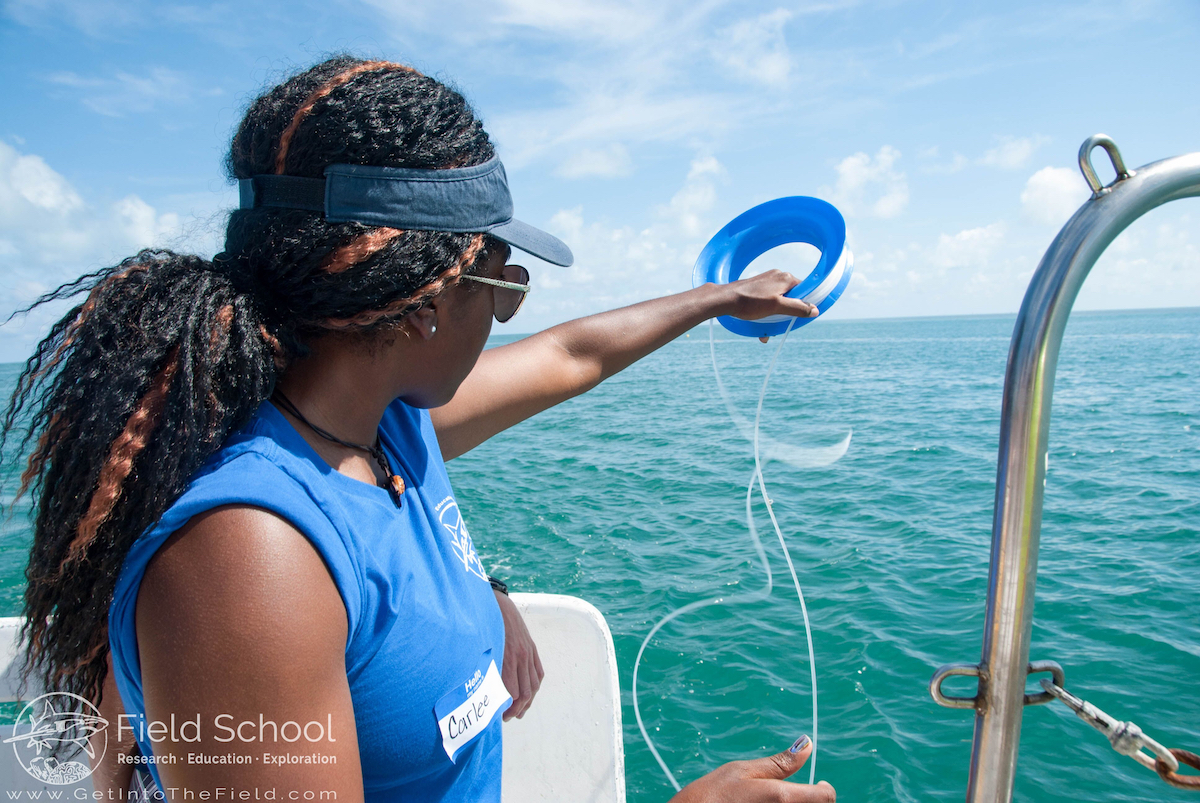 This post was authored by two of the founders of Minorities in Shark Sciences (MISS): Jasmin Graham and Carlee Jackson
Representation Matters
If you've ever watched Discovery Channel's Shark Week, you might think that all shark scientists are white dudes. Although the field of shark science has a long way to go in its diversity and inclusion efforts, it is important to recognize that scientists come in all shapes and scientists. We recently founded an organization called Minorities in Shark Science (MISS) because we felt it was important for women of color to know that they are not alone and that they belong in shark science. Representation matters, and we hope that the work of women of color in shark science will continue to be highlighted in both academic and non-academic settings. We wanted to share a little bit about us and our research background. Hopefully we can inspire the next generation of Black women in shark science and reading about our path to the field will help others.
Love our content?
Sign up to never miss an update!
Jasmin Graham
My path to shark science all started with a research match-making event at my university, which was basically speed dating for undergraduate research positions. During this event I was able to connect with a professor who I conducted research with through the Research Experience for Undergraduates (REU) program offered through my university that summer. The REU project snowballed into a four-year long project that then became a Bachelor's Essay on tracing evolution of hammerhead sharks using molecular and anatomical data.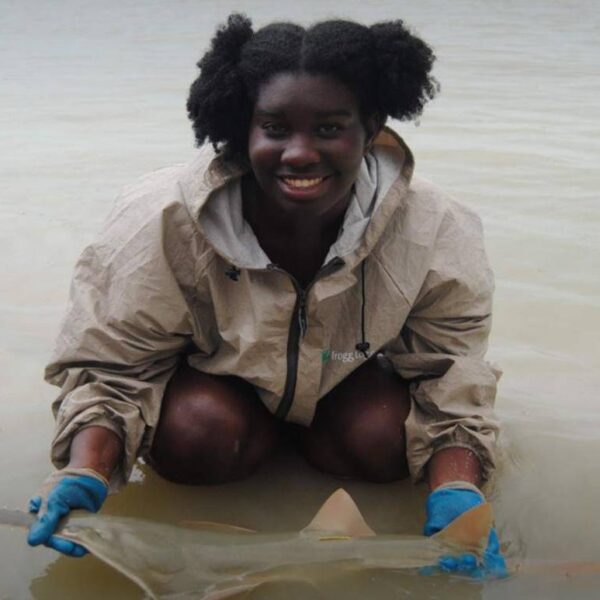 Though I enjoyed my time working in the lab and learned a lot of new skills, I realized I was much more interested in field work than lab work. This professor then connected me with my Master's advisor and they both encouraged me to apply for the National Science Foundation's Graduate Research Fellowship Program (GRFP). I was awarded the fellowship and was able to attend Florida State University fully funded, which I am incredibly thankful for. My Master's thesis work focused on tracking the movements of the critically endangered smalltooth sawfish. This project aligned really well with my conservation interests and I was able to make some good connections. I worked with the Sawfish Recovery Team and was able to form some significant and long-lasting professional connections.
After I finished my thesis work, I decided that I wanted to give back and make sure the path to marine science was easier for the people that will come after me. I took a job at Mote Marine Laboratory as the project coordinator for the Marine Science Laboratory Alliance Center of Excellence (MarSci-LACE). This project is geared towards developing best practices for recruiting, supporting and retaining minority students in marine science. It is very fulfilling work and I feel like I'm making a difference every day. I am still involved in shark research, but it isn't my sole focus. I am happy to have found the perfect balance of social justice, conservation, research and science communication through everything that I do. Going into shark science was one of the best decisions I've ever made.
Carlee Jackson
I've had a love for sharks ever since I was in kindergarten, and since then I've made it my goal to study them. My first research experiences started as a volunteer in a biomechanics lab working with shark and mammal vertebrae. I spent my days cleaning vertebrae and testing elasticity and strength of different vertebrae using a large hydraulic press. It was very interesting, fun and hands-on work, but I knew that fieldwork was more my style.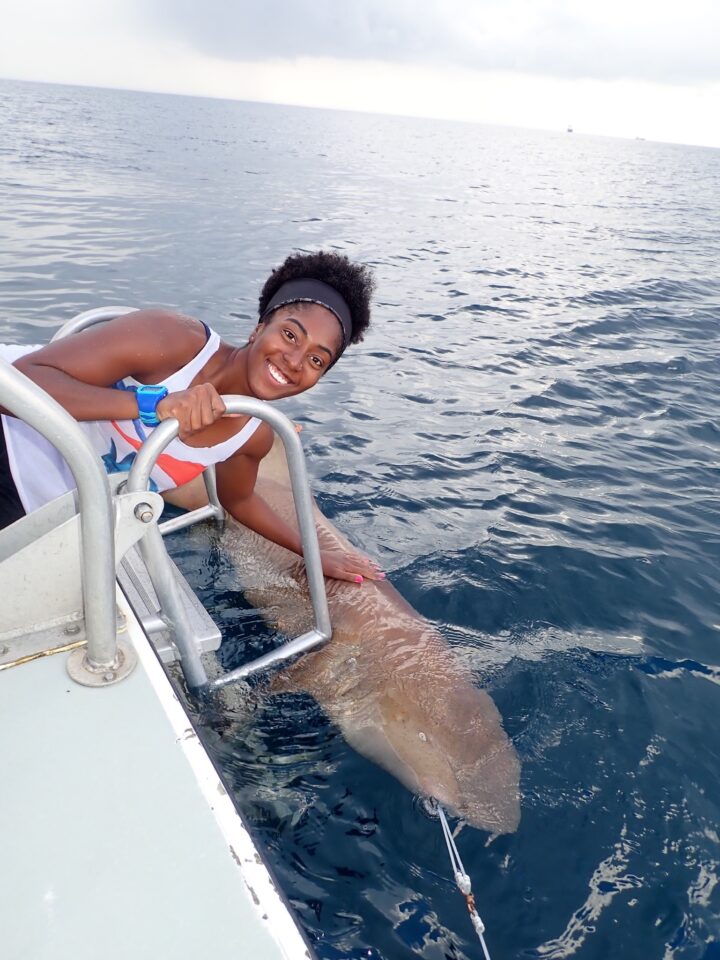 Attending graduate school at Nova Southeastern University led me to my first research experiences with real, live sharks. I joined the shark tagging crew and helped catch and tag sharks for various research projects in the lab. This has easily become my favorite thing to do, even though some days are long, hot and shark-less! My Thesis project focuses on the effects of provisioning tourism (feeding wild sharks) on nurse sharks on a small island in Belize. For this project I spent two months on an island called Caye Caulker studying the effects of tourism on nurse sharks in an area named Shark Ray Village. I conducted many snorkel surveys, camera deployments and film reviews focusing on behavior, abundance and habituation of the sharks.
Living on a small island doing research, with no running water, no electricity, limited resources and limited Wi-Fi caused me to appreciate the modern world I left behind, but it was very fun and challenging. My research in Belize really helped deepen my passion for fieldwork, nature and sharks!
For more information about MISS, please visit www.misselasmo.org.