Tackling Ghost Gear Through Community Engagement
Learn how we're working with the Stand Out for Environment Restoration Initiative in Nigeria to prevent ghost gear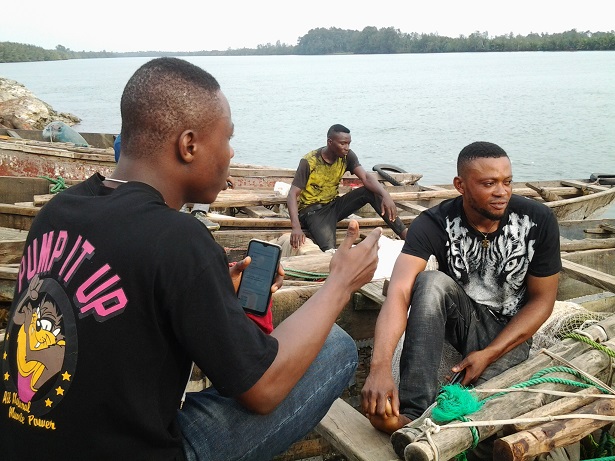 For billions of people across the world, fish is an essential part of their diet and livelihood. Fish accounts for at least 13.8% of the animal protein intake of the human population and in many countries, the number is even higher. In Nigeria, the most populous country in Africa, fish makes up approximately 40% of the country's protein intake, making healthy fish populations and well-balanced ecosystems critical.
Naturally, fishing is an integral part of the Nigerian economy, with nearly 1.5 million people in the country making their living as fishers. However, where there is fishing, there is inevitably ghost gear.
Stay current in ocean news.
Sign up to never miss an update!
According to Ocean Conservancy research, ghost gear (abandoned, lost or otherwise discarded fishing gear or ALDFG), is the most harmful form of marine debris to aquatic life in addition to being one of the most prevalent. It also impacts people who rely on fish for their livelihood and food supply: it is estimated that over 90% of species caught in ghost gear are of commercial value, and significant declines in fish populations and marine ecosystems can also be attributed to ghost gear.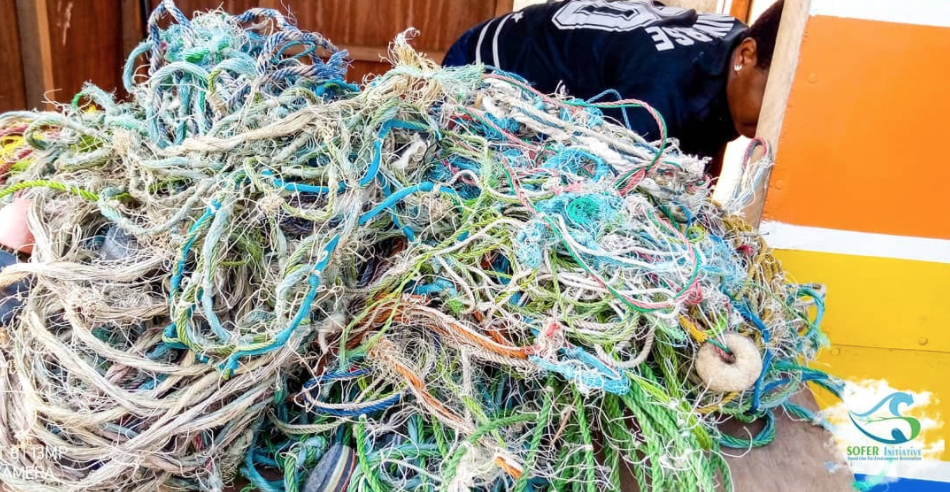 As part of Ocean Conservancy's Trash Free Seas® program, the Global Ghost Gear Initiative® (GGGI) works with partners to promote best practices for preventing and reducing ghost gear and develop locally viable solutions to the problem. Earlier this year, we were fortunate to support the work of Stand Out for Environment Restoration (SOFER) Initiative in Nigeria as one of the winners of the first-ever Joanna Toole Ghost Gear Solutions award.
SOFER's Fishing Net Gains Nigeria program works to address ghost fishing and other related threats to marine life in Nigeria and the west coast of Africa. They create economic opportunities for coastal communities—especially women and youth—by fostering collaboration between government and stakeholders, all while developing best practices for preventing ghost gear. The SOFER Initiative has been a member of the GGGI since 2018 and we are very proud to be able to support the critical work they are doing on the ground.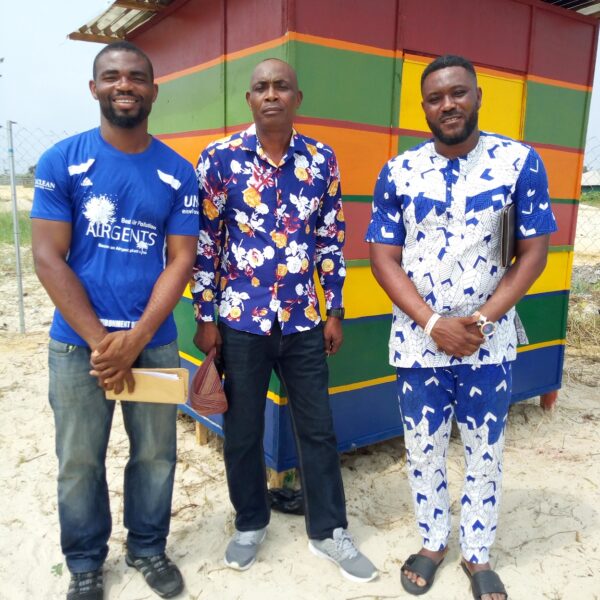 "Our coastal and fishing communities are beginning to find a good representation of the challenges we face with fishing gears by welcoming an integrated project (F-NGN) that identifies and promotes the issues of ALDFG in Nigeria and the coast of West Africa," said Emmanuel Sofa, Founder and Executive Director of the SOFER Initiative. "With collaborative efforts of GGGI and relevant stakeholders, developmental facilities like the hubnet can collect data and gears while proffering sustainable solutions."
As the first phase of the GGGI's work with SOFER has just wrapped up and a second phase has started, I wanted to spotlight the progress they've made, as well as how they plan to build on their efforts in this next phase of work. While much is uncertain right now due to COVID-19, I am confident that this team will be able to achieve their goals in the future.
They've obtained community data and developed an action plan.
Data collection is a critical first step in creating a baseline understanding of the ghost gear problem in order to form effective solutions. In just three short months, SOFER conducted interviews and surveys with more than one hundred stakeholders in Nigeria, including community leaders, ministry officials and fishers to better understand the intervention points that could form the basis of dedicated action. Then, they convened many of these stakeholders for a workshop to share information, raise awareness and build capacity. The key outcome of this workshop was the development of a nine-part action plan for combatting ghost gear in Akwa Ibom coastal communities based on the GGGI Best Practice Framework for the Management of Fishing Gear (BPF).
They've constructed fishing "hubnets."
One of the key prevention strategies detailed in the GGGI BPF is effective fishing gear recycling and end-of-life gear disposal. This includes buying back old gear for reconditioning or recycling, and supporting the implementation of responsible end-of-life gear disposal options. SOFER is supporting this strategy in four coastal communities across Nigeria through the construction of hubnets to serve as collection sites for end of life fishing gear. Hubnets are semi-permanent structures where fishers can dispose of either old or damaged gear that otherwise would be thrown away. What is collected in the hubnets will serve as raw material for women and youth in the community who SOFER will train in creating crafts out of ghost gear, which they can sell to supplement their income. Thus far, SOFER has installed hubnets in two communities and has identified a site for a third.
They will hold additional workshops when it is safe to do so.
The second phase of SOFER's work will scale up their existing initiatives. In addition to holding a workshop with local women teaching them how to produce crafts from end of life gear, SOFER also intends to train its volunteer dive corps and conduct underwater surveys and removals, conduct outreach to build regional partnerships on the ghost gear issue and host an international workshop to bring together stakeholders from across Western Africa.
By working to keep Nigeria's waters free of ghost gear, SOFER is helping to ensure a sustainable food supply, income for local fishers and a thriving ecosystem for years to come. All of us at the GGGI are excited by what this organization has already accomplished, and we look forward to working with them to achieve their goals in the future in West Africa.
Learn more about SOFER's Fishing Net Gains program.