Jacksonville Jaguars Rookie K'Lavon Chaisson Joins Team Ocean
Ocean Conservancy's own Emily Brauner chats with fellow former LSU Tiger about joining Team Ocean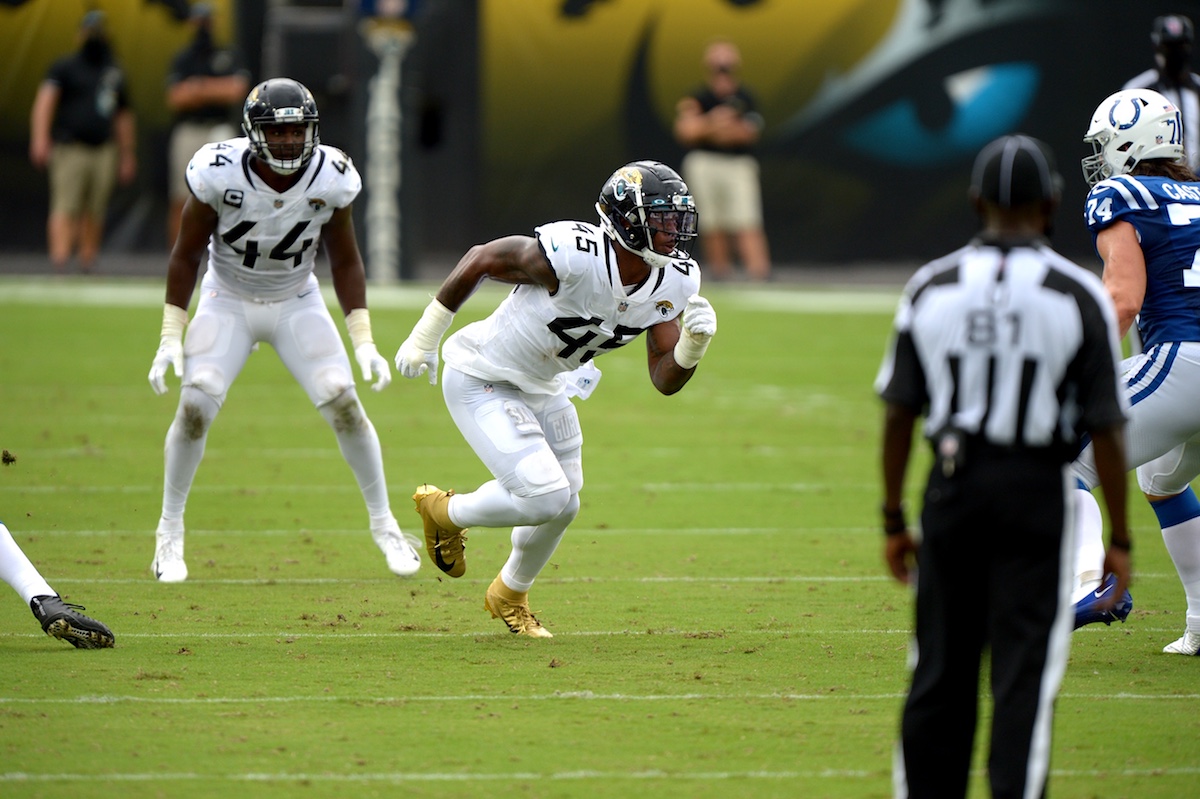 Melting glaciers and plastic pollution are a few things on Jaguars rookie K'Lavon Chaisson's mind when he's not on the field. "I don't know how you can ignore it," he said about climate change. And Chaisson is making his play hard to ignore after just two games in 2020, registering his first NFL sack last week, an interception (which was called back) and earning a significant amount of playing time. It's no surprise that the 2019 National Champion and former number 18 (jersey number representing success—both on and off the field—as well as a selfless attitude) at Louisiana State University (LSU) is already making a splash this season. The Houston native took some time out from reading up on sea-level rise and his next opponent to speak with fellow LSU Tiger alumni and Ocean Conservancy's own Emily Brauner.
Emily and K'Lavon both grew up along the Gulf Coast and experienced frequent flooding while attending LSU in Baton Rouge whenever there were heavy rains. K'Lavon shared what it was like to go from playing packed stadiums to limited fans, learning about the traumas of Hurricane Katrina from his teammates and his passion for animals—including his new dog. Here is a glimpse of the player that opposing quarterbacks will be looking to avoid in the weeks and years to come.
An Ocean Explorer
K'Lavon's love of water started on beach trips in Galveston, Texas. Eager to see his feet through the water (a challenge in most parts of the Gulf), K'Lavon's first trip to Miami Beach provided the clear water he was seeking. Now up the coast in Jacksonville, the chance to go the beach is one K'Lavon enjoys and he'd like to take his beach-exploring global, looking for any beach with clear water.
Dogs and Giraffes
 A new Presa Canario joined K'Lavon's family only a few days before we spoke, giving him now two. In addition to his love for dogs, K'Lavon is fascinated by giraffes. What are they thinking up there? That got us thinking, what's the giraffe of the ocean? There is such a thing as giraffe seahorse, part of the family Syngnathidae.
The impact of the plastic crisis on sea life and wild animal poaching occupy the top of K'Lavon's list of environmental threats. The Endangered Species Act (ESA) is a game-changing piece of legislation that brought back many species from the brink of extinction—including the Gulf of Mexico's manatee populations. Today, however, the ESA is at risk of being dismantled, but you can help by writing to your members of Congress that you support the critical protections it provides for our ocean's most vulnerable animals.
Hurricanes Rita and Katrina, 15 Years Later
 As K'Lavon sat down with us, Hurricane Sally was bearing down on the Gulf Coast, with even more hurricanes and tropical storms on the way. Fifteen years ago, K'Lavon and Emily experienced a pair of Category 5 Hurricanes, Hurricane Rita and Hurricane Katrina, and shared their recollections of the disasters. Although K'Lavon wasn't personally impacted by Rita back in Houston, he remembers how his mother and grandmother helped displaced residents after the storms. As Emily shared the uncertainty about her home in New Orleans, K'Lavon learned about the devastation of the storm while at LSU from his teammates who lived through it.
Climate Change, Look at What's Going On
The same inquisitive mind that earned K'Lavon a spot on the SEC's Academic Honor Roll, keeps him busy reading and researching new topics of interest like climate change. When reading about the melting glaciers in the Arctic, he couldn't believe it. With melting glaciers, more frequent and powerful weather events and the ongoing wildfires hitting the West Coast, it's difficult for him to understand how many are still in denial of the changing climate.
The impact of humans on the climate and the power for all of us to do something to change is something else K'Lavon believes is possible. Given his coastal connection from Texas to Louisiana and now in Florida, it's no surprise that K'Lavon feels this way about our ocean and coastal communities.
With the International Coastal Cleanup normally taking place in September, it was great to hear from another Galveston-area native about taking ocean health into their own hands. While the International Coastal Cleanup started 13 years before K'Lavon was born, his determination and passion for learning will no doubt be a boost for our ocean. To keep up with K'Lavon, see more at @S4CKGURU and @Jaguars.