Upcycle Your Halloween Costume
Find inspiration to create your costume out of waste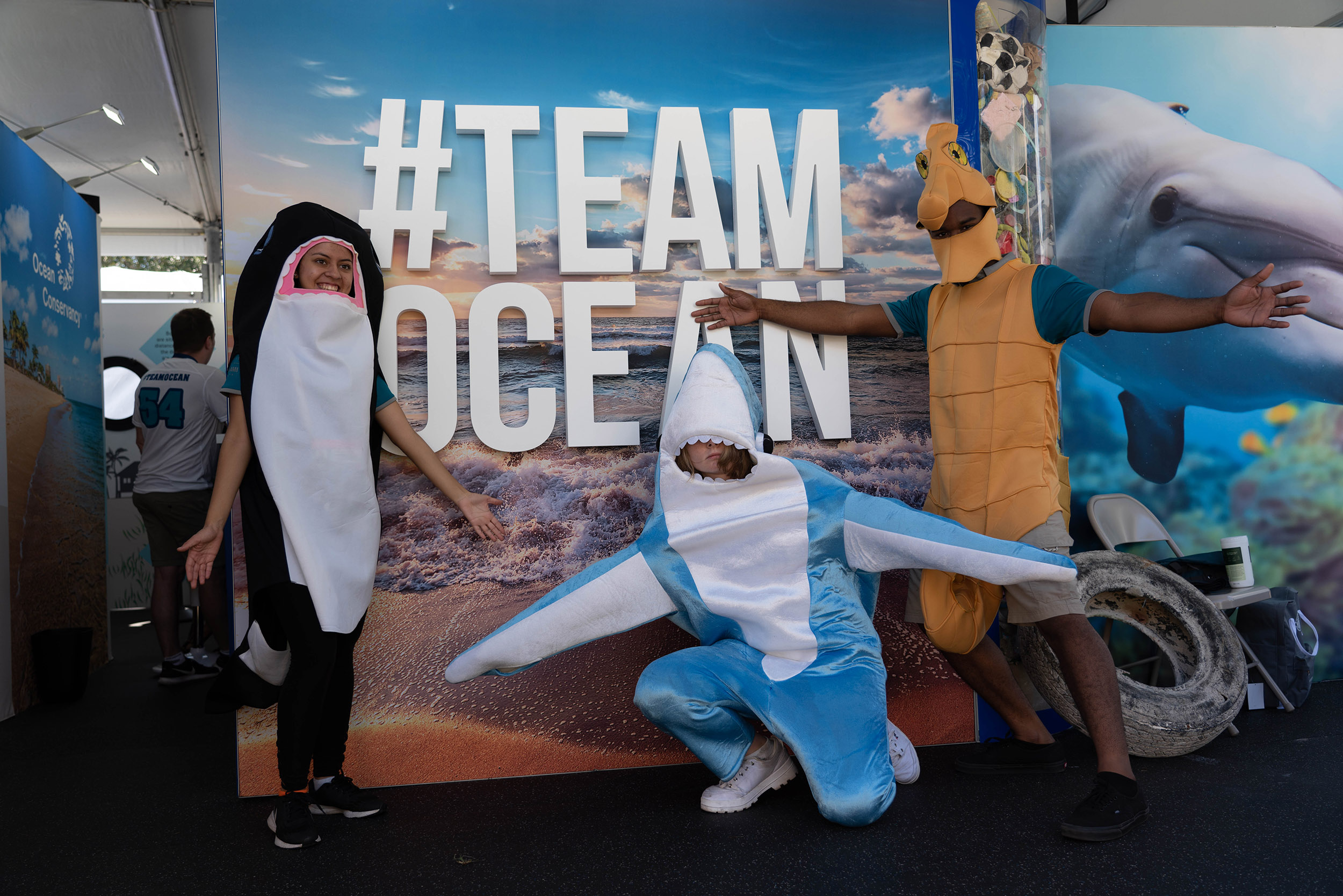 Halloween is my favorite holiday of the year. I love costumes, I love getting spooky and I love fall treats. Lately, though, I've noticed all the trash generated by Halloween. From candy wrappers to decorations, there is a lot of plastic and a lot of waste. I love the spooky scary stories of ghosts and vampires this season brings but I don't want it to result in scary tales of plastic pollution.
So, how can I (and you) celebrate Halloween in an ocean-friendly way? One great way is by making costumes out of things you already have at home. Save a plastic bottle or cardboard box from the trash or recycling bin and give it a new life as a superhero or a ballerina. As a bonus, upcycling costumes means you don't have to leave your house to find a Halloween costume that will astound.
Creating an upcycled costume takes some creativity. Here are some of my favorite looks:
Octopus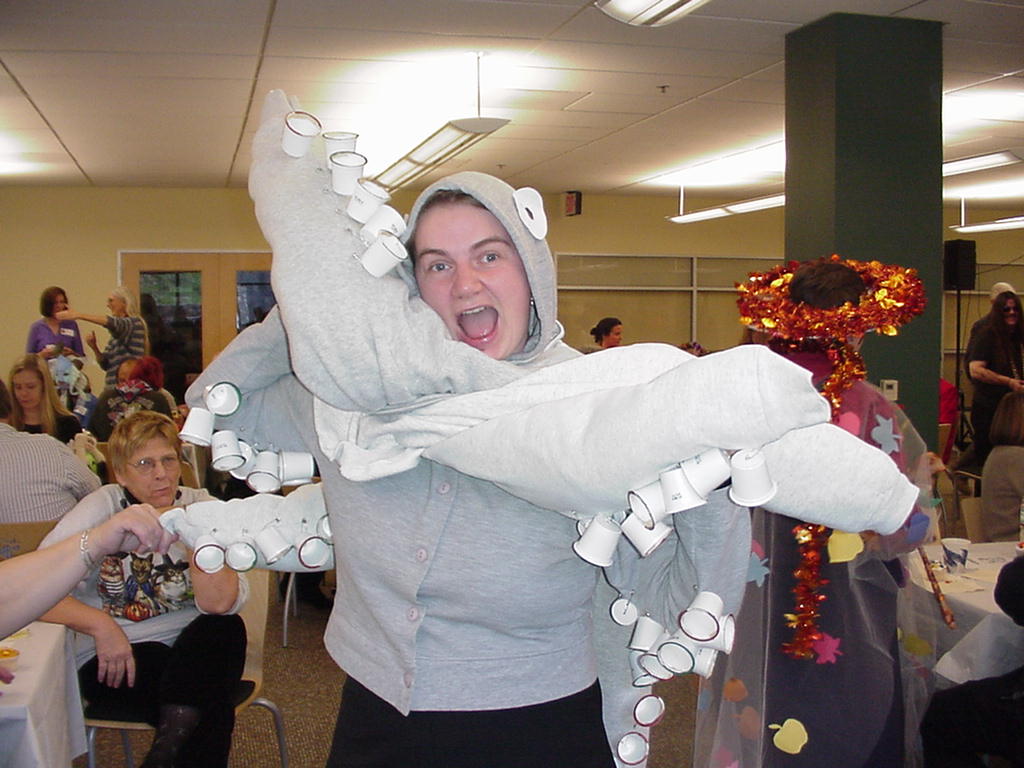 Carla Brown has so many great costumes on her Trashmagination website. This just happens to be my favorite of the bunch because IT IS AN OCTOPUS! To make this costume she collected Keurig cups from her office and used an old sweater to make the tentacles. See this and so many other creative costumes made of trash here.
Water Nymphs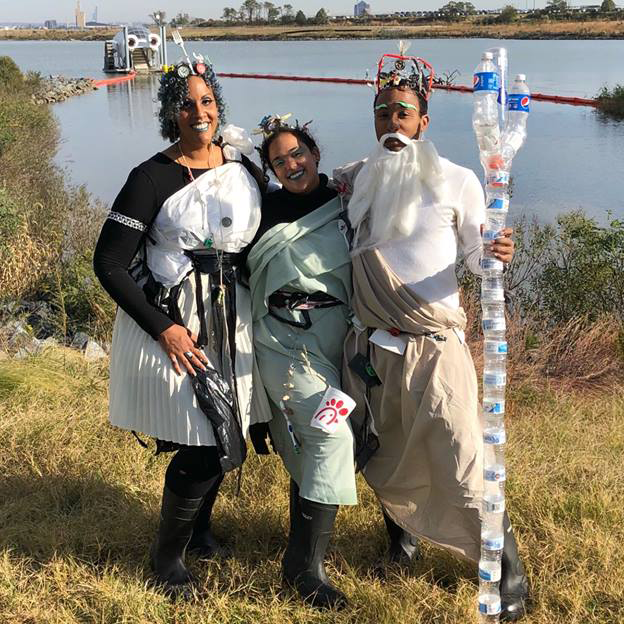 My friend, Amber Doherty, made these incredible costumes for her colleagues at the National Aquarium. All of the pieces of these costumes were found during community clean ups she's led in Baltimore. It is a perfect example of how a little bit of creativity can litter-ally turn trash into treasure.
Love our content?
Sign up to never miss an update!
Queen of Hearts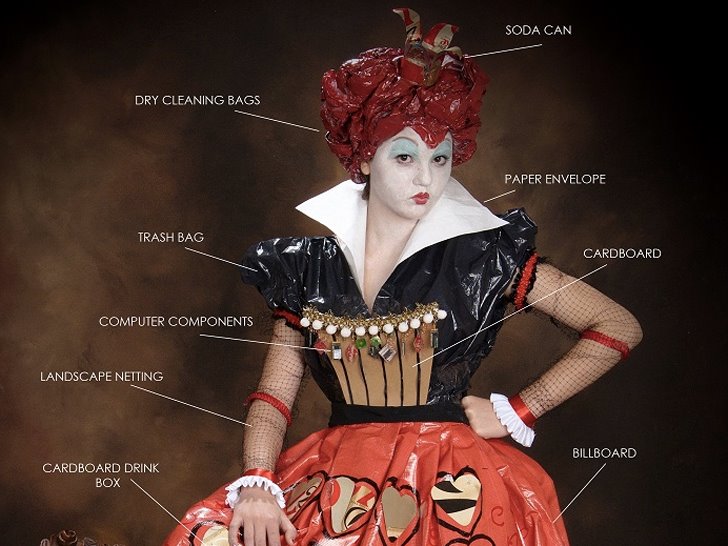 This Queen of Hearts costume shows how upcycled pieces can come together to create a masterpiece. This costume transports you to Wonderland using cardboard drink boxes, bags and even computer components. Off with the trash! Discover some of the other incredible costumes at Keep Mesquite Beautiful.
Bag Tutu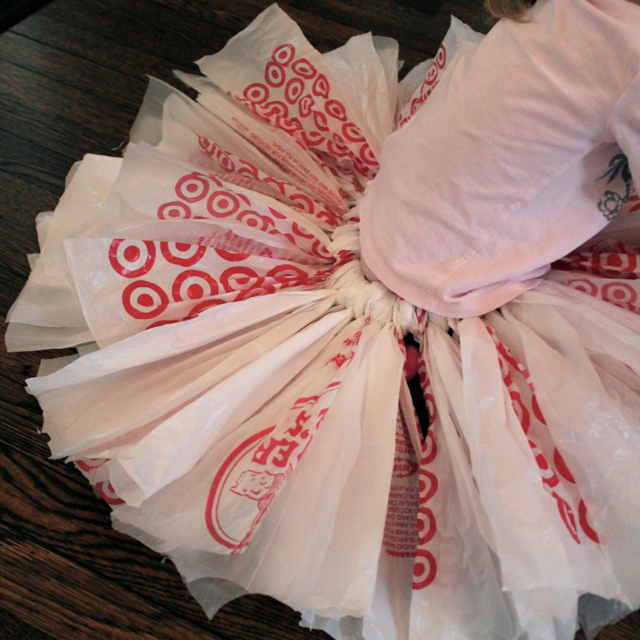 Get ready for Swan Lake with this easy tutu made from plastic bags. This is one of the simplest DIY costume pieces I've seen. Simply get a piece of elastic, cut up some bags, tie and VOILA! You are ready for twirling. See how it's done here.
Bonus: You can even create an entire dress out of bags like my friend, Kim Lee. Be a prima ballerina or a plastic-free fairy educating the world about the importance of reducing waste in your trashy ensemble.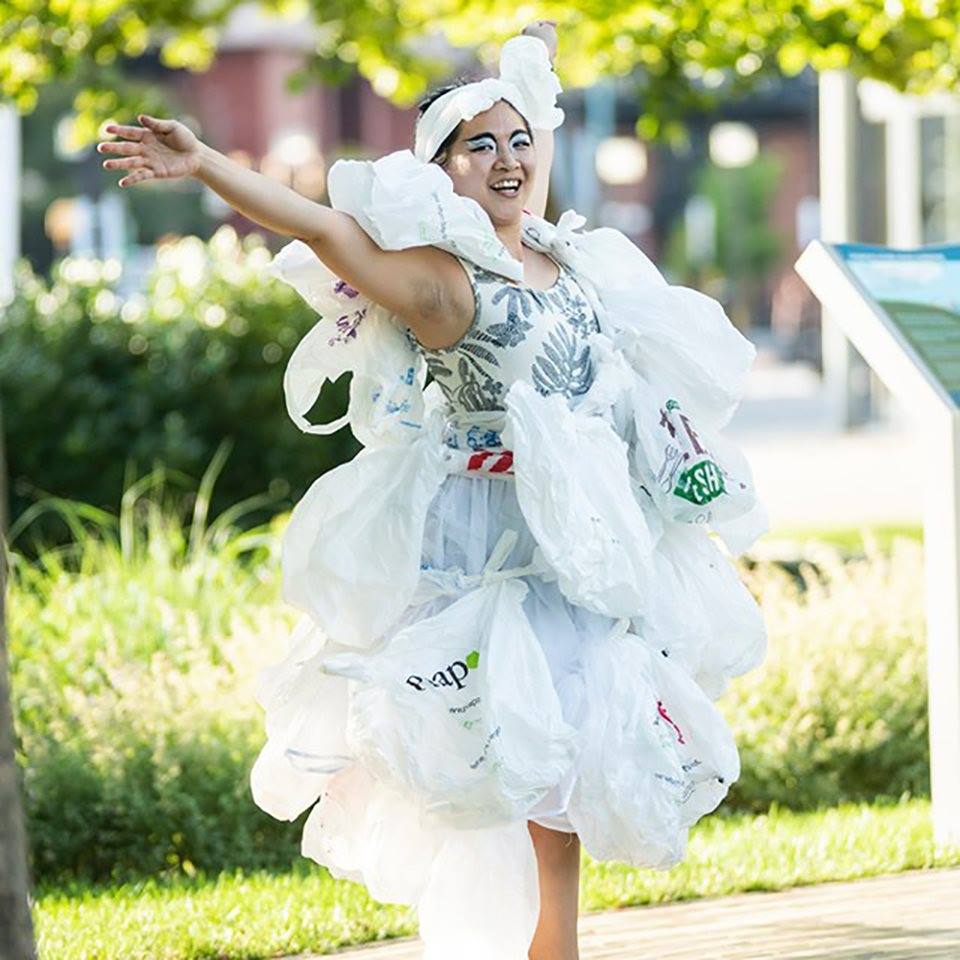 Marie Antionette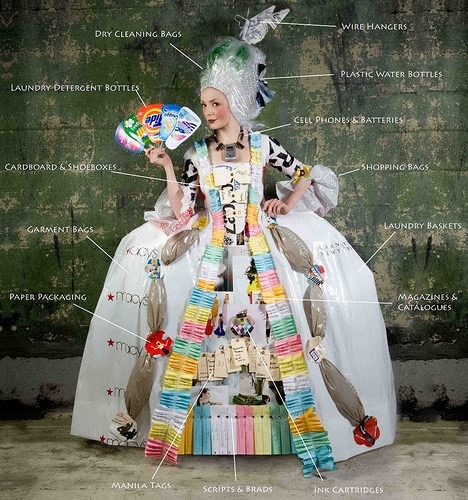 This is another example of how you can turn a lot of trash and some creativity into a jaw-dropping costume. This Marie Antionette costume uses everything from old cellphones to wire hangers and laundry detergent bottles to make a dress fit for a queen. Let them (not) eat plastic! Explore more of this incredible costume by Sustainable Sirens.
Gaia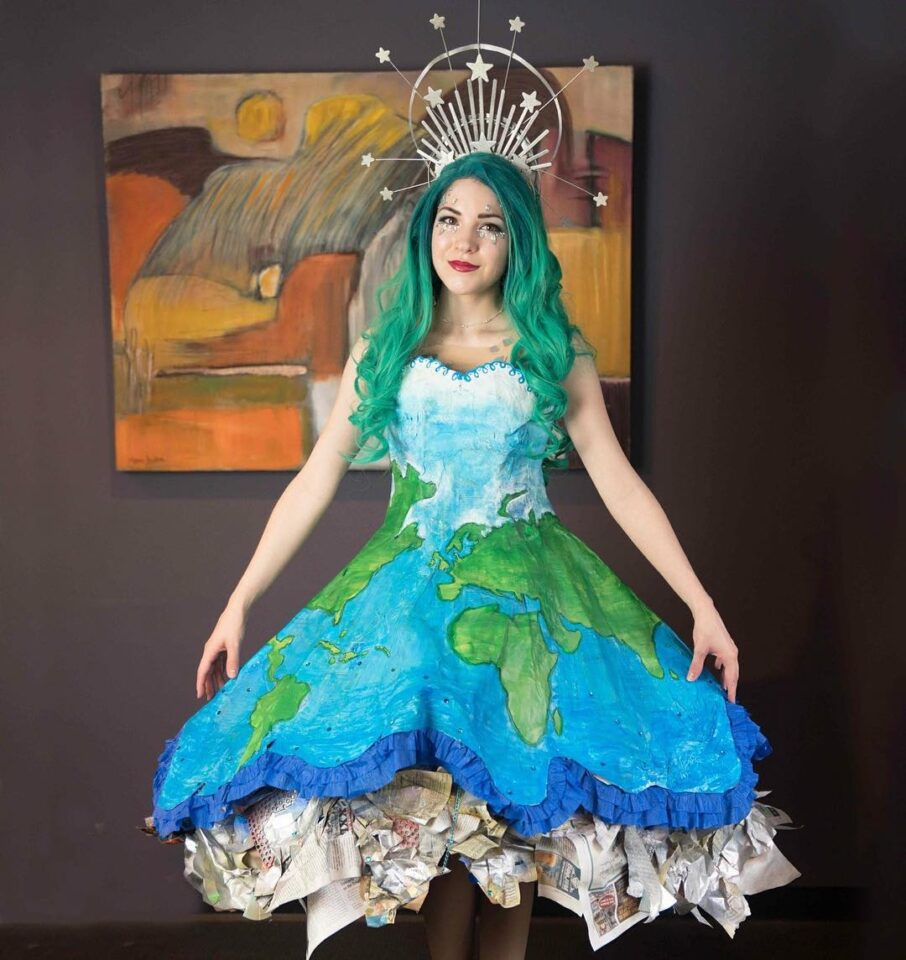 Cosplayer AvantGeek made this costume entirely out of recycled paper and plastic. It is a gorgeous costume that obviously took a lot of work. It is also proof that costumes made of trash don't necessarily have to look trashy. They can be beautiful works of art.
Jet Pack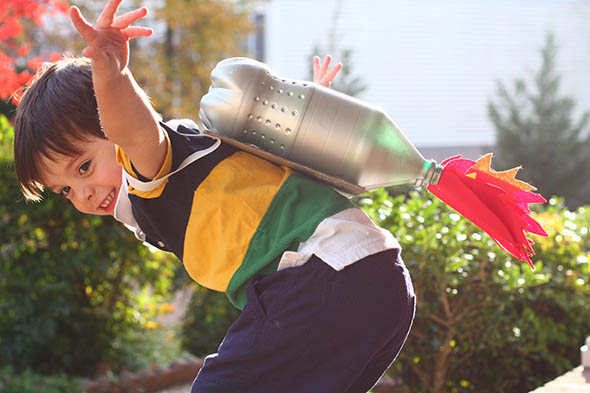 3 … 2 … 1 … BLASTOFF! This is a fun and easy project that will turn you into a space explorer overnight. You can level up the upcycling by using scrap paper or colored paper bags to make the flame. Learn how to turn soda bottles into a jetpack here.
Knight Helmets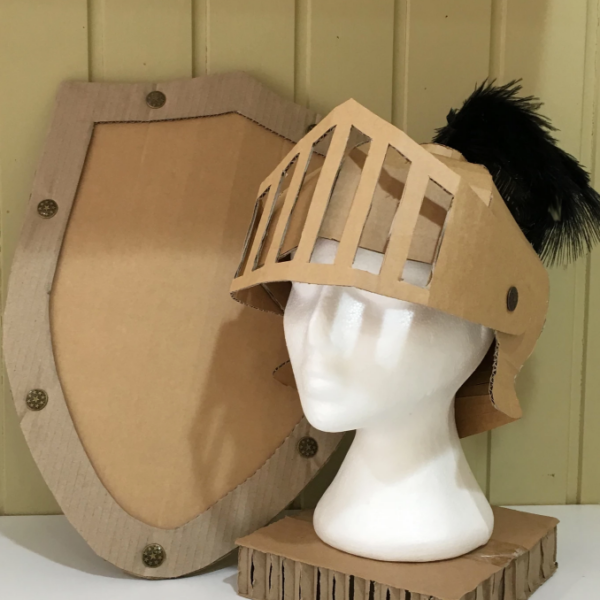 With some cardboard and paint, you can dream up all sorts of helmets. You could even create armor to go along with it. You could become your own superhero. You could become the Defender of the Ocean—a powerful warrior who fights against waste and protects all the incredible ocean creatures. Start with this template for a knight's helmet and see where your imagination takes you.
Fatberg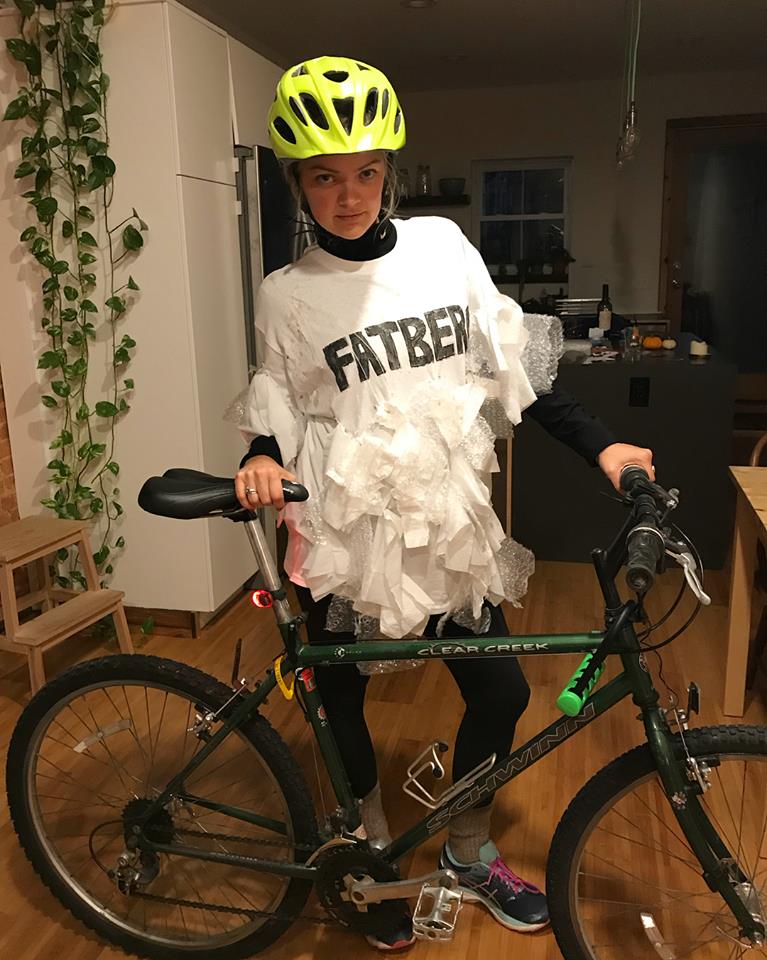 I love costumes that educate. Fatbergs made the news after one weighing 130 tons blocked sewers in London. They are created by fats and oils combining in drains with "flushable" wipes and other debris. This costume from my friend, Sheila McMenamin, is not only beautifully upcycled, but it also helps the wearer get into important conversations about wastewater infrastructure.
Comic Book Dress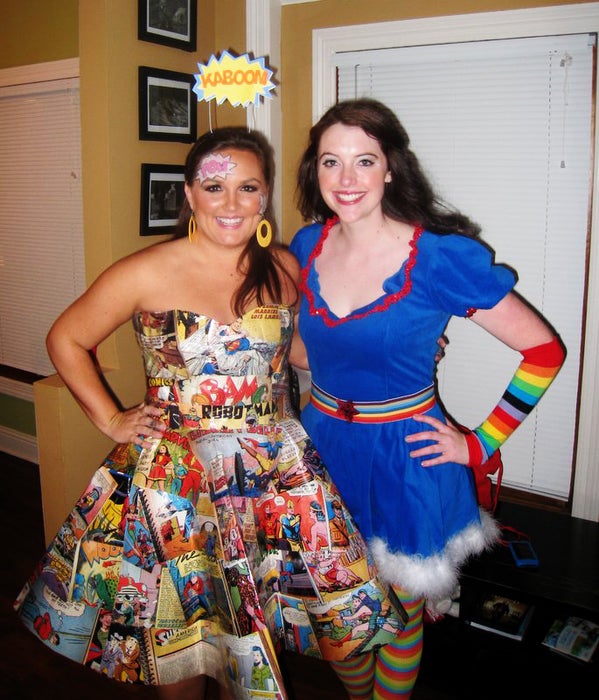 As a comic book fan myself, I love this dress. You could easily replace comic books with magazine covers, movie posters or even previous issues of our excellent wildlife photo calendar. To make it extra eco-friendly, you could use old clothes to make the base of this dress. Find out how it was made here.
These costumes are just a jumping-off point. Using creativity and whatever you find at home, you can create marvels. If you're interested in learning more about upcycled costumes join me on our Ocean Conservancy's Instagram on Friday, October 30 for a live crafting tutorial and a spooky story about ocean trash. Don't forget to share your costumes with @OurOcean!
If you want even more ideas for upcycled projects, check out our recent blog 12 Creative Upcycling Ideas to Reduce Waste.