Are We Building Plastic Beaches?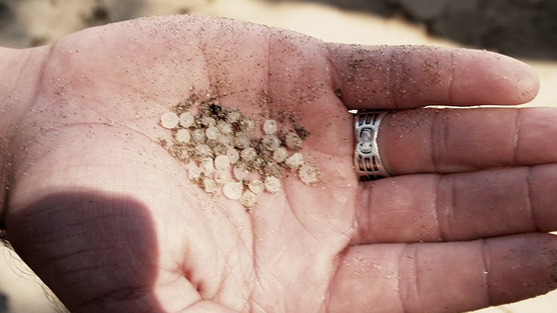 13 billion. That's the number of tiny, pre-production plastic pellets—often referred to as "nurdles"—that remain afloat in the waters off Hong Kong. Six 40-foot containers filled with these plastic pellets were lost off a shipping vessel when it was caught by hurricane-force winds and heavy seas during last month's Typhoon Vicente. Exactly how much plastic did these containers contain? Each container carried at least 25,000 kilograms of plastic pellets, meaning approximately 150 tons—or 300,000 lbs.—of plastic were sent overboard during the storm. Keeping in mind that plastic is an extremely lightweight material, this number is roughly equal to the weight of two Boeing-737 aircraft.
Since the spill, large quantities of the pellets and the bags have been appearing on beaches and coastlines all over Hong Kong. Ecovision, the International Coastal Cleanup Coordinator for Hong Kong, is taking a role by joining hands with a number of committed local conservation groups and government departments to initiate the Hong Kong Plastic Pellet Patrol. The Patrol divided Hong Kong into different Cleanup sectors and assigned participating NGOs areas of responsibility. Through their combined efforts, they have succeeded in removing an estimated 71 tons of the plastic from the sea and coastlines; but again, up to 13 billion pellets remain unaccounted for off the Hong Kong coast.
Chinese oil and chemical company Sinopec Corp.—the manufacturer of the pellets—has also committed to cleaning up the spilled plastics. However, continuing to use Cleanups as the "solution" to plastic pollution will not suffice. Even if volunteers are able to pick up every last pellet that was spilled from the containers—which is impossible—this spill is not the first time nurdles have washed ashore. Seabird studies and beach litter surveys reveal that plastic pellets have been floating in our ocean for decades. With little effort, any beachcomber can find nurdles littering the wrack line on beaches around world.
We know plastic is pervasive, prolific and problematic—aesthetically, economically and environmentally. And research on plastics' ability to absorb toxins and pollutants increasingly suggests a health risk. Anyone of these factors should suffice in discouraging manufacturers from using plastics in applications where benign alternatives exist. Consumers must also accept responsibility and reduce our overall consumption of one-time use products and make smart choices about waste disposal to ensure we eliminate the possibility of trash reaching our ocean in the first place.
Yes, we can make anything out of plastic. But that does not mean we should. Our ocean's the most resilient ecosystem on this planet, but we cannot continue to challenge its limit.
Plastic pollution is not an ocean problem; it's a human problem to which only we can provide solutions.