Potential Tsunami Debris Found During Alaska Beach Cleanup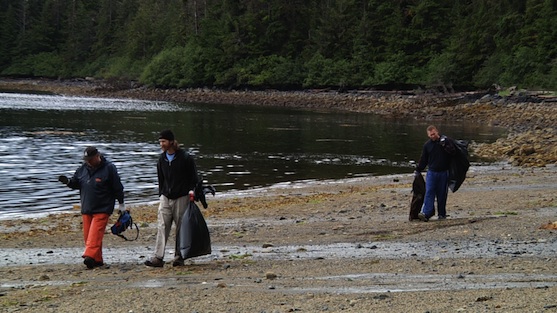 The coast of southeast Alaska is renowned for its stunning beauty, and the pocket beach outside the town of Sitka was no exception: dark sand piled with tangles of storm-tossed logs and fringed with emerald grass. From a distance, the beach looked pristine.
But as our boat pulled closer, we began to see what we had come for: trash. Chunks of polystyrene foam, plastic bottles, lengths of line, bits of faded blue tarp and pieces of netting were wedged in the piles of driftwood and strewn in the beach grass. It was time to get to work.
I was in Sitka to take part in a series of beach cleanups that brought together staff from Ocean Conservancy, the Marine Conservation Alliance Foundation and the Sitka Sound Science Center, along with volunteers from Allen Marine and Holland America Line. Together, we set out to find and remove marine debris that had washed up on the shores of nearby islands.
Ocean trash is a big problem, even in relatively remote places like the coast of Alaska. Marine debris can injure people, entangle marine mammals, enter the food web and threaten the overall ocean ecosystem—and it is a real eyesore. Removing trash from beaches reduces these threats and promotes ecosystem resilience.
Cleaning the beach also sets a baseline for future monitoring so that we have a better idea of how quickly debris is accumulating. That's especially important this year, as debris from the Japanese earthquake and tsunami starts to wash ashore in Alaska and other West Coast states.
In our cleanups outside Sitka, chunks of polystyrene foam made up the bulk of the trash we found. The locals from southeast Alaska said that while they have always found foam on their beaches, they were finding more and bigger chunks of it this year. The increase may be a result of the Japanese tsunami, but at this point, it is impossible to say for sure.
Regardless of whether the foam we found on the beaches outside Sitka was from the tsunami or not, tsunami debris amounts to a tiny fraction of the trash that's in our ocean. And for the most part, the problem of ocean trash is entirely preventable. Everyone has a role to play: we can all reduce our consumption of one-time use products, dispose of waste in a responsible way that keeps trash out of the ocean, tell our political leaders to provide the resources necessary to deal with the problem of ocean trash and take part in a cleanup close to home.
The beach cleanups in Sitka were a great success. We removed a lot of debris from a beautiful part of Alaska's coast. And along the way, we saw humpback whales, sea otters, Steller seal lions, Sitka black-tailed deer—and brown bear tracks in the beach sand. While I can't guarantee that you'll be so lucky with your wildlife sightings, I can guarantee that participating in a local cleanup will help to create a safer, healthier, more resilient ocean that benefits marine wildlife and coastal communities.