One Fish, Two Fish, More Fish, More Fish: US Seafood Landings Reach 17 Year High – Now Updated With More Fish!!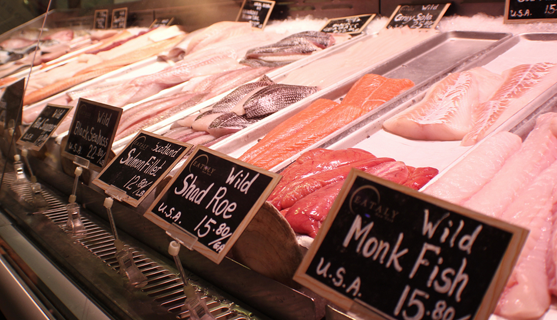 UPDATED (September 28, 2012): Like Dr. Seuss says "Say! What a lot of fish there are." But while there are many fish in the sea, there used to be more! A new study in the journal Science says global fisheries are in decline, but recovery is possible with the right management tools. For the first time, researchers spearheaded by California Environmental Associates took a good look at the world's nearly 10,000 fishing areas. Only 20% of these areas are managed, leaving the rest with no management or oversight. Researchers suggest that with the right management tools, fisheries currently in decline could reach sustainable levels in only a few short years. This could increase the amount of fish in the ocean by 56%. Dr. Seuss would surely have been proud to protect his old fish and new fish.
ORIGINAL POST (September 20, 2012): US seafood landings have reached a 17-year high, according to a NOAA's fisheries report that provides a snapshot of the amount of fish brought back to the docks in 2011. Higher fish landings show the Nation's fisheries conservation and management law, the Magnuson-Stevens Act (MSA) is working to end overfishing and restore depleted fish populations. This progress means more opportunities for families to enjoy fishing as recreation and fresh seafood, and greater prosperity for the fishing industry.
This encouraging report shows success in fisheries management through MSA is attributed to addressing the problem of overfishing. But, we can't afford to stop now.  NOAA's report says "U.S. fishermen and businesses have played a critical role in this monumental achievement and the stewardship practices that have come to define U.S. fisheries." Working together to successfully implement MSA is creating sustainable fisheries, greater economic returns and positioning the U.S. system as a global model.
While the report shows increases in fish landings along the Gulf Coast, we must remember that we are still learning about the impacts of the BP oil disaster. Long-term monitoring and research must be implemented to take the pulse of the Gulf in order to ensure a full recovery of all of the Gulf's resources. You can read more about Ocean Conservancy's new Menu for Marine Restoration that provides a road map to securing sustainable fisheries and provides a list of priorities for reversing the damage from the BP oil disaster and past environmental degradation in offshore areas to ensure a healthy and prosperous future for the Gulf of Mexico. But in the meantime, enjoy some fresh Gulf shrimp or New England winter flounder. It's working.