News Roundup: What Can We Learn From Hurricane Sandy?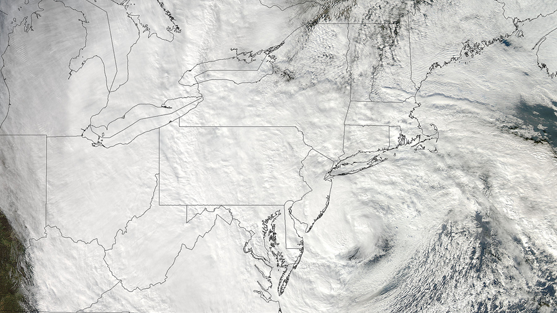 Our thoughts and prayers go out to all of those affected by Sandy this morning, especially those on the New Jersey coast and New York where the damage was particularly acute.
Sandy, which packed 90 mile-per-hour winds and dumped 12 inches of rain and snow across states ranging from New Jersey to Kentucky, was declared to be something other than a hurricane. It was, forecasters said, a post-tropical storm that combined with other weather systems to stretch 1,000 miles wide and create storm surges up to 11 feet.
As we catch up on our work and get back up to speed, here are some takes on Sandy from around the web that we're finding particularly insightful. If you have stories to share, please leave them in the comments below:
An Oyster in the Storm, The New York Times. As the storm came ashore yesterday in New Jersey, Four Fish author Paul Greenberg reminded us that nature can be a strong defense against major storms. Oysters, he says, "once protected New Yorkers from storm surges, a bivalve population that numbered in the trillions and that played a critical role in stabilizing the shoreline from Washington to Boston."
Superstorm Sandy, by the Numbers, NBCNews.com. From the number of states affected to the total snowfall, NBC News provides a "by the numbers" look at this historic storm. FEMA's estimates for potential wind damage caused by the storm: $2.5-$3 billion. And that's without accounting for the massive flooding experienced in New Jersey and New York.
Assessing the Damage from Hurricane Sandy, The New York Times. The Times has a series of interactive graphics, photos and social media updated chronicling the magnitude of the storms effects, from power failures, to wind damage, to massive flooding.
Hurricane Hunters, NOAA Ocean Today. NOAA has a video profile of its "hurricane hunters" who fly into hurricanes to collect data on the storms. While satellites can track their movement, meteorologists and researchers need to sample hurricanes directly to get the most accurate information about them.
Slow Moving Hurricanes Such as Sandy on the Rise, New Scientist. New Scientist chronicles how and why slow moving, damaging storms like Sandy may be the new normal. The combination of warming seas, rising sea levels and our penchant for building cities along our coasts means we're likely to see more damage from storms like this in the future.
Sandy, Unspent, Moves Toward Great Lakes, The Christian Science Monitor. Sandy moved over Western Pennsylvania today and headed to the Great Lakes, where it is expected to dump at least a foot of rain and create swells on Lakes Michigan and Huron that could reach 35 feet.