Aloha, Plastics: Ocean Trash Adventures in Hawaii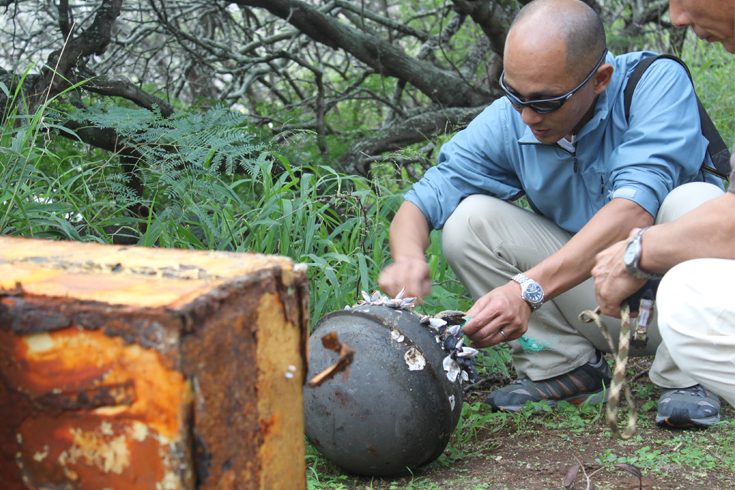 Neither tsunami debris nor marine debris is going away any time soon. Following an August 2012 NGO tsunami meeting and increasing reports of tsunami debris on the U.S. West Coast and Hawaii, concern and interest about tsunami debris in Japan continues to increase. Responding to this interest, the Environmental Restoration and Conservation Agency of Japan has funded a series of beach site investigations in the United States to convey the present situation of both tsunami and marine debris to Japan officials and the Japanese people. The first stop for these surveys:  Hawaii.
I teamed up with members from Japan Environmental Action Network (JEAN), the Oceanic Wildlife Society and the Japan Ministry of Environment tobegin surveys on O'ahu beaches where confirmed and suspected tsunami debris has recently been found . During our first inspection at Hanauma Bay, we examined a rusted Japanese refrigerator that washed ashore on December 20th, 2012, several days before a second fridge was found on Waimanalo Beach. Cleanup volunteers commonly found refrigerator pieces on Kaua'i beaches during this past summer.
Dr. Nikolai Maximenko of the University of Hawaii International Pacific Research Center (IPRC) explained that these different 'waves' of alike debris (e.g., oyster buoys, refrigerators, etc.) are a result of how tsunami debris is affected by wind. Because the tsunami debris entered the ocean at the same time, similar items travel at the same speed and will appear on Hawaiian and West Coast beaches around the same time.
Chris Woolaway, Hawaii's International Coastal Cleanup State Coordinator, stated that since 2012 "Our volunteers and other members of the community have noticed larger debris that is less degraded coming in with the more chronic debris. This debris, as predicted by the IPRC, has shown up on sites already identified by long standing observations and monitoring."
Our second shoreline inspection took place at Ki'I Dunes Beach, a 1,100 acre stretch of natural coastline, dunes and wetland on O'ahu's North Shore that is part of the James Campbell National Wildlife Refuge. We assessed debris abundance and composition at Ki'I Dunes by removing and cataloging all marine debris inside a 25 m2 quadrat; these data will be compared to historical data collected at the same site during past Cleanups. The most notable items on this stretch of beach include  oyster spacers, hagfish traps, fishing net and rope, and of course an immesurable amount of mircoplastics. Atypical debris findings have been reported at Ki'i over the past 6 months, and Chris noted that the items we found match debris trends on other beaches across the Islands.
We conducted visual surveys as well and removed debris from the Refuge's jagged coastline. These surveys revealed two items that had never been seen prior to the tsunami—half of a black oyster buoy and a 1 m2 piece of framed housing insulation. Large quantities of insulation foam were found on other parts of the beach as well, but only the buoy and framed insulation will be analyzed to confirm they're of tsunami origin.
Our survey at Ki'I Dunes highlighted the serious debris problem that plagues all of Hawaii's coastlines. Dissimilar to many beaches, much of Hawaii's debris is not left by beachgoers. Instead, it washes ashore originating from faraway lands.
Tsunami debris or not, unfortunately the world's trash problem has become Hawaii's unavoidable plastic debris problem. And I assure you in response to this unnatural "plastics" disaster, no Hawaiian is saying, Mahalo.