Ocean Conservancy's "Hero of the Sea"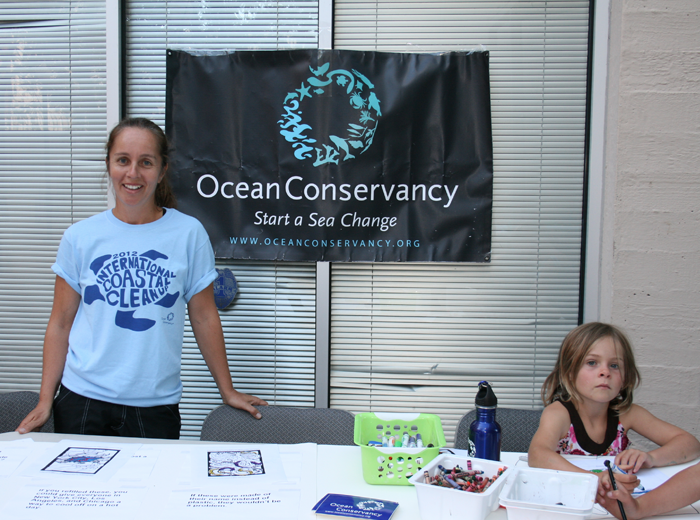 Kaitilin Gaffney at the Museum of Art and History during the 2012 International Coastal Cleanup in Santa Cruz, California.
Here at Ocean Conservancy, our teams work hard to ensure protection of marine wildlife because that's what we believe in doing – but being recognized for our successes is always a wonderful thing. In just-announced news, Blue Frontier Campaign has officially deemed our former Pacific Program Director Kaitilin Gaffney a "Hero of the Sea" for her accomplishments in helping establish California's marine protected area network. Along with Karen Garrison, co-director of the Natural Resources Defense Council's oceans program, Kaitilin will be honored at a May, 2013 ceremony at the Carnegie Institutionin Washington D.C.
Kaitilin and Karen's dedication to ensuring implementation of California's Marine Life Protection Act, originally passed in 1999, resulted in 16 percent of the state's waters – and the vast varieties of ocean wildlife within them – being protected for now and future generations. The process was never easy, but their dedication to it never wavered. John Laird, California Secretary for Natural Resources said of the pair, "They were incredibly successful in persuading others to their view because they listened to people's concerns, and worked with them to find solutions that worked for all…their contribution to our blue ocean and to the communities that depend upon it is monumental."
"Heroes of the Sea" is part of Blue Frontiers' Peter Benchley awards, which celebrate outstanding achievements that lead to the protection of our coasts, oceans and the communities that depend on them. Benchley is most often remembered as the author of Jaws, but his passion for saving sharks and protecting ocean ecosystems is his true legacy. Read more about Peter Benchley, Kaitilin Gaffney and the other award winners on Blue Frontier's website.
After 13 years with Ocean Conservancy, Kaitilin Gaffney, Pacific Program Director, left her position to pursue new career opportunities by joining Resources Law Group – but just as her championship of California's coastal waters has provided long-lasting ecosystem protection, so her impact on her colleagues continues. We're so proud!