Offshore Wind Moving Closer to Providing Renewable Energy to the East Coast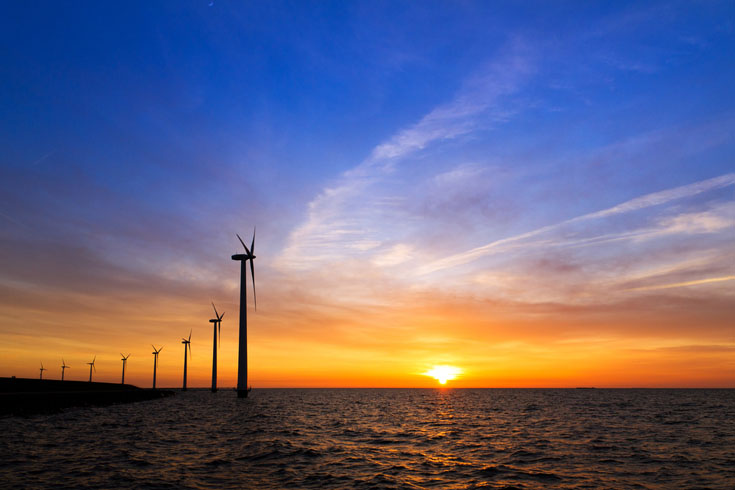 Credit:
Wind Turbines by Shutterstock/Dennis van de Water
2013 may be a very windy year. All along the Atlantic Coast, offshore renewable power has been getting a boost. In states from North Carolina to Maine, growing support for wind energy has led to practical steps that will get this industry moving.
In North Carolina, Governor McCrory has announced his support for offshore renewable wind development, saying it would help grow North Carolina's economy and provide jobs. On Tuesday, in Annapolis, Maryland, Governor O'Malley rolled out a bill to create incentives for offshore renewable energy. In Rhode Island and Massachusetts, wind projects are under construction. In Maine, the Public Utilities Commission voted 2-1 on Thursday to approve the terms for Statoil, a Norwegian state energy company, to move forward with a $120 floating wind turbine test project, clearing the biggest step in making the proposal a reality. All along the East Coast, the Bureau of Ocean Energy Management is moving forward with a public planning to help site offshore wind farms, making sure to consider other ocean users and environmental concerns in the process.
Finally, to help tie it all together, in New Jersey, Atlantic Wind Connection announced that it will be moving forward with plans for the first part of its offshore transmission line that will help connect offshore wind farms to the grid to provide energy to homes and businesses in New Jersey. Construction of the 189-mile segment (of what will eventually be a 350-mile line) is scheduled to be completed by 2015. Even before the line delivers wind energy, it will help (off)shore up the transmission infrastructure.
As we saw from Hurricane Sandy, storms can wreak havoc on the energy distribution system, knocking down power lines and causing hundreds of thousands of people to lose electricity. Having a line offshore and undersea means that at least part of the energy grid will be less vulnerable to the hurricanes and strong storms that are growing more frequent.
The Bureau of Ocean Energy Management made a finding of no competitive interest and approved AWC to move forward with its permitting process in 2011. The public process for approval allows stakeholders, the public and state and federal agencies to review where and how the line will be sited, what impacts construction of the line could cause, and whether there might be any conflicts created by building the line. This smart planning also lets AWC coordinate with other users to figure out the best routes for the line so that it can link up easily to future offshore wind farms as well as to existing onshore infrastructure.
As Atlantic Wind Connection President Markian Melnyk said about ocean planning at a regional meeting in New England, ""What it means for us is greater predictability, lower risk, lower cost. In our view, when you can identify the right places to do ocean energy, you can do everything better — you can do conservation better and can do energy development better. It doesn't have to be a fight over siting; this type of collaborative siting work helps makes it more about science and more about sound economics than about fighting."
With the help of collaboration, coordination and smart planning, renewable energy and better infrastructure may soon become a reality on the East Coast.