Check Out Ocean Conservancy's New Logo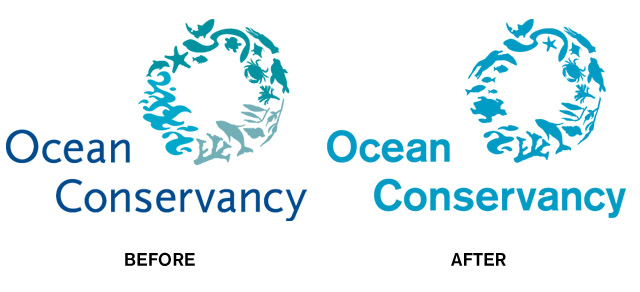 I'm excited to unveil Ocean Conservancy's new and improved logo identity. This vibrant redesign includes adding new key species that help us better connect to the ocean and wildlife we protect.
As the multimedia designer, I make sure that the new logo stays true to our mission and pushes us forward as a leading voice in ocean conservation.
At first glance, you may not notice many changes, but there are a few key modifications:
We reduced the size of the wave graphic in the logo to make room for additional species, such as a school of fish.
We decreased the number of colors represented in the logo.
We updated the font style.
We added an albatross to make the connection between land and sea.
Why make these changes? Director of Conservation Science Stan Senner explains, "At Ocean Conservancy, we take pride in approaching our work with an eye to the whole ecosystem, so it's important to us that our logo reflects that."
The albatross, for example, is an important and highly recognizable member of the ocean ecosystem, and including it in the logo reminds us that not all of the animals depending on the ocean live beneath the surface.
Similarly, the school of fish we added is a great reminder that our ocean is nature's farmers market. More than 2.6 billion people rely on the ocean as a primary source of protein. And healthy food from our ocean means a healthy planet.