Navy Leading Charge Against Climate Change, Region's Biggest Threat, Says Pacific Commander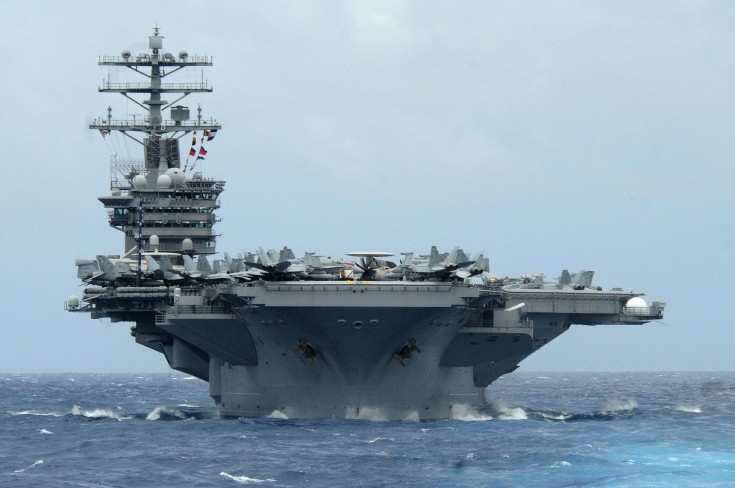 Everyday we prepare for things based on forecasts – or what you expect will happen. You bring an umbrella if there might be rain. You put on sunscreen, even though you're not sunburned yet. Now take that idea and expand it by $510 million and the 900,000 sailors, marines and civilians in the Department of the Navy.
Just last week,  The Boston Globe's Bryan Bender reported on the commander of the U.S. Pacific Command Admiral Samuel J. Locklear III's comments that climate change is the "biggest long-term security threat" for the region, saying it "is probably the most likely thing that is going to happen . . . that will cripple the security environment, probably more likely than the other scenarios we all often talk about."
To stay one step ahead of potential disaster, the Navy, along with the departments of Agriculture and Energy, has embarked on a $510 million energy reform effort, including the creation of the Great Green Fleet, as Julia Whitty reports in the latest issue of Mother Jones magazine.
The next time you watch your gas gauge inch lower and the gas prices inch higher, imagine how that impacts a naval fleet. Whitty writes:
 The lethal costs of petroleum are even higher. For every 24 fuel convoys the United States transported in Afghanistan in 2007, a soldier or civilian contractor was killed or wounded. And extreme volatility can make it difficult to judge what the worst-case scenario could be.

"Every time the cost of a barrel of oil goes up a dollar, it costs the United States Navy $31 million in extra fuel costs," [Navy Secretary Ray] Mabus says.

When oil spiked in 2008, the Navy suddenly had to forecast "our fuel bill rising from roughly $1.2 to $5.1 billion" over a few years, says Vice Adm. Cullom. "When your fuel bill goes up that much, you've got to ask yourself, 'What are you not going to do?' You're either going to buy fewer ships, fewer planes and tactical vehicles, or you're going to buy less fuel and not send your ships out."
Nonetheless, Whitty has called it "one of the more hopeful stories" she's reported. I was fortunate enough to attend the Climate Desk Live event recently where Whitty, along with experts, both active and retired, from the Navy and other government agencies were on hand to discuss the initiative.
While the Navy's efforts could ultimately help with energy consumption and the larger issue of climate change, what it really comes down to is "readiness" to do the tasks at hand.
"Any measure or effort to decrease the amount of oil that we use or other energy that we use comes down to increasing capability and decreasing vulnerability," said Capt. James C. Goudreau, director of the Navy Energy Coordination Office.
"We really need to change how we consume. We need to change how we think about this. Some would say that efficiency is another fuel. And it really is."
And while the Navy is leading the sea change among those in the military, it's likely the change won't stop there. These efforts could help drive advancement in commercial ventures and the private sector.