New Report: The Law That's Saving American Fisheries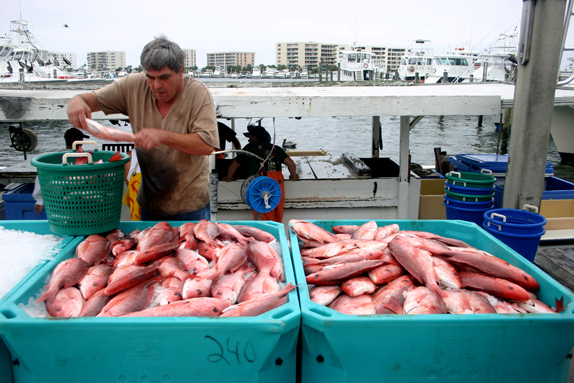 A fisherman adds a red snapper to the pile on a dock in Destin, Florida. – Photo: Tom McCann
As fishermen, scientists, policymakers, and other ocean experts from around the country gather in Washington this week to discuss the future of fisheries in America, Ocean Conservancy and The Pew Charitable Trusts are releasing a joint report highlighting many of the stories that show how fisheries management is succeeding.
The Washington Post covered the report over the weekend, focusing on our belief that while fisheries management is working, we must also let it keep on working if we're going to face global challenges like ocean acidification and climate change:
More complex problems loom, ones that cannot be solved area by area, experts say. "What we need to pay greater attention to is a changing world and a changing climate and what repercussions that will have," Chris Dorsett, director of the Ocean Conservancy's fish conservation and gulf restoration program, said in an interview.
"The Law That's Saving American Fisheries: The Magnuson-Stevens Fishery Conservation and Management Act" is a primer and collection of stories that highlight pioneers of American fishery management as well as innovators who are opening fishing frontiers, revealing:
How a salmon fishing pioneer's courage in making sacrifices for long-term sustainability set the stage for Alaska's success.
How successful fishermen from Alaska to Florida used discipline to turn around two decades of overfishing.
How West Coast fishermen found the flexibility to make a living within rebuilding programs.
How fishing entrepreneurs in Port Clyde, ME, turned leadership into opportunity.
Why rebuilding important recreational species such as summer flounder, bluefish, and lingcod provides economic as well as enjoyment payoffs.
What commercial and recreational fishermen believe we get from good stewardship.
Fishing is an important American industry and pastime. According to NOAA's latest economic report: U.S. commercial and recreational saltwater fishing generated more than $199 billion in sales and supported 1.7 million jobs in the nation's economy in 2011.
In addition to driving many coastal economies, the stories in this report feature some of the most popular fish to end up on our plates, like salmon, red snapper, and scallops.
Thanks to the Magnuson-Stevens Act, our nation now benefits from dozens of rebuilt fish populations, but even as we have seen remarkable progress made, we have also seen an increase in challenges to this law, in the form of partisan politics and disasters—both natural and man-made.
At the end of last week, NOAA Fisheries released an update on the status of U.S. fisheries showing the continued rebuilding of our nation's fisheries and a record low number of fish populations subject to unsustainable fishing rates.  Along with being great news and it was further proof  that the Magnuson-Stevens Fishery Conservation and Management Act  is workingto restore our fisheries. This record progress is a win for fish and fishermen. It means a healthier ocean, more fresh and local seafood, greater recreational opportunities, and a bright and prosperous future for our nations coastal communities.
Read the full report here: