GYRE Expedition Provides Opportunity for Marine Debris Research, Wildlife Sightings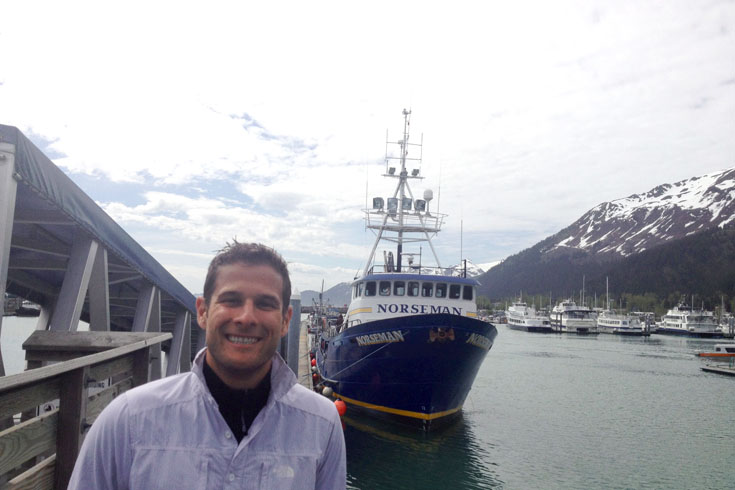 Getting ready to board the Norseman
Most people visit the small town of Seward, Alaska, to take a half-day glacier and wildlife cruise through Kenai Fjords National Park. I arrived in Seward to board the R/V Norseman to depart for Expedition GYRE.
Organized by the Alaska Sea Life Center and the Anchorage Museum, our 14-member team comprised of scientists, artists and filmmakers has a shared vision: We want to establish a new dialogue on marine debris from the nexus of science, art and education and devise strategies for disseminating information to broad audiences, globally.
The scale and magnitude of Alaska's marine debris problem is unlike any other I've experienced. The state's 45,000-mile coastline has myriad coves and pocket beaches that capture massive quantities of debris, underscoring the fact that even the most isolated areas of our planet are not immune to the problems of ocean trash.
This expedition affords me the opportunity to obtain quantitative and qualitative data on the most persistent forms of debris plaguing the Alaskan wilderness and compare it to data I've collected at other beaches around the world.
From Port Seward, we motored for almost 12 hours out of Resurrection Bay and along the Kenai Peninsula, which gave us exquisite views of the Bear and Aialik glaciers. Calm waters allowed us to conduct prime wildlife spotting from the bow of the Norseman.
My first Alaskan marine mammal sighting was a small group of Dall's porpoise (Phocoenoides dalli). Their sleek black and white torpedo-shaped bodies swiftly darted from the starboard side of the Norseman and kept pace riding our bow for almost 20 minutes.
Although I've witnessed this phenomenon countless times, watching these majestic animals glide effortlessly along the water's surface just inches from the boat is resplendent. As quickly as they appeared, they were gone—and for good reason: The porpoise were replaced by another black-and-white predator, the killer whale (Orcinus orca). The male's iconic, 6-foot-tall dorsal fin cut through the waves alongside a female as they charged Norseman's bow. Unfortunately the majestic pair peeled off and out of sight, but the brief encounter had me yearning for more.
Our wildlife encounters continued along the entire Kenai Peninsula and included sea otters, bald eagles, black-legged kittiwakes, guillemots and my first ever spotting of a horned puffin. The day's sightings concluded with a pair of humpbacks (Megaptera noveangliae) that leisurely crossed our wake just outside Morning Cove.
The Norseman motored into Tonsina Bay just after Alaska's midnight-setting sun. Darkness here is relative, and a twilight remains throughout the few hours of nighttime, essentially creating 24 hours of daylight. At 1 a.m., I finally called it a day and settled into my bunk. The sun, along with the team, will rise early to deploy for Gore Point.
Expedition GYRE is off to a magnificent start.