Fly Swatters, a Whale Skull and Sore Feet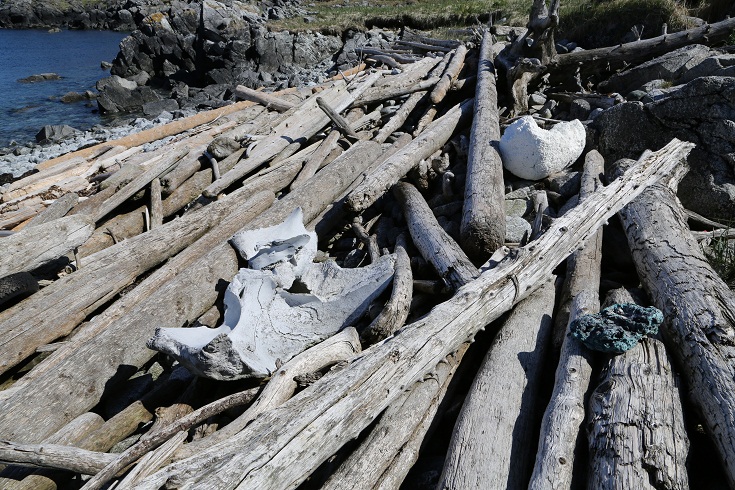 This is the third update from Ocean Conservancy Conservation Biologist and Marine Debris Specialist Nicholas Mallos, writing from the GYRE Expedition in Alaska.  Read his first update here, and his second here
Motivating oneself to work on minimal sleep is not difficult after spending an hour watching humpback and fin whales surface-feed. Graced yet again with sunny skies and calm seas, we deployed Jubatus after fueling up on coffee and assembling our gear. We skimmed across the water's glassy surface and landed on a small pocket beach at Perevalnie Point on Shuyak Island just after 9 a.m.
Tucked inside a protected cove, the beach's wrack line was minuscule compared to that at Gore Point, but sizeable when contrasted to most other places. Debris composition however, was fairly indistinguishable—tsunami oyster buoys, fishing nets and buoys and plastic bottles were strewn above and below the fallen timber. The 100 meter expanse of fallen timber was not short on bottle caps either. I collected 51 caps (most adorned with Asian brands) during our 30-minute visit to the beach. Black oystercatchers cautiously watched my every move from the water's edge as I carefully navigated the unstable wrack line.
We motored out of the cove and through Perevalnie Passage where sea otters hunted in dense kelp beds, and bald eagles soared above, occasionally snagging a fish from just below the water's service. We emerged from the protected waters of the Passage and cruised into Red Buoy Bay, named for a ten-foot tall red buoy that washed in during a ferocious winter storm and now rests between the beach and the pine forest. Comparatively, Red Buoy was a clean beach. We came across fishing net scraps and buoys intermittently along the beach, and I collected 45 bottle caps from the kilometer-long beach. My most interesting find was a "Marlboro Man" plastic cigarette lighter manufactured in France. Tracking down the approximate manufacturing date will be my first investigative project when I arrive home.
Our final beach landing of the day took place on a small island with high-energy pocket beaches along the eastern edge of Shelikof Strait. The steeply sloped beaches were small in width but had accumulated massive amounts of timber and debris. These beaches were the most unstable I've ever been to, as logs teetered under my every step. Oyster buoys, plastic beer crates and fishing buoys were among debris items on the small island, along with 65 plastic bottle caps dispersed amongst the monstrous logs. One of the most interesting items on these beaches was not synthetic though.  It was a massive whale skull likely belonging to a fin or humpback that once foraged the productive waters of Shelikof Strait. Steps away from the skull was a meter-long foam aquaculture float from the tsunami.
Surprisingly, a whale skull was not the most peculiar debris item we encountered during the day. That honor was reserved for plastic fly swatters. Thousands of these items emblazoned with college and professional sports teams' logos were lost during a Costco Yokohama container spill, and have been appearing on beaches along the entire Alaska coast. Since commencing surveys, our team has picked up fly swatters with Boston Red Sox, Chicago White Sox, UNC Tar Heels, Minnesota Vikings, Iowa Hawkeyes, Alabama Crimson Tide, Clemson Tigers and the New England Patriots logos.
Immediately upon stepping back onto the Norseman after 10 hours in the field, I quickly trade in my Xtratufs for bare feet to provide some relief to my bruised feet and sore legs. My rubber knee-high boots are fantastic at keeping my feet dry throughout the day but they're dismal at providing even the slightest bit of comfort while trekking through sand and over logs.
After dinner, work onboard the Norseman abruptly shifts from physical labor to intellectual output, as each of us diligently processes the day's samples, sends emails and pictures and blogs, recounting the day's events. As the crew and I burn the midnight oil (not whale-based, thankfully) the sun finally begins to set. It's approaching 1 a.m. We essentially work 24 hours a day while at-sea but somehow no one seems to mind. My guess is the stunning wildlife, snow-capped mountain ranges and lull of the ocean that wholly encompasses us may have something to do with it.