Gulf of Maine Cleanups Show Ocean Trash Is Global Problem With Local Impacts, Solutions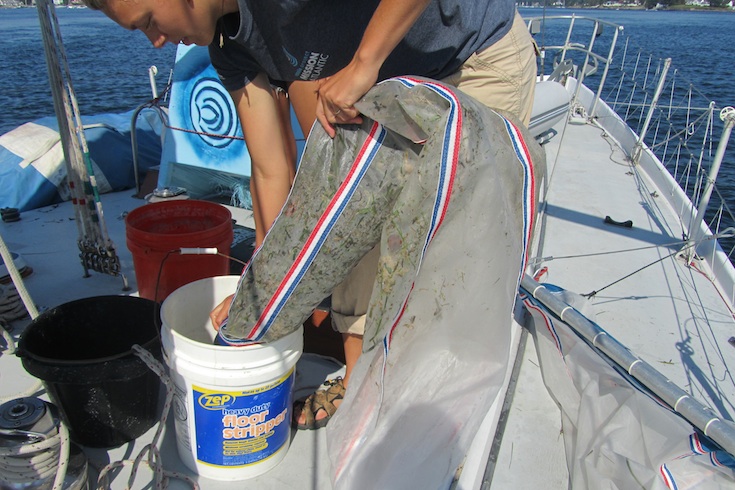 Photo: Allison Schutes / Ocean Conservancy
200 miles, 7 beaches, 4 islands and over 7,500 pieces of trash: These numbers can be used to describe my time with Rozalia Project in the Gulf of Maine. But they don't tell the whole story. Instead "inspiring" seems to capture most of my emotions.
Incredible scenery and wildlife served as the backdrop for the long days we spent collecting and removing trash while living aboard American Promise. Not only were we surrounded by a large pod of Atlantic white-sided dolphins as we sailed south from Hurricane Island, but we also had a finback whale come within 5 meters of the boat at sunset. We saw the spouts of another whale in the moonlight reflecting off the ocean, and we observed harbor porpoises and seals, a pair of bald eagles and even an ocean sunfish, or Mola mola, in Gosport Harbor.
Our crew of 10—eight people and two dogs—were united with one goal: to remove as much trash from the shoreline and ocean surface as possible while recording data about each and every item we removed. Sailing from Bar Harbor to Kittery, Maine, we conducted seven shoreline cleanups on four different islands, and aboard American Promise, we performed three Neuston net tows and multiple dip-net sessions—all resulting in the collection of a lot of trash.
Despite traveling to several remote islands off Maine's rocky coast, we found many of the same items that top our list during the International Coastal Cleanup every year. Items like food wrappers, plastic beverage bottles, foam cups and plates, and bottle caps were prevalent on almost every cleanup conducted while sailing through the Gulf of Maine.
These results are not incredibly surprising because we know that trash travels. Whether carried by the wind, current or human hands, everyday trash is able to make its way to even the most remote of places. For example, I pulled a food wrapper, a cigarette butt and a strap for sunglasses out of the water while sailing 50 miles off the coast of Portland, Maine.
Yet during this journey, single use plastic items were not our biggest finds. Fishing gear, including rope, monofilament line, fishing buoys, pots and traps, and lobster claw bands topped our list of items collected through the entire journey. We even found lobster bands, bleach and beverage bottles with French labels and markings, indicating these items may have started their journey in Canada.
All of these data are further indicative that ocean trash is a global problem with local impacts and local solutions. We all have a role to play in combating ocean trash, and joining us for the 28th International Coastal Cleanup is a great place to start.
Want to get started before the Cleanup? Take the pledge to help turn the tide on ocean trash.